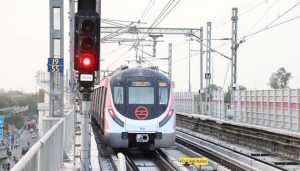 The Delhi Metro Rail Corporation (DMRC) has taken a big step towards sustainability. DMRC has become the first ever metro project in the country to generate and receive power from a waste-to-energy plant.
The metro project in its constant endeavour towards environment-friendly solutions, is now receiving 2 MW power from a 12 MW capacity Waste to Energy (WtE) plant of the East Delhi Waste Processing Company Limited (EDWPCL) which is situated in Ghazipur.
DMRC has been receiving power through this plant, since the beginning of the month, in order to meet the operating requirements of Delhi Metro Pink Line. DMRC will take approximately 17.5 MUs per annum from this particular plant. The power received is being utilised at the Vinod Nagar Receiving Sub-Station (RSS) of DMRC.
This is the first such initiative by any metro project across the country in order to procure as well as utilize energy from waste to energy plants. According to DMRC, the project is also in line with Prime Minister Narendra Modi's "Swachh Bharat Mission". This will also help in creating awareness on the importance of waste management and utilizing waste in a sustainable manner.