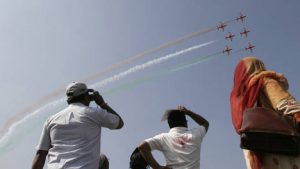 Bangladesh Prime Minister Sheikh Hasina will be visiting India between 7th and 10th of April and a number of agreements are likely to be signed. Amongst them, the two countries will be signing the defence cooperation agreement which is said to further deepen the ties between the two countries growing steadily in past few years.
Although the details of the agreement are under wraps, some of the early impressions that one gets from the reports in the media is that the agreement will be valid for 25 years. The agreement looks into varied areas of defence cooperation from a trade, training and joint exercises and cooperation on issues like counter-terrorism. It also envisages having regular interaction among the top level of leadership in areas of defence.
With the improvement of the bilateral relationship, the defence cooperation between the two countries improved significantly in past few years. There have been regular exchanges of visit between top leaders of the armed forces, the two countries are cooperating on training facilities and joint exercises, operation Smapriti between the armies of the two countries have completed 6th rounds. The developments in the arena of defence cooperation have been encouraging.
Bangladesh will benefit immensely from India's arms market. India is the largest buyer of arms globally and soon becoming a major arms supplier. Due to Make in India Initiative, many of multinational companies are opening production and enhancing their assembling lines in India. Bangladesh should take this opportunity as it can get state of the art technology closer to home.
With the linguistic and cultural closeness, it will be much easier for its defence personnel to familiarise with these technologies and arms. Also, it will help to diversify its source of arms crucial for strategic autonomy. With the offer of technology transfer, this is an opportunity for Bangladesh to also progress towards manufacturing of arms and thus improving Brand Bangladesh, producer of high-end technology.