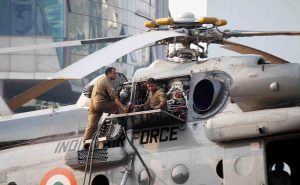 There's a negotiation going between India and Russia for the supply of 48 Russian Mi-17 military transport helicopters with  Moscow who hoping to lock the defence deal by the end of the year as said by a top Russian official. Supplier of Russian arms, Rosoboron export's CEO Alexander Mikheev said, "India has more than 300 helicopters belonging to the Mi-8 and Mi-17 family, which are deployed in troop and arms transport, fire support, convoy escort, patrol, and search-and-rescue (SAR) missions."
"India knows their specifications well," says Mr. Mikheev. He also said, "Russia and India are holding talks with a view to signing a contract for 48 (Mi-17V-5) helicopters and the techno-commercial negotiations are set to commence."
"We hope that we will reach an agreement before the end of this year," he further added. In 2016, Russia completed the delivery by handing over the final batch of three Mi-17V-5 military transport helicopters to India under the previous contract.
The helicopter is designed to transport cargo inside the cabin and on the external sling. The Mi-17V-5 is also considered to be one of the most advanced military transport helicopter.
Mr. Mikheev spoke about more projects which are in talks between India and Russia and said, "We are discussing a programme for modernization of SU-30 with our Indian partners. The aircraft park is quite large."
He said, "During a period of 15 years, we have fulfilled all our obligations to the Indian party, the HAL Corporation — supplied quite a large aircraft park, over 200, under the license agreement — and we are offering new developments of our design bureaus."
"Moreover, the Indian Air Force has some requirements for improvement of performance and operational characteristics, mainly with regard to avionics, electronic warfare systems, as well as updates of weapon systems by both Indian and Russian companies," he said.
Mr. Mikheev said, "Russia was already considering the capabilities of the Indian industry within the framework of the "Make in India" programme and noted that under it a well- known project was the joint venture for Kamov 226T helicopters."
"I think that it's actually a big plus in our relations. We have agreed that the programme of after-sales services will be participated by Russian dedicated holding companies, in order to ensure the operation of previously supplied equipment throughout its lifecycle. It's 20, 30, 40 years — whether it be a submarine, a helicopter, a tank, etc.," He said.
"We have specified six companies that will carry out direct cooperation with both operators of Russian equipment and Indian companies that will be charged with operating this equipment and manufacturing its spare parts," Mr. Mikheev said.
He also named the six companies that will carry out direct cooperation as — the United Shipbuilding Corporation, the United Aircraft Corporation, Russian Helicopters, the United Engine Corporation, Almaz-Antey and Tactical Missile Corporation.