Mayank Jain, Director of Crayon Motors was generous enough to share his two cents on the electric vehicle ecosystem in India and how the Union Budget 2022 is forward-looking to provide a due thrust to this segment which holds numerous promises for the country. The conversation took an impromptu turn to an interview, and we had an insightful discourse about crayon motors as well. The e-scooters by crayon motors are manufactured in India, with the majority of raw materials supplied locally, promoting and supporting the government's 'Make in India' Vision. Crayon is investing heavily in localization and technology development of the products.
Do check out the exclusive excerpts below: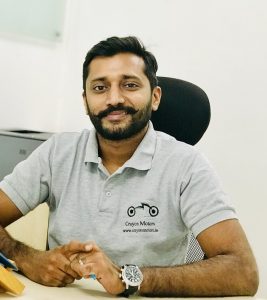 ELE Times: Electric vehicle (EV) industry has seen a drastic change over the last decade. India, however, lags considerably in terms of EV penetration, compared to other larger markets. How much do you agree with the statement? Please elaborate on your thoughts.
Several countries have been making significant moves toward a greener future, with the global electric car industry expanding. China has the world's largest EV market, whereas Norway has the greatest proportion of electric vehicles in total passenger car sales.
We in India must comprehend the causes behind these countries' rapid EV development and acceptance. To begin with, India's charging infrastructure is expanding, but that was the largest impediment and bottleneck. In India, acceptance has been faster for vehicles that rely less on infrastructures, such as e-scooters and e-rickshaws. These goods are becoming more popular.
Previously available products lacked quality, which has now been addressed, and the audience is beginning to grasp its significance of it. Steps such as battery swapping, charging hubs/networks, and strong collaboration between private players and government aid are expected to propel India towards the electric age. I believe, India, in the future, will be a key driver of electric mobility.
ELE Times: What are the repercussions of the pandemic on the EV sector? Please tell our readers how Crayon Motors managed to survive the horrors of the pandemic.
The mobility sector suffered a lot because of the pandemic. People were cooped up in their homes, with little freedom of movement. It influenced total sales. Moving on, the EV manufacturing industry faced several hurdles, including supply chain instability, increasing freight costs, and port congestion among others. COVID led to a considerable rise in raw material costs. The EV industry is primarily reliant on imports, and the growing freight costs by tenfold, had put manufacturers in a difficult position.  Supply was badly interrupted, causing the product's price to skyrocket. As a result, manufacturers' profit margins were squeezed and diminished. Crayon Motors has absorbed most of this financial pinch, to lessen the impact on customers.
It has not been simple to deal with the pandemic. Zero sales for a start-up owing to lockdowns and a lack of demand in that period was a nightmare. For us, everything was accomplished on a shoestring budget. Certain developments were postponed too. Retail borrowing became more difficult. I believe it was our prudence in finance and customer-centric attitude that aided us. With no lay-offs, I believe the pandemic has strengthened our determination by making us stronger and more bonded as a team. We, like most others, have had our hands full aiding people during storms, both personally and professionally.
ELE Times: Please tell our readers about the best products and services offered by Crayon Motors in the Market today.
Crayon Motors is an electric two-wheeler manufacturer that offers riders a more environmentally friendly and cost-effective alternative to ICE scooters. Our products are developed on cutting-edge technology at competitive rates, based on the company's pillars of quality and unrivalled technology, and are designed to assist India in making a breakthrough. We now provide scooters suited for city transportation with peak speeds of up to 25kmph. Among our current product offerings, we have items with a range of up to 170kmpc.
Customers may also obtain services such as simple financing, insurance, and roadside assistance. High-speed scooters and motorbikes are among our forthcoming items. Moving forward, we are in the process of manufacturing Made in India components, such as motors, controllers, and batteries which are critical components of an electric two-wheeler.
ELE Times: Do you feel that the assistance the Indian government is providing under the 'Make India" initiative and the thrust provided by the government in the Budget 2022 for the companies like yours is up to the mark? What do you feel that can be done on the government's end that can secure the future of Indian e-mobility?
The Indian public is becoming more interested in EVs. The FAME 2 initiative, which gives incentives for individuals to adopt EVs, has helped to bring EVs to the forefront of public attention. The initiative was a game-changer, attracting investments in the EV industry. The EV measures (battery swapping) outlined in this year's budget will assist cut the cost of ownership of the vehicles even more by lowering the cost of the battery (almost 50 per cent of the vehicle cost). However, the policy is still in the works. However, such an undertaking paves the door for a plethora of development and associations.
EV charging stations will assist to minimise pollution in cities while also promoting e-mobility. In such a young sector as ours, there is always something more that can or should be done. I believe that opening up retail finance outlets and reducing loan rates for us would go a long way and that the government can assist us with this.
ELE Times: What are your aftersales services?
Our two-wheelers are specifically designed for Indian roads and require less maintenance. Having said that, preventive maintenance of any vehicle is necessary. We are establishing a strong after-sales service network and implementing an education programme for dealers and channel partners, as little is known about the wear and tear of EV vehicles.
In addition to service centre assistance, we provide troubleshooting assistance via video calls and YouTube to our dealers. We aim to harness the power of technology to make it easier for consumers to use. We also provide training outside of dealerships to other workshops for the convenience of our customers. At the moment, all of our vehicles come with a 2-year warranty* on the motor and controller. We will shortly announce extended warranty plans as well as a no-questions-asked warranty policy. It is still being worked on.
ELE Times: Please share your expansion plans and your vision and services that you are planning to provide in the next 5 years.
We are optimistic about the future. Crayon's team has been working on several different aspects of EVs. We believe that collaborative efforts are crucial to the development of this business. Product development is costly, and the rewards are still some time away. As a result, working together to realise the overall dream of e-mobility is the way to go. We want to focus on introducing technology that is beneficial to the customer while remaining affordable. We are focusing on the manufacturing of Motors, Controllers, and Batteries, which are crucial to EVs and comprise the heart and soul of the product.  Our products will also be available for other manufacturers to use.
Our primary goal is to enhance results, and efficiency, and reduce prices. We want to introduce at least three to four new models to the market each year. In the first phase, we plan to invest over Rs. 300 Crore in technological, product, and infrastructure development.
ELE Times: "It is our humble effort to provide Electric mobility to all and strive towards excellence in this industry", says your website. Please elaborate to our readers on how is Crayon Motors managing to deliver to the commitment and how far it has come?
Our electric vehicle journey has just begun. As a firm, we aspire to create goods that are simple to use, trouble-free and require little maintenance. We want to create solutions for a wide range of applications, including personal mobility and business applications. We continue to learn from our customers' feedback and incorporate these insights into product and system development. It is critical to understand existing domestic markets as well as future overseas markets in order to lay the groundwork for EVs. In the long run, we hope to be a trailblazer in this industry.
Mayank Vashisht | Sub Editor | ELE Times & Times EV