Its been almost a decade since the Indian Government has been showing keen interest and also taking continuous steps to develop and promote EV ecosystem in the country, witnesseth from the National Electric Mobility Mission Plan ('NEMP') to the introduction of Faster Adoption and Manufacturing of EVs scheme ('FAME') on the consumer side and Production-linked Incentive Scheme ('PLI') for Advanced Chemistry Cell ('ACC') as well as for Auto and Automotive Components manufacturers on the supplier side.
EV is one of the hottest things to talk about out there and to put things into the right perspective, I was fortunate enough to have an exclusive conversation with Maxson Lewis, Managing Director & CEO, Magenta. Maxon did not shy away from elaborating quite extensively about the Indian electric vehicle ecosystem, where it is lacking, future prospects and how Magenta is making the field for emobility in India more fertile than ever. Excerpts: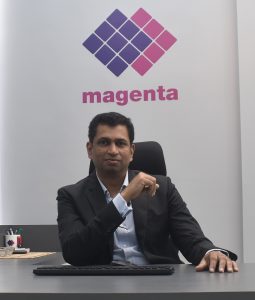 ELE Times: EV technology is attracting eyeballs worldwide to reduce the dependency on fossil fuels and achieve the global goal of zero-carbon emission and sustainable development. Please tell our readers how Magenta is contributing to the cause?
Magenta is in the business of 'Empowering Electric Mobility'. We achieve this via our 3 business lines:
Under Magenta EVSE, we design and develop unique EV charging solutions 'Made in India, Made for the world'.
Under the ChargeGrid brand, we are setting up Electric Vehicle charging stations and hubs on highways, fuelling stations, malls, offices and residential complexes to provide EV charging for fleet operations as well as individual private vehicles.
Under brand EVET (an acronym for Electric Vehicle Enabled Transport), we operate a fleet of electric vehicles – largely electric 3 wheelers, servicing the first mile, mid mile, last mile and reverse logistics for e-commerce, pharma, FMCG businesses.
These 3 business lines independently support our clients and also each other to achieve our mission of zero-carbon mobility.
As a company this ethos of sustainability is not restricted to mobility per se or to our businesses, but is part of our everyday interactions; we drive and live on policies such as – Zero waste in our offices and projects, One tree sapling per charger installed and No paper and No drawers policy in our office designs.
ELE Times: The electric vehicle (EV) industry has seen a drastic change over the last decade. India, however, lags considerably in terms of EV penetration, compared to other larger markets. How much do you agree with the statement? Please elaborate on your thoughts.
Over the last decade, India lacked a good product-market fit in the electric vehicles segment. The purchase price, range and lack of charging infrastructure were some hindrances in swift EV penetration. This was aggravated by the internal combustion engine businesses and stalwarts taking a 'wait-and-watch' approach to study, observe, learn and then engineer an electric vehicle. However, in the last five years, a lot of new entrants and start-ups have disrupted the segment with state of the art and futuristic products majorly in 2-wheeler and 3-wheeler segments, helping build the confidence of the customers in adopting electric mobility. Irrespective, considering the statistics for the previous two years, there has been an exponential growth and a hockey stick curve in the adoption of electric vehicles indicating the trend that India is all geared up to become a market leader in the adoption of electric vehicles.
ELE Times: India has set a goal to achieve EV sales accounting for 30% of private cars, 70% of commercial vehicles, and 80% of two and three-wheelers by the year 2030. In a country like India which is still heavily dependent on coal, we need to take stringent steps to achieve its ambitious targets. How much realism do you sense in this ambition? Please share your views and steps that should be taken in the way forward to achieve that goal from your vantage point with our readers.
Any major transformation begins with a series of small changes. The fact that targets are set, itself is a testimony of optimism and an end goal to achieve. While we as a country are fossil fuel heavy, however, any news of petrol/diesel hike leads to a discussion of converting or purchasing an electric vehicle and this conversation happens in almost every household, hinting that it is not a question of what to purchase but a question of how soon to purchase.
Strict steps will be required to achieve the ambitious goal set. To begin with, the customers need more models and variants to choose from. Incumbents and other vehicle manufacturers will have to lay down a bouquet of options for the customer to choose from. Although the upfront pricing of an EV will be higher in comparison to ICE vehicles, I believe the majority of the people are willing to pay the premium to compensate for the operational and Total Cost of owning a vehicle.
In addition to the above step, a robust and reliable charging stations network will be key in the mass adoption of electric vehicles. By network, we do not mean only highway network but an array of residential, community and office charging infrastructure need to be ramped up. From policies, now the government should set and implement guidelines and keep it open to innovative business models by private Charge Point Operators. Ministry, Public Sector Units and other similar government entities defining the pricing, products and micro-managing the sector will not only hamper but also slow down the EV charging stations being set up.
Furthermore, India is the largest across the globe when it comes to 2-wheeler and 3 wheeler markets. Incidentally, 2 wheelers and 3 wheelers are the mass adopters of electric mobility. Aggressively incentivizing and subsidizing the costs to own an electric 2-wheeler and 3 wheeler should be something government should contemplate implementing.
ELE Times: According to recent research by Accelerated e-Mobility Revolution for India's Transportation (e-Amrit) portal in India, only 7,96,000 Electric vehicles have been registered till December 2021, and the installation of 1,800 charging stations in public places. It shows that the country has a long way to go to achieve the recommended ratio. Keeping the statistics insight, what would be your suggestions to uplift this scenario and how much time will it take?
As is true with any infrastructure-related activities, the whole setup is ongoing and takes time. The railways, fuel stations, highways, network of airports were not built in a matter of years or a decade. It took a few decades to reach where we are. Did the trains not ply? Did the vehicles not travel? Did the flights not take off? Similar is the case with electric vehicles and charging stations. There is an undue focus on lack of charging infrastructure which is not really the case.
The electric vehicle industry as a whole has evinced a lot of interest and is in fact one of the fastest-growing industry segments in India. Since the inception of CNG in India and the number of CNG refuelling stations in India, comparatively, Electric vehicle charging stations are doing better. While the stations to vehicle ratio look high, a fact to consider is that about 80% of the EVs gets charged at destination charging stations, i.e., either at home during nights or at offices during the days. The 1800 charging stations considered by the e-Amrit portal does not factor in these AC chargers installed at residences and the apartment building where 80% of the private vehicles get charged.
ELE Times: The adoption rate of EVs in India is moving sluggishly. Primarily one of the reasons for that would be the price point of Electric Vehicles in India. Why there is such a disparity in the price point when compared to ICEs?
While the price comparisons between EV and ICE vehicle is a hot topic to be discussed in the lower and mid-lower segment vehicle buyers, however, major reason contributing to the disparity in the price point are the batteries. About 40 to 50% of an electric vehicle's cost is the battery that powers the vehicle. These batteries are made up of Lithium-ion cells. The source of these cells is from China, Australia and countries which hold lithium and rare earth reserves. Sourcing these cells from China almost doubles the cost due to import taxes and other custom related costs. Manufacturing of these cells demands Giga scale factories which are capital intensive. Hence the overall costs are high. But Moore's law is going to be applicable for Batteries as well. I would like to rephrase it as follows "the number of kW. Hrs (kilowatt-Hour) on a battery will double about every two years while the cost per Kilowatt will be halved"
Nonetheless, Government should initiate fiscal and production linked incentives for manufacturing child components to stabilize and steady a robust "atmanirbhar" supply chain. Manufacturing batteries and child components locally in India will give Electric vehicles a competitive edge in comparison to ICE vehicles pricing.
ELE Times: With the roll-out of FAME II, the Department of Heavy Industries allocated ₹1,000 crores for setting up electric vehicle charging infrastructure in India. The Ministry of Power has clarified that setting up public EV charging stations does not need a license under the Electricity Act, 2003 to transmit, distribute or trade. How will you evaluate this move by the government from your standpoint? What else would you like to suggest that can help the overall EV penetration in India?
I'll break this question into two parts:
1000 crore budget for setting up EV charging stations is a welcome move by the government. Such tailwinds are the need of the hour and indicate a clear intention to rapidly set up charging stations and subsequently contribute to the overall electric vehicle ecosystem and its adoption. Such announcements also evince interest and increase the confidence of a consumer to purchase an electric vehicle in anticipation of upcoming charging stations.
The MoP delicensing electricity sale for electric vehicles is also a welcome move but has been in place since 2018. Putting a ceiling on the tariff rate and defining the chargers to qualify as PCS (Public Charging Station) is not a viable business. The Ministry should restrict itself to making guidelines and compliances while providing an opportunity to explore innovative charging business models to disruptive start-ups, new entrants and other private entities.
In addition to these funds, the government should initiate public-private participation models as having a public partner helps in acquiring lands, accessing suitable locations, implementing grid connections and other such government-related processes faster.
Residential charging is the largest yet the most neglected segment in the EV charging ecosystem. Discoms should be directed to upgrade their connections and since the majority of the charging happens overnight, suitable TOD (Time of Day) should be initiated.
ELE Times: Please share your expansion plans and the vision and services that you are planning to provide in the next 5 years.
Interestingly, Magenta researches and develops its own unique products which cater to B2C, OEMs and B2B requirements and there are some very unique product launches scheduled in the next few weeks. One important and in the background work we are doing is the installation of residential EV chargers for the government of Delhi under the single window clearance program. We are geared up to deploy close to 8000 chargers within this calendar year under this program.
Magenta ChargeGrid is on track to install and operate about 5,000 chargers by March 2023. This has been supported by REIL (Rajasthan Electronics Instrumentation Limited) under the FAME-II scheme through which we are installing 2950 EV chargers in 35 cities across India. In addition to the same we are working closely with HPCL (Hindustan Petroleum Corporation Limited), to set up and operate over 1,500 EV chargers at their fuel outlets.
Along with the above two programs, we have also initiated Charging Stations at Fern Hotels, IBIS and Interglobe along the highways and city hubs across the country. Many such initiatives are in progress to make India EV ready.
On our recently launched and fast-growing EVET platform, we plan to onboard over 950 vehicles in the next few quarters and close to 7600 electric vehicles in the next 5 years transforming the logistics and transportation industry.
Mayank Vashisht | Sub Editor | ELE Times