We have been hurling into the skies of astounding developments and innovations driving those developments, and personal computers are indisputably the Peregrine Falcon of those skies. It would be perhaps an understatement to say that personal computers have changed our lives. The fact is PCs are shaping our life, and at times (During and post Pandemic) we have been remodelling our lives around and about personal computers.
Personal computers have seen generations of evolutions and transformation, and those developments are not only appearance-based, the intricacies and precision of the electronics and the output that they are delivering at the user end are far more ahead of the times when the first idea of PC was conceived.
We are on the cusp of a significant change in PC design driven by parallel changes in where the OS and apps run; head-mounted displays; and battery technology. These accumulations are driving us towards a new era of computers at a lightning pace.
Putting a full-stop to my rhetoric, let us talk about the real game of personal computing, the electronics and technology are incorporated in them. To understand the subject better, I was able to rope in Sooraj Balakrishnan, Head of Marketing, Acer India. The expertise, knowledge and generosity of Sooraj took our highbrow conversation to a full-fledged spontaneous schmooze.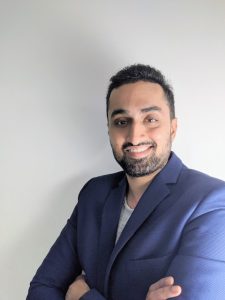 I kicked start our conversation by asking about the latest electronic components that are being incorporated in personal computers across the industries, to which Sooraj said, "Over the years technology has brought in improvements in all the components of a personal computer through constant evolution and innovation. Now, we have improved displays with higher quality and resolution that enhance user experience. The OLED displays that are available are not just thin and efficient it provides an excellent quality of an image and is now finding their way to laptops. Even more advanced mini-LED displays are also a new addition to the display technology which delivers a superior experience for users, especially gamers, developers, and creators, Acer is one of the few brands which has incorporated this into our laptops. The faster refresh rate on display is another key innovation happening in PC displays where it becomes especially important for gaming. We have also recently launched India's first 360Hz the highest refresh display gaming laptop with Predator Helios 300.
 With increased performance, systems are meant to heat up and Acer has been a pioneer in cooling technology. High-performance machines require the support of a robust cooling system that gives consistent performance and improves the life and quality of the computer. This is another key component that is getting incorporated.
Spatial computing is a futuristic technology that empowers creators with the ability to see their projects come to life in real-time. Combining eye-tracking cameras, a stereoscopic 3D display, real-time rendering, and AI technologies. It delivers an entirely new stereoscopic 3D visualization experience. This enhances and provides a higher work experience for creators and developers.
Sooraj further added, "With everything going online data storage security is a major concern and there are technologies and components that are dedicated to minimising the risk of security threats. Data classification, cloud data protection, additional authentication, and chip storage of data are a few technologies and components that prevail and help in data storage security on personal computers.
With the adoption of a hybrid model of work culture, there is great demand for PCs that provide mobile and fast experiences. With a high power process and new innovative technology, users get to utilise their PCs almost like a mobile phone with instant wake and log-in using secure technology like a fingerprint reader, facial recognition and more.
5G is the next big thing in the world of connectivity and it is expected to transform the way we use IoT and gadgets. With the increase in remote working, there has been a lot of instability in networks, bandwidth, and capability. 5G technology will resolve these issues and will provide better connectivity within and between products. Acer has launched India's first 5G laptop last year and we will be seeing more companies incorporating 5G into the PCs."
I was keen to know Sooraj's views on the convergence of AI and HPC and how will it take the personal computing experiences forward, so I shot that question to his as well and he took that as a pro by saying, "AI requires high-performance power, and this provides productivity to process data without delay. The convergence of Artificial Intelligence and High-Performance Computing provides means to address big data challenges in science, engineering, and industry. It also facilitates the creation of disruptive methods for data-driven discovery and innovation. This conjunction also enables the personalised experience of Artificial intelligence. With the help of Machine Learning, companies can move towards more intelligent systems. It will help enhance productivity, makes PC usage convenient, user-friendly, and accessible."
We also talked about the ongoing global Chip shortage affecting manufacturing and supply chains and is the situation is getting any better, to which Sooraj said, "Due to the pandemic, personal computers and gadgets have seen increased demand due to work from home and learn from home. These semiconductor chips are a part of almost all consumer products like computers, automobiles, home gadgets, etc.
 Since the shortage started, we at Acer were able to work closely with our ODM partners to procure relevant chips by forecasting the demand. However, there are challenges in meeting the increased demand for consumer gadgets.
This is when the Government of India had announced the Make in India scheme for laptops and semiconductors which ensures more laptops are being produced locally and have been able to circumvent the issue. Acer started manufacturing laptops locally which helps in the PC penetration and ensures steady supply and emerging demand of the consumers.
With a greater push towards Make in India, we will see the situation getting better between the end of 2022 and the beginning of 2023. The supply chain will ease in due course as the pandemic subsides and normalcy will return to alleviate the chip shortage."
Conversing about specifically Acer and the set of new technologies that they are going to incorporate to take the computing experience to next level, Sooraj very enthusiastically said, "Acer's zeal for innovation and customer-centricity has taken the company to extraordinary levels, and the company is well poised to change growth orbits and venture into new horizons in the coming years.
Currently, we are focused on bringing products that are high in innovation elevating user experience across all categories. Acer recently announced ConceptD 7 SpatialLabs Edition laptop with glasses-free stereoscopic 3D to designers and developers. The mobile workstation supports creators with Acer SpatialLabs, a suite of optical, display, and sensory technologies with real-time rendering capabilities to deliver a glasses-free stereoscopic 3D experience. Simply put, the new ConceptD 7 is an ideal laptop for 3D modelling, and also an excellent laptop for developers.
With the pandemic in place, Acer has been focusing on antimicrobial solutions. They aim to reduce the growth of microbes from select high-touch surfaces, with our Acer Antimicrobial 360 Design covering most of the device exterior. These designs will let devices and accessories stay cleaner longer without worrying about how to clean your laptop or computer screen.
The Acer Enduro series of gadgets are designed for adventure. They are certified military-grade laptops with durability and industrial-grade resistance against dust and water, enabling them to hold their own in a wide range of situations.
Acer also works with a clear purpose in mind addressing some of the causes that are important to humanity and pushing for sustainable practices across our portfolio. From materials in our products and packaging to the strength and integrity of our supply chain, Acer designs devices with the entire lifecycle in mind. VeroSense is the inbuilt app designed specifically for Vero PCs that acts as a control panel to help save energy and extend the battery life as well as the product life. Acer's products and innovations aim to improve how we all work, learn create and achieve while we better the quality conditions of our planet.
Acer is also the first brand to launch a 5G laptop. The Acer Spin 7 Convertible Laptop powered by Qualcomm Snapdragon 8cx Gen 2 is an extremely powerful performer. Users get 5G connectivity through both Sub-6 GHz and 5G mmWave."
What new innovations Acer is planning next?
At Acer, we are dedicated to breaking the barriers between people and technology. With the constant change in demands and requirements of the consumers, we aim to manufacture and launch products that meet the needs of the consumer.
With experience being king in this digital age it is important for companies like us to emphasise creating connected experiences for our customers. It provides a harmonious integration between AI and processing. With the high performance and demands of users, every unit requires a strong cooling system. Acer being the leader in this space we ensure every product is enabled with an advanced cooling system to improve the unit's quality of life and to ensure consistent performance.
We also recently launched our line-up of green PCs and products that are better for our environment while maintaining high-performance standards, the new Aspire Vero Series. The Aspire Vero is our green program to make eco-friendly products that are accountable in nature. From manufacturing to recycling, sustainability is very crucial. More than just a chic computer it is an expression of Acer's commitment towards sustainable operations. From personal computers to peripherals, Vero devices share green strategies, such as developing post-consumer recycled plastic and transporting it in recyclable packaging. As sustainability concerns not only how a product is made but what becomes of it, Acer's Vero devices have also been devised to be easy to disassemble, streamlining the process of repairs or upgrades and ultimately increasing the devices' lifespans.
Please tell our readers about your best product currently in the market today, and why should be in the customer's preference index?
Acer is one of the few brands in the world that has an extensive portfolio of products ranging from desktops, laptops, tablets, projectors, and several other lifestyle consumer products.
When it comes to laptop design, our Aspire, Swift, and Spin series are exclusively designed to meet the needs of the changing demands of consumers. These laptops have large screens for long hours view, comfortable keyboards, and BlueLightShield – our patented technology that helps block harmful blue light to help reduce the ill effects.
The Swift series is one of Acer's premium bestselling products with an antimicrobial and the Acer Spin is equipped with a 360-degree hinge which gives a boost to the design and built of the laptop.
In the gaming segment, the Predator series is well known among esports professionals where gamers get the finest features like 360-degree refresh rates, gaming-oriented design, and high processing power which gives a smooth and powerful gaming experience. Acer also has a wide range of monitors in different categories that cater to high-end entertainment, creators, and gamers.
Furthermore, Acer aims to transform into a lifestyle brand from a product brand through creating cross-industry business collaboration and incubating subsidiaries to create renewed growth in the PC industry and beyond. Acer seeks for PC markets with high growth potential while identifying new segments – or what we refer to as a micro trend waiting to be discovered. We have introduced a new brand called the Acerpure under which we have a 2-in-1 air purifier and circulator. This new product line from Acer signifies an extension of Acer's smart air quality solution business and follows the brands' corporate mission of promoting a safer living. It influences smart features to not only enhance users' quality of life but also create environmental benefits at an affordable price point. We want to continue inspiring, guiding, and motivating people so that we can further anticipate their needs and build products that enhance the quality of life for our consumers.
Mayank Vshisht | Sub Editor | ELE Times