Part II
In Part I of this article, we discussed BLE-based solutions revolutionizing the world of IoT asset tracking. Part II of the article will discuss how geofencing has enabled self-service, audit compliance and contextual solutions at the workplace.
Self service
At ThoughtWorks, self-service employee instances are created by embedding service into the 'Things' from the Internet of Things. Gone are the days where the IT assets are locked down in a store room with special permissions. Today IT assets are easily accessible for any productivity needs without raising a support ticket. Using beacon geo-fencing solutions, entire stocks of IT hardware are being self-serviced. This helped us boost our already open office culture alongside huge cost savings with respect to support tickets.
We have conceptualized a hardware kiosk, for any IT hardware needs. We have started experimenting with this concept with few devices and already seeing greater impact with respect to employee experience and operational efficiency.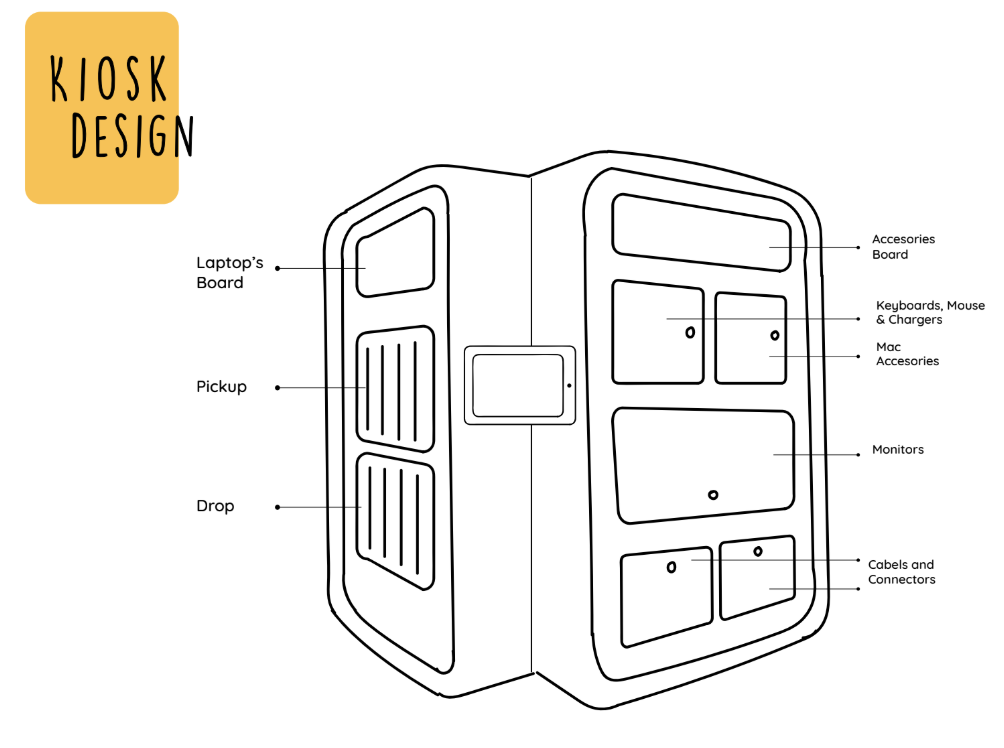 IT hardware related support tickets reduced by 60%, which in turn reduced asset assignment and stocking costs by 40%. The RTLS data also helped us plan and predict hardware usage and stock availability, much better. With the power of indoor RTLS, there is a rising need for open shelves/self-serve kiosks at corporate offices. Additional usage can also be seen at museum's visitor touchpoints, to track medical equipment at hospitals and to track factory equipment. This segment is expected to reach US$30.8 bn by 2024.
Integration of this indoor RTLS data with IFTTT dashboards triggers actionable workflows like inventory refill, location-based data cloud for operational optimization and leaves it to our imagination to create any kind of dashboards.
Audit compliance
IT asset auditing is a slow marathon for every enterprise, because of the numerous state regulations. More often than not business is upset, with the audit teams deployed at full force across offices. Also, reactions to an audit are akin to a post mortem, because the damage is already done.
Beacons and boundaries created with indoor geofencing algorithms enable proactive and Realtime push notifications, which have ensured that ThoughtWorks maintains a 95% regulatory compliance adherence. The data accuracy is at 95% which facilitates an enterprise level audit to take only a few hours. 2018's data points to an 80% drop in our IT audit cost.
We also foresee that this indoor geofencing solutions can enable to maintain high standard compliance in security sensitive environments like data centers, banking corporations, research labs where movement of physical assets is restricted to a certain area.
Contextual solutions
Offices are evolving from smart buildings to become smart workplaces, all thanks to IOT, AI and virtual beacons. With the help of intelligent systems like AI chatbot integrated indoor geofencing solutions empower employees with access to location aware solutions like real time indoor navigation, smart meeting rooms, path finder to locate a device and more. For example, a virtual assistant can indicate the nearest printer, or the closest available meeting room and an employee can use RTLS geofencing data to reach her intended destination.
A closed group internal survey amongst ThoughtWorkers pointed to employees saving a minimum of time by 10X and having a friction-less experience at the workplace, which in turn increased productivity. Beacon-based smart workplaces instill autonomy and give employees the opportunity to have a bigger say in the design and purpose of the workplace.
Our research-driven experiments and implementation of the IoT led geofencing beacons platform resulted in feature rich solutions that automated workflows, provided real-time alerts, offered predictive maintenance, and meaningful insights. As an added business advantage, BLE beacons provide an affordable and adaptable infrastructure that's both scalable and cost-effective – the perfect mix for traditional operational challenges.
About the Author:
Sathyan Sethumadhavan leads the internal regional product teams, which is responsible to build products using IOT, AI and ML. He also manages the regional IT for India. With his strong technical expertise, he specialized in building product engineering teams which balances innovation and product delivery.