The hype of electric vehicles is spurring like a wildfire all over the globe, and India has already put forward its intention of being one of the catalysts for this revolution. However, it has been an 'easier said than done' scenario revolving around the industry. The lack of EV infrastructure in India and the consumer hesitation to switch from traditional combustion vehicles to EVs are considered to be one of the major roadblocks for this revolutionary transition.
To effectively push the adoption of electric mobility in the coming decade, India should set an ambitious target for transition to electric vehicles like its European counterparts, encourage vehicle fleet operators to use more such vehicles, and liberalize regulations related to establishing and operations of charging infrastructure, said World Business Council for Sustainable Development in a report.
ELE Times correspondent Mayank Vashisht had a profound conversation with the founder and CEO of Matter, Mohal Lalbhai. 'Matter' had its inception in January 2019; a technology start-up where he, along with his highly experienced team of almost 100, are passionately leveraging revolutionary technology and superior infrastructure to catalyse the entire electric ecosystem. Mohal shared his insights on the EV ecosystem of India and the future prospects and how 'Matter' would matter in this future.
Below are the excerpts of the exclusive conversation: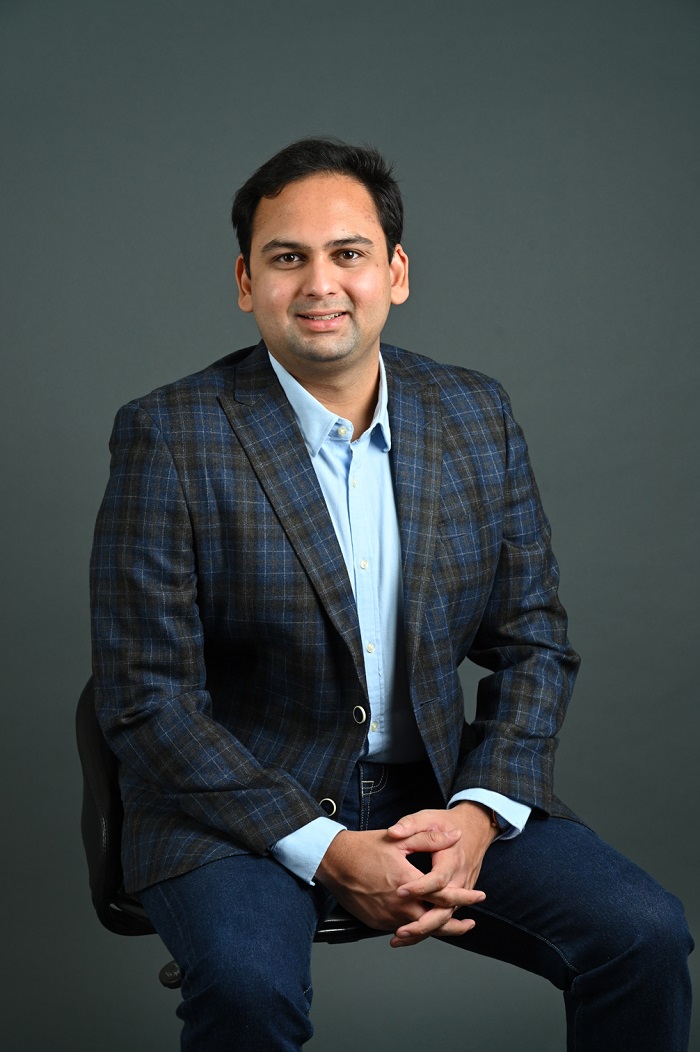 ELE Times: How promising is the Indian market for intelligent driving and electric vehicles, given the Government of India's agenda on making the Indian roads free of fuel vehicles by 2030?
Electric Vehicles are expected to be the future of mobility. According to a report by IESA, the Indian electric two-wheeler market is expected to grow at a CAGR of 36 per cent by 2026. More studies have pegged India's EV market at a value of over $200 billion in the next 10 years. India's EV ambitions call for over 100 million vehicles cruising the roads, a corresponding demand for over 150 GWh in battery packs, and millions of public charging stations. With the number of registered EVs in India touching just half a million (as of March 2020), the nation has to accelerate the adoption of electric technologies.
Further, in line with the central government's plans to make Indian roads free of fuel vehicles by 2030, state governments such as Maharashtra, Gujarat, Delhi and Karnataka too are aligning their policies to help India transition into sustainable mobility.
The COVID-19 pandemic has been a rude wake-up call for everyone and has given rise to a highly conscious consumer. Further with petrol costs being at an all-time high, buyers have started questioning the rationale behind opting for an IC engine powered two-wheeler as opposed to an EV. The market numbers offer strong indicators about the opportunity that is available to EVs within the Indian market and yet the fact remains that there is a supply-demand mismatch in the electric space.
Matter aims to occupy a space wherein we will offer mobility products that are engineered from a deep understanding of the specific needs of Indian customers at a competitive price. At the same time, our vision looks beyond the marketplace. We believe that Matter is in a strong position to play an important role in achieving climate change targets and alleviating environmental concerns. Electric technologies are non-polluting and help limit the usage of fossil fuels. Electric Vehicles are very much the need of the hour — the answer to air quality concerns in major cities, not to mention the saving of billions of dollars on oil imports.
To sum it up, looking at the growing awareness toward the environment, supportive government policies coupled with stringent emission norms, the road ahead for the electric vehicles industry in India is very promising.
ELE Times: With IoT married to intelligent automobile technologies, the driving experience is going to be like never before. How much truth does this statement hold for Indian markets?
We believe that electric vehicles are rapidly becoming more intelligent. What was once a Hollywood fantasy is fast becoming a reality. According to a study IHS Analysts research, the usage of AI for in-vehicle applications is set to increase tremendously over the next decade. Intelligent on-board technologies have the potential to provide effective solutions that will bring relief not only to users but also support the government's vision for India's Smart cities.
The year 2020 was marked by enormous technological-driven lifestyle disruption for millions of people. It was a phase that highlighted what humankind can achieve under acute adversity. The tech trend is all-pervasive. All around us, there are examples of companies adopting AI, IoT, robotic technologies, big data, 5G, edge computing, and so on. Across sectors, geographies and economies, the common trend has been the accelerated adoption of technology. Today the discourse has shifted to a different plane and we now talk about e mobility and as a nation, we are exploring electric vehicle adoption and the electrification of our highways and expressways.
Despite acknowledging that EVs are a great alternative, Indian consumers still do not have choices that are right for them. EVs new-age features, including a superior and connected technology, almost at-par total cost of ownership, and the higher purpose of contributing to a cleaner planet are lost on a vast majority of the population.
 We'll be able to see public support for mainstream EV adoption if we launch products with longer ranges with advancements in battery technology, and by establishing the necessary charging infrastructure.  All of these hurdles can be confronted with the confluence of 'smart, scalable and sustainable 'which is the sweet spot for investments in technology.
The current advances in intelligent mobility are critical stepping stones opening mass volume markets, and that is why we have consciously positioned Matter in this sweet spot — as a user-centric intelligent mobility company and we are fully geared to ride this wave. We are building the technology that will help us drive the change in India through our robust Make in India vision. We are energizing the electric space with smart technologies that will revolutionise the user experience.
An electric future is closer than we think.
ELE Times: Please share with us the range of products offered by your company and their specific technical application in the automotive sector.
Matter aims to revolutionise the electric ecosystem within India. We are an organisation founded on the tenets of technology and innovation. Even as technology megatrends like autonomous systems and electrification are redefining the benchmarks of industry, Matter has developed an integrated technology stack that has tremendous potential to make a disruptive impact on the electric ecosystem.
The matter is branched out into two separate business lines- the first one is Matter Energy and the second 'Mobility solutions' that will focus on electric two-wheelers. Matter Energy will be our first offering which is poised to enter the market in August – 2021. Our immediate focus is going to be more on stationary applications which include UPS and inverters and for mobility applications like two-wheelers and three-wheelers.
Post the launch of energy solutions by Matter Energy, we will focus our energies on launching our under-development vehicle in early 2022. Post that we would start work on developing a range of electric two-wheelers to cater to the demand of various customer segments in the 2-Wheeler market.
On the whole, our products are backed by extensive testing and validation. We say this with complete confidence as all our products and their components are being developed completely from scratch keeping the expectation of Indian customers in mind and considering the Indian weather conditions. Our aim is to offer robust products to our customers and in the process create value for them. One of our focus areas will be to provide solutions to pure B2B business, especially for large-scale projects. Our vision is to support India's vision to embrace electric mobility by bringing a product that champions the performance and value-proposition of an IC engine with the positive environmental impact of an EV.
ELE Times: Anymore, information that Matter would like to share that they feel is relevant and important to be added would be highly appreciated.
If you envision perhaps in the new future, you will see millions of EVs on the road, can you imagine how much intelligence, charging infrastructure, energy  (EVs) it needs to really fulfil the expectations of the people. A national charging infrastructure, as I see it, is one of the most important things that can be done. It is one of the most important aspects that will facilitate e-mobility in order to make the breakthrough.
India, as a young country with a globally competitive manufacturing sector and innovative businesses, is well-positioned to take advantage of this opportunity, which will also help to create additional job possibilities.
Mayank Vashisht | Sub Editor | ELE Times