As technology continues to advance at a rapid pace, our modes of communication and daily activities are undergoing transformative changes, thanks to the Internet. The Internet has become the global connector, enabling us to access information on nearly any subject. Given this extensive connectivity, it's no surprise that automobiles have also become integrated with the Internet, a phenomenon known as "Connected Cars technology." This article will delve into the intricacies of Connected Cars, exploring their features and highlighting the numerous benefits they offer.
About Connected Cars
A connected car, also known as an internet-connected vehicle, is a type of automobile that has the capability to connect to the internet. This connectivity is established through a Wireless Local Area Network (WLAN), allowing the vehicle to communicate and share data with both internal and external devices. When connected, the car can access internet-enabled devices within the vehicle and interact with external devices and services. This continuous internet connection enables the transmission of data as and when required by the user. Through smartphone applications, users have the ability to remotely control specific functions and engage with other compatible products. Moreover, this technology enables users to receive up-to-the-minute information, establish a connection between their car and the dealership, and promptly notify emergency services in case of accidents.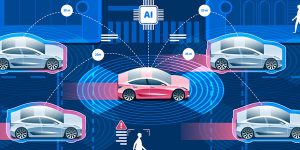 What is the functioning mechanism of connected cars?
All automobiles manufacturing companies use two kinds of systems in connected cars:
Embedded – A chipset and integrated antenna are incorporated into an embedded vehicle.
Tethered – A tethered system includes hardware that establishes a connection with the driver's smartphone.
Connected cars have the ability to transmit data, download software updates, establish connections with other devices in the Internet of Things (IoT) ecosystem, and even offer passengers a Wi-Fi internet connection. These capabilities also extend to accessing telematics data and remotely controlling vehicle functions, which prove particularly advantageous for electric cars.
How many types of connectivity are there?
All connected cars use different types of communication technologies, and this is where automotive and informational technology work along. The following are the different types of connective technologies:
Vehicle to Infrastructure (V2I): This kind of communication is mostly utilised to increase vehicle safety. This connectivity enables connected automobiles to interact with the road infrastructure and exchange and receive data about the state of the roads, traffic, weather, speed limits, accidents, etc.
Vehicle to Vehicle (V2V): This type of connectivity makes the vehicle-to-vehicle communication system that will allow the real-time exchange of information between vehicles. Additionally, V2V is used for the safety of vehicles.
Vehicle to Cloud (V2C): This type of connectivity works via a wireless LTE network and transmits information through the cloud. The main purpose of V2C connectivity is to download over-the-air car updates, remote vehicles inspection or connect with any IoT devices.
Vehicle to Pedestrian (V2P): It is the latest connectivity system in the list and with the sophisticated sensor technology the purpose of this connectivity is safety. Vehicles detect the pedestrian using a sensor, which gives collision warning.
Vehicle to Everything (V2X): This form of connectivity, which is often referred to as V2X connectivity, combines all the connectivities listed above.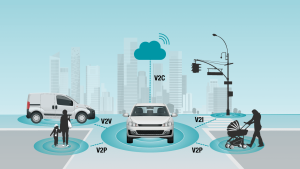 Features of Connected Cars
A variety of smart and practical features are included with connected autos. With its cutting-edge security features, linked automobile technology provides security and enhances the overall driving and ownership experience. The following are features of connected vehicles:
Connectivity of Internet in Cars
Connected cars can stay online all the time, thanks to embedded chipsets that enable them to connect to the internet via a stable wireless network. These vehicles are also equipped with WIFI connectivity, allowing them to receive over-the-air updates from the manufacturer.
Vehicle-to-vehicle communication
Connected cars are able to communicate with each other using V2V connectivity technology, which allows them to share vital information such as road conditions, traffic patterns, and speed limits. V2V technology is set to become a critical aspect of autonomous vehicles, which are widely considered to be the future of transportation.
The high-end feature of connected cars known as remote parking enables drivers to park their vehicles from a distance. By using a smartphone app or a smart key, drivers can exit their vehicle and guide it into a parking space with ease. This feature proves especially handy in tight parking spots where drivers may lack confidence in their ability to park their cars safely.
These days the manufacturers of connected cars are also providing specialized smartphone app that connects with the vehicles through the wireless network. With the help of these apps users can operate their vehicle remotely e.g. they can lock/unlock their car, open the sunroof, engine start/stop, headlight on/off, and also can track their vehicle via the onboard GPS.
Entertainment/Infotainment
The connected car offers a range of pre-installed entertainment apps and services that users can utilize. When the vehicle is stationary, you have the ability to enjoy music and videos. Additionally, you can connect your smartphone to the car's infotainment system through various apps, enabling you to remotely control audio and video playback.
Connected cars offer a multitude of essential security features that make them stand out. These include real-time vehicle tracking, automatic emergency SOS notifications in the event of an accident, and roadside assistance for vehicle breakdowns. In addition to the built-in safety equipment, these intelligent safety features prove invaluable during challenging circumstances.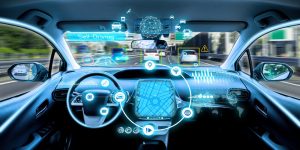 Benefits of connected cars
A connected car provides a wealth of innovative and convenient advantages, and a few of these benefits are outlined below:
Connected cars allow users to have access to a variety of infotainment and entertainment services.
It has an advanced navigation system through third-party apps.
It has high-advanced safety features to minimise the chances of accidents.
Specialized safety features to keep the track of vehicle even when you are not in the vehicle.
With high-end safety refinement, you can avoid filing frequent claims against your car insurance policy. By that, you can lower your premiums due to the No Claim Bonus (NCB) policy.