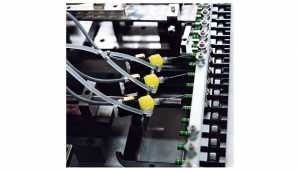 Nordson EFD, a Nordson company, the world's leading precision fluid dispensing systems manufacturer, is pleased to introduce a new Machine Builder Solutions Guide and Dispense Valve Selection Guide.
These guides are designed to make it easier for custom automation providers to understand and select the right fluid dispensing systems for end-users. The solutions guide includes testimonials and links to useful resources such as 3D and 2D CAD models of Nordson EFD valves, controllers, dispense tips, tanks, components, fittings, and more. It also includes several application examples with recommended dispense valves and controllers. Find out how to register for a complimentary application test. Discover why it's important to get an application specialist involved early in a project to avoid common pitfalls.
The valve selection guide allows users to find the right valve based on the fluid being dispensed and the dispense pattern required. It includes valve and controller comparison grids that allow machine builders to compare features and specifications to better identify the right solution. It also includes a fluid reservoir comparison grid, which provides recommendations based on fluid viscosity and production volume.
"As products and solutions grow in complexity, machine builders face increasing demands to design custom automation systems that boost productivity and business agility while lowering cost of ownership for end-users," said Claude Bergeron, product line manager of valves at Nordson EFD. "We understand the challenges they face, and we provide a wide range of reliable dispensing systems along with 50+ years of application expertise to help them meet those challenges."
For more information, visit: www.nordson.com