As industries continue to grow and mature, businesses are increasingly turning to industrial automation to boost productivity in the workplace and address the challenges they face. Most companies have found that human-machine collaboration and industrial automation solutions can effectively translate labour-intensive, repetitive and hazardous tasks, keeping human workers fresh and healthy, while also speeding up the time it takes to accomplish those tasks.
Industry 4.0 is still in its nascent stage if we take the industries in India into account, however, the acceptability of automation solutions is growing almost every day. People in India also realise the value addition that these industrial automation solutions provider to their operations. From pick and place to surgical inspection of the product quality, Industrial automation is being welcomed by the industry with open arms, and when these solutions are coupled with artificial intelligence and machine learning software, the potential of automation grows manifolds.
What follows ahead is an extremely insightful conversation with Sameer Gandhi, MD, Omron Automation, and India. Sameer was well quipped in successfully portraying a discernible landscape of Industrial automation scenarios in the world and India, its key drivers and Omron's latest technology offering in regard to the same. Excerpts: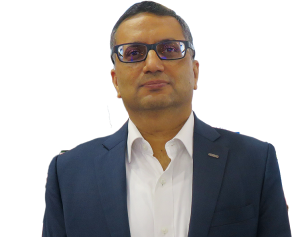 ELE Times: Please tell our readers about the new technologies and solutions that your company has displayed recently at the Automation Expo 2022.

Trying a different approach to showcase our strong intent to address the real challenges & issues of manufacturers on the shop floor, this time we displayed more solutions rather than products at our booth at the Automation Expo.
It ranged from Pick-n-place robotic solutions displaying the dexterity of picking up small components – a very relevant offering for the digital industry- to Predictive Maintenance solutions which help to reduce unscheduled downtime. The predictive maintenance solutions aim to answer one of the biggest challenges in the industry which is the availability of skilled and experienced labour for predictive maintenance.
We also showcased our Cobots solutions for palettizing capabilities and also highlighted its uniqueness to work along with humans safely without the need for fencing or an enclosure.
Traceability was another solution, displayed by us at the booth. This underlined the utility of OMRON laser markers to mark bar codes or text on components, Omron verifiers to read and verify the code on components, as well as the Flying Trigger technology that enables bar code reading on the fly without having to stop the component and finally the NX PLCs for sending the data to the cloud for post-despatch verification and records.
ELE Times: Is there a significant difference between using a cobot and a traditional robot for end-of-line packaging or palletizing? If yes, then please elaborate for our readers.
Yes, for tasks like palletizing or end-of-line packaging which usually needs to be performed over a small footprint and where the layout and workflow are such that the human operator/worker must move in that area, preventing the incorporation of a fenced robot, it is ideal to use a Cobot. Cobots have a versatile application and can be used across industries and sizes of operations.
ELE Times: We are now standing in the midst of the fourth industrial revolution and today's factory production lines bristle with automated control systems, software, computer panels and robots. What are your views and response to the classic hypothesis of manpower requirement getting snow under Industrial Automation?
The 4th Industrial Automation signifies collaboration and harmony between people and machines to enable manufacturing to achieve world-class standards. It's no longer machines replacing humans but it's all about humans and machines working together to achieve newer, better and more creative ways of doing things.
OMRON aims to develop new manufacturing that allows people to maximize their potential and experience growth and motivation by making people a leading role while advancing the substitution from people to machines. Leaving the heavy labour and simple repetitive work to robots, machines support human proficiency and aim to realize a manufacturing site where workers can enjoy their work creatively and enjoy manufacturing, and at the same time achieve high productivity by embodying the concept of the "Advanced collaboration between people and machines.
ELE Times: What are your thought on the level of industrial automation in India in contrast to the rest of the world?
In India, bigger manufacturers in the arena of industries like automotive, secondary packaging, FMCG, and consumer electronics have made considerable progress in adopting automation however the path remains a little perplexing for the SMEs. They have a dire need for better levels of flexibility, quality, and consistency amidst challenges like little or no scope of extension or modification of the shop floor space, shortage of skilled manpower and most importantly meagre capital infusion capabilities.
One of the key requisites for expanding the penetration of automation in the country's manufacturing sector is to strengthen the availability of a partner ecosystem. Most automation requirements are unique and need to be run like a small project. These require some mechanical additions or modifications to the customers' existing setup. While larger organisations may be able to run some of these projects on their own, many of the MSME sector organizations usually don't have the required skill sets to execute such projects. This is where the role of system integrators (SIs) comes into the picture. They marry the robot/cobot with the required mechanical design and implement it at customer locations. While India has many such SIs, we require a substantial increase in their number. Although, given the technological skill set availability and an entrepreneurial mindset, it is only a matter of time before this ecosystem also develops rapidly.
ELE Times: How is OMRON leveraging AI and machine learning to strengthen the Automation services?
OMRON has been earnestly trying to integrate AI and machine learning in its portfolio because we feel the integration is needed to bring in the best of human-machine harmony. The last few years have been manifesting many notable things that indicate the transformation the manufacturing world is undergoing. With the concept of glocalization replacing globalization, mass customization is giving way to personalized manufacturing mandates. With climate changes and unprecedented situations like Covid, consumption orientation is getting replaced with sustenance orientation. Also post-pandemic, the makers are now pondering over social needs, more than ever, rather than only industry and production-based needs. All this demands the I4.0-based data-driven systems to do more and fetch more sustainable results by transitioning to knowledge-driven systems.  Hence there is a need to do more and that can be achieved when we integrate AI and machine learning to achieve harmony at all levels: human-human, human-machine, machine-machine and vice versa.
ELE Times: Please tell our readers about Omron's current and future plans for the packaging automation sector in India. 
There has been rapid adoption of more advanced automation in the packaging machinery manufacturing industry in India in the last two years as demand for speed and efficiency has grown post-Covid. OMRON works very closely with some of India's leading packaging machine manufacturers especially in the vertical form fill seal (VFFS) and horizontal form fill seal (HFFS) segments and will continue to make deeper and wider progress in the segment.
The acceptance of robotics in machine manufacturing has also increased in the last few years. Covid made manufacturers realize that people are not going to be available every time. This gave a boost to the adoption of movements like zero touch. OMRON has done projects involving high-speed pick and place where complete lines have been automated by multiple robots and this would also remain one of our prime focus areas in the future too.
Looking at the future of the industry per se, I feel there has been a move from making slower machines to faster ones and also from making simpler machines to more complex machines. This evolution will continue to take place in the Indian packaging machine manufacturing space.
Mayank Vashisht | Sub Editor | ELE Times