In the decades and centuries that have followed the first industrial revolution, technology has found a staggering headway and has been enabling to push the limits forward of human efforts by providing them with more efficient solutions than yesterday and transforming the way industries operated beyond recognition. We are now standing in the midst of the fourth industrial revolution and today's factory production lines bristle with automated control systems, software, computer panels and robots.
ELE Times Correspondent and Sub Editor Mayank Vashisht got the opportunity to some expert insight from Mohandas Ukkandath the MD of Sparr Electronics Ltd, about the subject matter of Industrial automation and its Indian spectrum. Excerpts: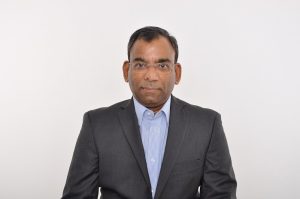 How Automation enables industries to operate more efficiently and effectively? Please enlist some of the key advantages of the automated industry.
Automation improves efficiency and productivity by automating the completion of recurring tasks with the use of technology.
Advantages include higher production rates and increased productivity, more efficient use of materials, better product quality and shorter workweeks for labour. You can run machines overnight and without stopping, increasing productivity, allowing for more work to be done at a faster pace without extra manpower, resulting in greater control and consistency of product quality. Automation can reduce human errors, variability in quality and reduce the overall cost of manufacturing. It can also improve safety in the workplace by filling dangerous job positions, automating monotonous tasks and taking over jobs that compromise human hygiene. Manufacturing costs can be significantly cut by replacing expensive employees with robotic machines.
What are the key drivers, according to you, that are enabling the widespread adoption of industrial automation?
Reduced manufacturing lead time
Automation helps to reduce the elapsed time between the order of the customer and product delivery.
Avoid higher costs of not automating
Automation benefits can lead to higher sales, better quality, improved productivity, a better bottom line due to higher efficiencies and a better company image. Companies that do not implement automation may find themselves lagging behind their competitors who have chosen to automate.
Enhanced product quality
Automation reduces the fraction defect rate and automated operations are performed with greater conformity and uniformity.
Helps accomplish impossible manual tasks
There are certain manufacturing operations that are not possible without the involvement of machines. Examples include rapid prototyping through graphic modelling, making complex surfaces with PLC and integrated fabrication of circuits. All these processes have special requirements for miniaturization, accuracy and geometry that are impossible to achieve manually.
Increased productivity
Automated systems can perform tasks more efficiently than manual operations.
Increased workplace safety
The safety and health of employees have become a priority and automation has made the workplace safer for employees.
Customised Manufacturing With a high level of automation is easily possible to achieve product customisation as per customers' needs.
What are the current Industrial Automation trends? What innovations regarding the technologies enabling Industrial automation can you foresee for the coming years from your vantage point?
Artificial Intelligence (AI) is transforming every area of technology. Industry professionals are using AI to predict problems with their equipment, allowing them to stay effective on the preventive side of maintenance and repair.
One of the objectives of a company's digital transformation is to ensure resilient operations. These include increasing cybersecurity threats, new regulatory compliance mandates and personnel safety requirements. Even before Covid-19, manufacturers faced numerous challenges such as market and commodity uncertainty, rapid fluctuations in demand, supply chain disruptions, and the need to become more agile, efficient and sustainable. The current pandemic magnified those challenges, leading manufacturers to focus on operational resilience as a key objective, breaking physical and organizational boundaries to engage a real-time workforce, connecting teams and enhancing collaboration. Manufacturers will look to improve remote operational performance and optimize production.
We can expect the introduction of new solutions where technologies will move beyond convergence and be fused into a single offering. The convergence of information technology and operations technology (IT and OT) is progressing rapidly as manufacturers realise it is key for successful digital transformation. Connectivity and / convergence between OT and IT is essential for businesses to compete with the increasing demand for tighter integration and more information that leverages Industrial IoT, Industry 4.0, cloud, 5G, advanced analytics, AR/VR, AI, ML and other emerging technologies. Convergence between power and automation also provides an integrated, digitalized approach that increases interoperability and flexibility and improves overall profitability.
What is your view about the current situation and scope of adoption of Industrial automation in India in comparison to the global industries?
While not a new trend, business process automation continues to evolve. The Covid-19 pandemic ramped up the automation of monotonous manual processes and tasks. For too long organizations focused on creating digital versions of legacy analog systems in their middle and back offices, instead of reimagining how digital technologies can improve the entire enterprise value chain from decision-making to the way people work and connect with customers or suppliers. The pandemic has made companies realize that they could embrace digitization technologies. Also, they will continue to automate all or part of their inventory management and distribution process, followed by IT processes & procurement and supply chain. The focus is shifting from task-based automation to functional-based business process automation across multiple tasks and areas.
Remote operations are becoming the new normal such as working from home or anywhere, it will continue to a significant extent even after the effects of the Covid-19 pandemic have passed. Remote operations require appropriate enabling technology for a connected and remote workforce, facilitate collaboration and reduce paperwork, provide secured access to information from anyone, anywhere, and support interactions. Technologies such as Augmented Reality (AR) is very useful, where the remote user can see any asset in the plant with information digitally overlaid. AR devices sense what the remote worker is looking at and displays the data needed for the operation at hand using tablets, smartphones, smart glasses or wearable computers.
At the global level, the Industry 4.0 market is expected to be $214 billion by 2023. Countries such as the US, China, Japan, the UK and many EU have adopted Industry 4.0. Germany adopted it in 2010 as a strategic initiative to establish itself as a leading provider of advanced manufacturing solutions. India is the sixth-largest manufacturing country, given its strong focus on Industry 4.0 through the "Make in India" plan for future development. The Govt has undertaken many policy reforms such as the implementation of GST and liberalizing the FDI policy. Industry 4.0 offers a great opportunity to the Indian manufacturing industry as a whole.
Digitization of various industries is taking place in India. However, the penetration level varies according to the sector requirements. Many Indian companies are thinking about the idea of connected machines. Some sectors have started experimenting with the idea of a connected factory at shop floors and assembly lines. While Industry 3.0 simply was about the automation of isolated machines, Industry 4.0 concentrates on the end-to-end digitization of all physical assets and their integration into digital ecosystems with value chain partners. In essence, the new paradigm is about integration.
What is the road ahead for industrial automation in India? 
NASSCOM predicts that by 2022, 46% of the Indian workforce will be engaged in entirely new jobs that do not exist today or jobs that have radically changed skillsets.
Artificial Intelligence and Robotics Technology (AI and RT) are expected to double in India in the next 3 to 5 years and every organisation must be ready to embrace the change. Companies and professionals in India expect the extent of change towards AI and RT from the current 14% to 30% in the next 3 to 5 years, higher than the global and APAC average. Contrary to the popular belief, that automation would replace humans to minimise the costs, the survey observed that more than half the companies believe that automation will augment human performance, create new skillsets etc. rather than replace it.
The Industrial Internet of Things (IIoT) uses smart sensors and actuators to enhance manufacturing and industrial processes. IIoT leverages the power for smart machines and real-time analytics to take advantage of the data that dumb machines have produced in industrial settings for years. The driving philosophy behind IIoT is that smart machines are not only better than humans at capturing and analysing the data in real-time, but they are also better at communicating important information that can be used to drive business decisions faster and more accurately. Connected sensors and actuators enable companies to pick up on inefficiencies and problems sooner, and save time and money. Specifically, in manufacturing, IIoT holds great potential for quality control, sustainable and green practices, supply chain traceability and overall supply chain efficiency.
Mayank Vashisht | Sub Editor | ELE Times