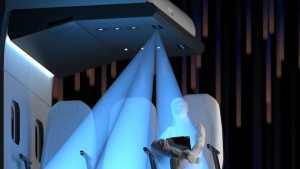 Signify introduced an innovative way to produce lighting products: 3D print them! The company unveiled its facilities to 3D print light shades and fittings (luminaires) in the Netherlands and announced its plan to establish more 3D printing factories in the US, India and Indonesia.
By 3D printing luminaires, Signify uses a 100% recyclable polycarbonate material, allowing lighting products to be bespoke designed or tailored to customer's exact needs and recycled at the end of their life, supporting a circular economy.
According to Olivia Qiu, Chief Innovation Officer at Signify, 3D printed luminaires have a lower carbon footprint than traditionally built metal luminaires. The light weight also enables 35% less carbon emission in shipping.
In addition, Signify also announced the rollout across Europe of the world's first online service to enable consumers to tailor decorative luminaires. Included in the range is a customizable Philips LED table lamp made from 24 recycled CDs.
The world's largest lighting company continues its dedication to sustainability. Last year in 2018, 79% of Signify's sales comprised sustainable revenues. The company is committed to be carbon neutral in 2020 and was recently named Industry Leader in the Dow Jones Sustainability Index for the third year in a row.