The last year brought with itself a host of good news for India's electronics industry. For one, India became home to the world's biggest mobile manufacturing factory. The factory, opened by Samsung in the NCR, is expected to not only provide employment to a large number of the local population, but also to boost India's manufacturing industry- an industry that has failed to take off owing to a lapse in policy making and a consequent lack in initiatives taken by corporate.
The importance of manufacturing in India could never be emphasised enough, as it is among the biggest industries that give India a negative trade deficit since we import almost 70-80 percent of the electronics that we consume. In fact. After oil, import of electronics is at the number two spot where we spend tons of money annually. And when you take into consideration India's size and population, and then factor in that 90 percent of electronics we use are imported, leaves a huge question mark on our capability as an innovator. India's imports of electronic goods grew 31% between April and October 2017 to $29.8 billion. Meanwhile, the trade deficit reached close to $100 billion during the April-November period of 2017, against $67 billion in the same eight-month period a year ago.
Make in India: The Dream, The Hype
Today, things seem to be changing though. When PM Modi took assumed office in 2014, he launched his flagship 'Make in India' initiative that was aimed at revamping India's manufacturing sector and to establish the nation as an alternate manufacturing destination to China- the world's preferred place for electronics manufacturing. The electronics industry was put as a priority sector under the initiative, simple because it has a huge potential of innovation and also creating jobs.With Samsung's new mobile factory, the narrative now seems to be changing. India is finally making the right inroads in putting itself out as a viable manufacturing hub. But, the question remains, is it going to be enough?
Labour costs are on a constant rise in China. This can be beneficial especially for a country like India as she has an opportunity, perhaps for the first time in history, to attract companies to move their manufacturing plants here. But there are some key sectors that need a massive reform for India to be able to do so.
"India is moving in the right direction. Almost five major mobile phone brands in India have all started assembling in India, and these are all Chinese brands," said IESA's new President Rajesh Ram Mishra to ELE Times. However, in the same interaction, he mentioned that most electronics components like chips continue to be imported from China. So, that leaves us at the juncture where we find ourselves today. We are importing most of the components from elsewhere, and assembling those using SMT devices which have also been imported. Make in India, in its essence, has been less about manufacturing and more about assembling.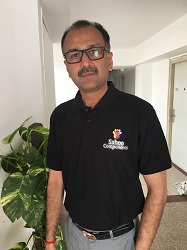 That raises another important question: what does that mean for the local electronics distributors- a sector that has been majorly dependent on imports so far?  Saboo Components' Arun Saboo told ELE Times that had active and passive electronic components been made locally, that would have helped the industry to grow. "If we look back around 5 years from now then we can say that there has been a good growth of electronics manufacturing in India. But this growth could have been more if the imports of instruments / CKD get reduced. Now days a lot of instruments are being imported directly instead of manufacturing them here. This is because their manufacturing is expensive here and they are easily available at a cheaper rate outside. This has to a large extent affected the growth of electronics industry here," he said.
But people on the manufacturing side feel that India has a thin base of local component distributors and suppliers. At best, the distributors' base in India in India has been sporadic. That has forced manufacturers to import components and other parts. But, in the last few years, the customs duty on importing a lot of electronic components has been increased by about 10 percent. That puts India's manufacturers at a disadvantage compared to some of their global counterparts, since they have access to those components at a much lower cost. The solution to this particular problem might be simpler. The custom duties on components could be brought down to the level of the product itself. That way, manufacturers won't be tempted to import an entire finished good.
Is Manufacturing the way Forward for Us?
In fact, manufacturing down at the component level is a much bigger task for us, since that takes a lot of investment and R&D. And we shouldn't forget that electronics is a fast changing world. It is only rarely that components live out their expected time cycle because a new innovation comes along soon rendering the previous lot obsolete. People in India's electronics distribution sector have been saying the same thing too. They are much happier in importing electronic components, both active and passive and selling them to OEM's and ODM's for use in a finished product. They say that if we start making components in India today, and solely rely on domestically made parts, it would be very difficult for them to clear off their inventory. "Manufacturing of components requires continuous R & D, which involves a lot of money & time. The parts in electronics industry are very fast changing, so they get outdated very fast. So at present our focus should be on manufacturing of finished items," said Saboo.
So far then, we have understood that distributors are okay, for the time being, with importing active and passive components. Till the time, that India addresses the problems that mar its manufacturing sector, it is beneficial for them to keep importing. But, when India does bring about reforms, and a lot of it is expected from the second edition of the National Electronics Policy, distributors would be more than happy to source and supply locally made parts. "Once the manufacturing grows, there are other sectors like trade & service which are bound to grow. Growth of manufacturing will be a good sign for trade and will give them vast opportunities to grow & flourish," said Saboo.
Now that the stage has been set, it would be a good opportunity to talk about another major problem that faces the local electronics industry- FDI. Investors are still not very confident of putting their money in the electronics industry as it has garnered less than 1% of the total FDI inflow. The major contributors to that problem and the subsequent answers thereof lie largely on policy making problems. India's arduous labour laws, delays in land acquisition, and uncertain tax structure have kept many investors at bay so far. With the implementation of GST, there has been the establishment of some sort of clarity in the tax structure, but onerous labour laws and land acquisition problems are yet to be addressed. The price you sometimes have to pay living in a democracy! In order to inspire confidence, laws need to be liberal and predictable. In the case of taxation, it is important to clearly establish the tax liabilities under different circumstances in full detail. A possible experiment could be special economic zones like the Dubai International Financial Center Dubai's normal civil and commercial laws do not apply in this area and a British chief justice ensures the practice of British common law.
GST: A Potential Game Changer
This is not to suggest that the government is ignorant of these challenges. A recent shot in the arm has been India's rising rank in the world ease of doing business index. In fact, India's rank in the World Bank's Ease of Doing Business 2019 survey climbed 23 places to 77 among 190 countries surveyed, making it the only country to rank among the top 10 improvers for the second consecutive year. Following the implementation of the landmark GST, trucks in India are travelling 30 percent more than they used to. GST has also reduced the confusion associated with various state and local taxes. And the government seems determined to improve the condition of highways and ports.
In fact, the industry sentiment is upbeat on GST as well. "The single tax system (GST) introduced by the government is a good move. It will have a very positive and progressive impact not only on our business but everywhere. We can see clean & clear business everywhere. Now the competition will be healthy. Some earlier hurdles like the C forms, octroi, etc., have been removed by this new single tax system, which is welcomed by the industry. Now even the small traders can take the benefit of the GST, whereas earlier only the big organizations who were registered in excise could take the benefit. This will help in earning and also will to some extent reduce the cost. Overall it will lead to progress," said Saboo.