Sri Ramakrishna Institute of Technology College, Coimbatore bagged Chairman's Award for the best innovative product for the Texas Instruments India Innovation Challenge Design Contest 2016. This was announced at the grand finale held at IIM Bangalore and was presided by top minds in academia and industry. The dignitaries present were Prof. Ashok Jhunjhunwala, Shri NS Raghavan, Shri Harkesh Kumar Mittal, Dr. Anita Gupta, Prof. G Raghuram, Dr. Peter Balyta and Sanjay Srivastava.
The first runner up for the Texas Instruments IICDC 2016 is the team from IIT Kharagpur for their innovation on tracking sleep disorder and the second runner up is from Dream Institute of Technology, West Bengal for their innovative solution on safety ensuring wearable. Total 30 teams participated in the finals which received 1.5 crores as product development fund. Out of these, Jury selected 10 teams which will receive INR 2Crores seed fund and opportunity to be incubated at NSRCEL, IIMB.
The 2016 TI IICDC saw participation from ~11,000 engineering students across 624 colleges in India. The collaboration with Indian Institute of Management Bangalore (IIMB) and Department of Science and Technology (DST) has helped to nurture the young engineering minds and support the Make in India Program at IICDC 2016. In the 10 months long challenge, the participants saw an intense mentoring program from IIMB and TI. TI provided technical resources and guidance throughout the contest, including tool support and mentoring to design & help the students make their prototypes. DST provided funding of INR 3.5 crores to the student start-ups, which went towards the product development and seed fund. The online platform MyGov, promoted active participation of Indian citizens in the country's governance and development, helped students from all different corners of the country to register for the IICDC through the MyGov portal.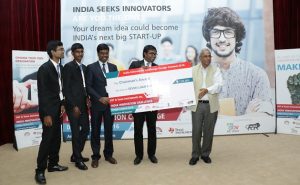 Commenting on the award ceremony, Mr. Laxmi Kant Tiwari from IIT Kharagpur, one of the selected 10 teams said, "We feel honoured and privileged to emerge winners of this year long challenge. It feels all the more exciting to know that we competed amongst the best minds in the country and we were chosen by eminent jury members as the winning idea. We are confident that we will be able to work on this innovation further with the assistance and guidance from TI, IIM B and our mentors. We are all thrilled to start our new journey as entrepreneurs"
At the heels of the results, Texas Instruments India Innovation Challenge Design Contest (IICDC) 2017 is now open for registrations at www.ti.com/iicdc