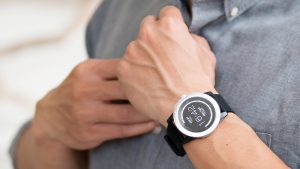 Matrix Industries unveiled the Matrix PowerWatch, the world's first smartwatch that uses thermoelectric technology so you never have to recharge or replace its battery.
Launched on Indiegogo, the device employs nanomaterials, advanced thermal engineering, and the latest in low-power electronics to run exclusively on heat generated from the body. It also uses this technology to measure calories burned and show power generated from the body.
The rugged aircraft-grade aluminum timepiece functions as a smartwatch that wirelessly syncs with your smartphone automatically adjust to the current time zone and has changeable watch faces. The device also features advanced activity, sleep, calorie and power tracking functionality and stores up to a year's worth of data. When you take off the watch, it automatically goes into sleep mode, keeping all the data in memory; it turns on after a few seconds when you put it back on.
"Matrix's thermoelectric platform technology now makes it possible to power a wide range of products without the need for replaceable batteries or an external power source," says Akram Boukai, co-founder, and CEO of Matrix
The Matrix PowerWatch has a high contrast display, comes with a military-grade nylon strap, and is claimed to be water resistant up to 50 meters. It is also said to be the only smartwatch in the world to feature a power meter, which indicates power being generated and power generated for the day.
"Our thermal energy harvesting technology, together with state-of-the-art sensor fusion algorithms, enables very accurate calorie counting," says Douglas Tham, co-founder, and CTO of Matrix.