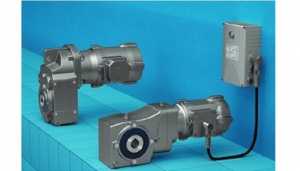 NORD DRIVESYSTEMS, a pioneer in developing drive technologies, announced its' all-new hygienic drive units. The lightweight, corrosion-resistant gear units, smooth motors, frequency inverters and motor starters in washdown-optimised design provide an economical alternative to stainless steel geared motors due to their nsd tupH surface treatment.
In the food industry plant and machinery as well as the drive technology which is used must be efficiently protected against dirt, moisture, splashed water and aggressive media. The nsd tupH surface treatment system from NORD DRIVESYSTEMS is an economical alternative to extend the service life of components which are installed in harsh environments. Drive housings equipped with this treatment have a similar resistance to stainless steel and have already proven themselves many times in practical use.
nsd tupH treatment is explicitly approved for food applications and is available for most of the NORD modular system made from aluminium, which includes various gear unit series, smooth motors and decentralised drive electronics. With its extensive modular range, NORD can precisely configure gear units for the individual requirements of the application.
High efficiency, low weight
NORD supplies efficient, durable and flexible drive solutions for precise positioning as well as dynamic movement, which are ideally suitable for the stringent requirements for hygiene, reliability and robustness in the food industry. The TCO (Total Cost of Ownership) is always kept in view in the wide range of solutions for industry.
With the single stage NORDBLOC.1 helical gear units NORD DRIVESYSTEMS range includes innovative drives with high efficiency and long life, which feature a compact design and ultimate reliability. They do not have separating joints or closing caps, which improves the strength of the product and creates a smoother surface on which neither liquids nor solid materials can accumulate. The modular design provides wide application flexibility due to numerous configuration and mounting options.
NORD has developed NORDBLOC.1 bevel geared motors made from cast aluminium especially for hygienically critical applications in the food industry Thanks to their washdown design they can be easily cleaned in any installation position and largely prevent dirt deposits. In addition, they are lightweight and highly efficient, which considerably reduces operating costs.
For more information, visit: www.nord.com