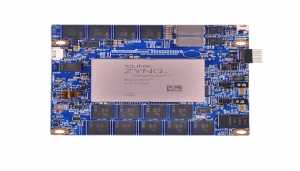 iWave Systems, a leader in FPGA based embedded systems and solutions, has launched a new System-on-Module (SOM) based on the Xilinx, Inc. Zynq UltraScale+ MPSoC. The SOM delivers exceptional results in rugged environments and offers outstanding performance, flexibility and security in applications such as advanced driver assistance systems, cloud computing security, machine learning, artificial intelligence, and data center virtualization, etc.
The Zynq UltraScale+ SOM supports triple 4GB DDR4-64bit RAM, that facilitates faster data transfer and an ultra-low latency execution path for real-time processing.  In addition, 16 x GTY high-speed transceivers, each at 28Gbps provides high-speed communication and interface options at optimal power, complementing a wide range of applications such as 8K Video Transmission, 100 Gb/s Ethernet, 150 Gb/s Intertaken and High-Speed ADC/DAC, etc.
iWave's Zynq UltraScale+ MPSoC SOM
The SOM features an excellent combination of FPGA and MPSoC functionality in a single device. It incorporates 4x Arm Cortex A53 application processor at 1.5 GHz, 2x Cortex R5 real-time processor at 600 MHz, ARM Mali 400 MP2 GPU, memory interfaces (4GB DDR4 FPGA memory and 8GB eMMC Flash) and up to one million programmable logic cells. The SOM supports a rich variety of connectivity peripherals such as PCIe, USB3.0, SATA 3.1, Display Port and Gigabit Ethernet through GTR transceivers.
For more details, visit:  www.iwavesystems.com