Variscite announced the launch of the VAR-SOM-6UL System on Module. The VAR-SOM-6UL powered by NXP's i.MX 6UltraLite / 6ULL / 6ULZ ARM Cortex-A7 processor with up to 900MHz CPU Clock. The new SoM is based on Variscite's popular DART-6UL platform while integrating additional LVDS bridge option, all packed in SO-DIMM200 form factor to fit the VAR-SOM Pin2Pin family. The expansion of the Pin2Pin family provides full scalability to Variscite's customers.
The VAR-SOM-6UL is a highly integrated SoM, optimized for power, size, and cost. The design is based on the popular DART-6UL platforms and supports all the features and connectivity options, including dual Ethernet, dual USB, audio, CAN Bus, camera in, Bluetooth/BLE, Touch, ADC, PWM, as well as support for industrial temperature grades -40 to 85°C. In addition, the VAR-SOM-6UL has been enhanced with LVDS bridge via SoM and on SoM two certified Wi-Fi configuration – single-band 802.11b/g/n or dual-band Wi-Fi 802.11ac/a/b/g/n.
The new platform has been customized to fit the 'VAR-SOM Pin2Pin family, providing a scalable pin-compatible option to i.MX 6 and up to i.MX 8 platforms. The Pin2Pin family offers Variscite's customers a high level of scalability, extended lifetime availability, and reduced development time, cost, and risk. Popular example: Customers can easily scale up their end-product to a higher performance SoM, such as the VAR-SOM-MX8X, to improve the graphics performance, or to scale down from other pin-compatible platforms to the VAR-SOM-6UL, to optimize the end products' cost-performance.
Variscite Pin2Pin product families
Two highly scalable product families based on NXP processors.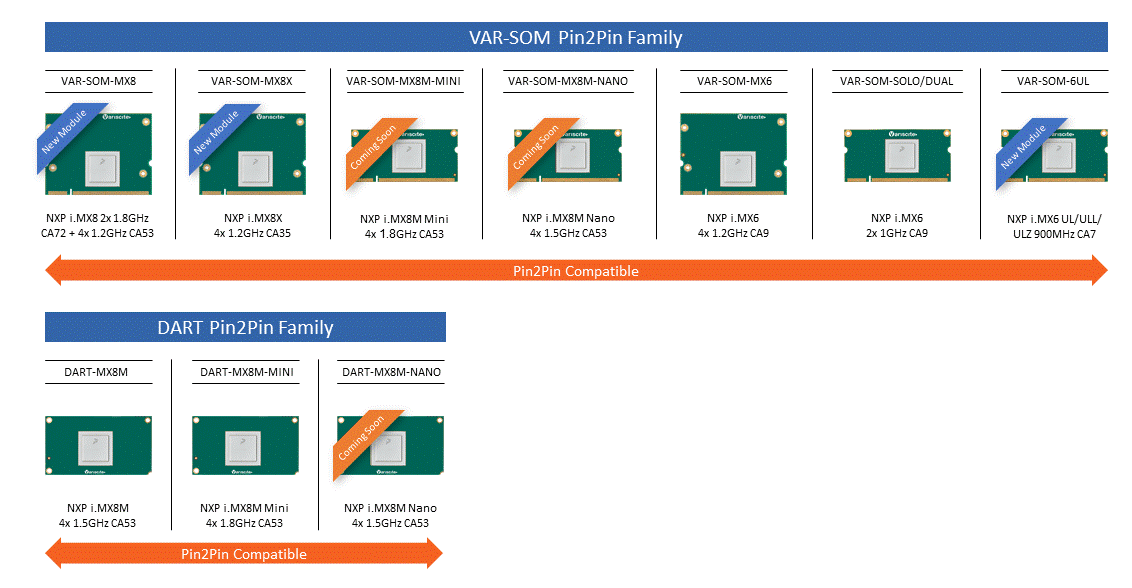 VAR-SOM-6UL key features:
NXP i.MX 6UltraLite / 6ULL / 6ULZ ARM Cortex-A7 with optional security features
Up to 900MHz CPU Clock
Up to 1024 MB DDR3L and 512 MB NAND / 64 GB eMMC
Certified Wi-Fi single-band 802.11b/g/n or dual-band Wi-Fi 802.11ac/a/b/g/n
2 Bluetooth / BLE
Dual 10/100Mbps Ethernet
2D Pixel acceleration engine
Display: 24-bit parallel RGB / 18-bit LVDS up to WXGA
Touchscreen controller
Dual USB 2.0 OTG (Host/Device)
Audio In/Out
Dual CAN, UART, I2C, SPI, PWM, ADC
Parallel camera input
Industrial temperature grade
Size: 67.6 mm x 33 mm
OS: Linux Yocto, Linux Debian
For more information, visit: www.variscite.com