The top 10 Industrial UPS manufacturers in India are paving the way toward energy-efficient and stable power solutions. India is among the top electricity-producing countries worldwide, and the use of UPS is mostly restricted to industries. The industry sector alone accounts for more than 40% of power consumption in India.
An industrial UPS is a long-term efficiency system. Industries, where processes or supply chains run on critical timelines and cannot afford even a millisecond of halt, need a UPS for a smooth transition to power backup in case of electricity failure.
Thus, industries that run on critical mission modes almost all the time like medical facilities, the IT industry, financial institutions, emergency services (transportation and water department call centers, etc.), telecommunication and cable companies, aviation, electronics manufacturers, utility industries, etc. need a permanent solution to electricity failures or power disruptions, hence UPS.
What is an Industrial UPS?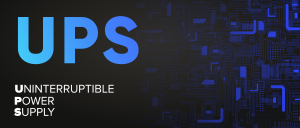 UPS stands for Uninterruptible Power Supply. In case of a complete blackout or mains failure, industrial UPS does the job of providing just enough power to either shut down the connected devices with zero data loss or damage or to kickstart an alternative power source.
Power issues like sags, power surges, harmonics, spikes, etc., are rectified by an industrial UPS.
Top 10 Industrial UPS Manufacturers in India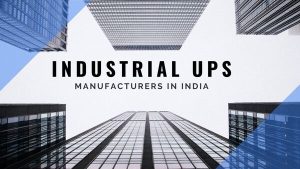 Between 2019-2030 the Indian industrial UPS market size is expected to grow at 2.7% CAGR. The Indian industrial UPS market typically manufactures three types of industrial UPS- Standby UPS systems, Online UPS Systems, and Line-interactive UPS Systems.
Let us look at a compiled list of the top 10 industrial UPS manufacturers in India-
APC by Schneider Electric
APC was established in 1981 and is headquartered in West Kingston, USA. It is a leader in physical infrastructure and software solutions. Offering solutions in the home and business sector, APC has a varied range of products and services it provides globally.
APC's industrial UPS range covers –
Home and Office Electronics – Easy UPS, Back UPS-Pro
Network and Server – Easy UPS On-line, Smart-UPS
Data Centre and Facility 3 Phase UPS – Easy UPS 3S, Galaxy VS, Galaxy VM
UPS Replacement Batteries
UPS Management – Firmware upgrades, Interface Cables
Bypass panels
Luminous Power Technologies
With a presence in 36 countries and 7 manufacturing units Luminous Power Technologies is globally known for its products power backup and residential solar space. In the last 35+ years, Luminous has served 5M+ customers with its smart and innovative solutions and products like solar inverters and power industrial UPS.
Microtek
Microtek started in 1980 with a vision to provide cutting-edge technology-driven innovative solutions in the field of power backup, solar energy, wires and cables, voltage solutions, circuit protection devices, e-vehicle chargers, and healthcare.
In the power backup solution, Microtek provides this range of industrial UPS-
Inverter UPS
Jumbo UPS
Online UPS
Line Interactive UPS
UPS Trolley
Eaton
Eaton is into providing sustainable electrical and industrial power management solutions. Eaton works for a diverse market range like- aerospace, buildings, data centers, food and beverages, government, healthcare, and hyper-scale.
Eaton is known for its diverse range of products harnessed with technology-friendly solutions. Enclosers, filtration solutions, backup power, industrial UPS, engine solutions, and golf grips are some of its products.
In the power backup and industrial UPS section, some of the industrial UPS ranges provided by Eaton are listed below-
Eaton 3S UPS
Eaton 5S UPS
Eaton 5SC UPS
Eaton 9355 UPS
Eaton 9155 Marine UPS
Eaton 9PX UPS
Vertiv
Vertiv was established in 1965 and is a global leader in the industrial UPS market supply chain. It provides solutions for home offices, small/medium businesses, and enterprises. Vertiv is among the major players in sustainability and e-waste management verticals. It provides products and services in the areas of critical power, thermal management, racks and enclosures, and monitoring and management and targets industries like-
Broadcast and Entertainment
Education
Federal
Healthcare
Retail
Telecom
Listed below are some of the industrial UPS ranges provided by Vertiv-
Liebert EXS 10-80kVA
Liebert EXM2
Liebert S600
Liebert APM
Liebert APM Plus
Hitachi Hi-Rel
Hitachi Hi-Rel is a world-renowned and leading manufacturer of industrial UPS, air compressors, railway inverters, etc. Its industrial UPS and power backup systems are among the flagship product. Hitachi has spread its wings across industries like – refineries, Petrochemicals, power generation, steel, metals, etc.
Hitachi's products and services include- digital systems and services, green energy and mobility, automotive system business, and connective industries.
STMicroelectronics
STMicroelectronics is among the top players in semiconductor technologies. It has its headquarters in Geneva, Switzerland. With vast experience in embedded systems, STMicroelectronics provides solutions across domains like AI and machine learning, audio, connectivity, lighting, safety and security, sensing, imaging, photonics, etc. It provides offline and online UPS systems and has an exceptional presence in the sustainable technology sector.
Delta Power Solutions
Delta Power was established in 1971 and is headquartered in Taipei, Taiwan. Thriving on innovation, Delta Power has tapped into product areas like- power management, display solutions, industrial automation, components, networking, etc., and is also known for its climate change and sustainability-specific work ethics.
Delta provides –industrial UPS solutions, data center solutions, and power quality solutions. In the industrial UPS category, Delta deals in 4 specifications-
Modular UPS
Ultron
Amplon
Agilon
Zebronics
Zebronics is a prominent player in audio devices, mobile accessories, IT and gaming equipment, smart homes, power solutions, etc. The company was founded in 1997 in Chennai.
Zebronics offers a wide range of industrial UPS. Have a look at some of them-
ZEB-U735
Zeb-U1225
Zeb-CU5013
Zeb-U775
Zeb-U1201
Genus Power
Genus Power is an ISO 9001 and ISO 14001-certified company offering high-tech and sustainable solutions in the power sector. The company is working towards making smart cities and smart grids possible. It serves the entire gamut of sectors in the metering solutions like – utilities and municipalities, renewable energy, housing communities, and residential, commercial, and industrial consumer.
Conclusion
The technology revolution and surge of highly-efficient industrial models have led to an increase in the UPS market in India. On the geopolitical front, the world is facing energy issues that require rigorous and instant solutions to ensure that critical industries do not fall behind on power supply. Hence, the power backup supply chain market is bound to expand invariably in India, which will give enough room for many new players to join the industrial UPS manufacturing sector.