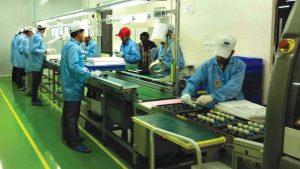 Electronic manufacturing firms seeking benefits under the new Modified Special Incentives Package Scheme (MSIPS) will have to give commitment that they will continue their business in India for at least three years after availing subsidy.
The benefits under the scheme, which is expected to be finalised in 2-3 weeks, will also not be applicable in case there is relocation of manufacturing plant to some other parts of the country.
"In the new MSIPS, the government is looking for firm commitments from companies interested in getting incentives.
They will have to guarantee the government that they will stay in business in India for three years of availing benefits," according to an official source.
The proposed changes in the scheme, which was started in July 2012 to boost electronics manufacturing growth in the country, also include providing subsidy for investments in capital expenditure — 20 per cent for investments in SEZs and 25 per cent in non-SEZs.
It also provides for reimbursement of countervailing duty (CVD)/excise for capital equipment for the non-SEZ units.
For high technology and high capital investment units, like fabs, reimbursement of central taxes and duties under MSIPS is also provided.
Under the proposed changes, relocation of manufacturing unit from other parts of India will not be eligible for new benefits, the source said.
When contacted, the Ministry of Electronics and IT Secretary Aruna Sundararajan declined to share details of proposals but said the final proposal is likely to be cleared by the Cabinet in two to three weeks.
"I can't tell you the precise nature of the changes (in MSIPS) because this will have to go to the Cabinet but two or three lines that we are working on is to see how we can fast track investments so that investments are not spread out over a very long period. People who come in and make investments are incentivised," Sundararajan said on the sidelines of a Broadband India Forum event.
She said the government is looking at various categories of products that need to be brought under MSIPS for incentives.
"We are looking at simplifying the process of subsidy disbursement by making it more robust," Sundararajan said.
On reported job loss in mobile manufacturing segment due to demonetisation, she said the government has not received any direct report from industry except impact on sales.
"In the long run, mobile phone industry, both service providers and handset manufacturers, are probably going to be big beneficiaries of Digital India. Whoever is in the digital arena, their business is going to grow. Handset mobile manufacturing may be down now but in the long run they will be a big beneficiary," she said.