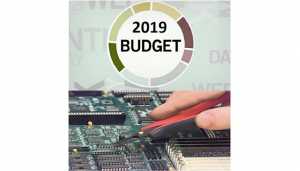 Indian Electrical and Electronics Manufacturers Association (IEEMA) welcomed the Union Budget announced by the Hon'ble Union Finance Minister Smt. Nirmala Sitharaman, as a balanced budget. It mainly focused on India's current power situation and also emphasised on steps that the government has taken to resolve issues concerning the power sector.
The present government is already focused on boosting the existing infrastructure sector in the country with large investment in Highways, Airports, Railways, Metros, Ports, Housing etc. With the proposed capex of 100 lakh crore over the next 5 years, it will further provide an impetus to this sector; particularly, the development of inland waterways for cargo movement, increased investment in Railways under PPP model and emphasis on Rapid and Suburban Railways will boost investment in the country, resulting in continued growth of the electrical equipment industry.
The Finance minister also shed light on the plan "One Nation – One Grid" to reduce power cost for States to have a positive outcome for industry. The Hon'ble Minister also mentioned that the power sector reforms will be soon taken up and UDAY scheme will be reconsidered to help the sector. The announcement of opening of FDI in several sectors will give a boost to the economy and provide new business opportunities.
Reacting on the Union Budget, Mr Harish Agarwal, President, IEEMA stated that, "The Budget is an interesting mix of a number of incremental and some path breaking steps. It has a message in undertone indicating desire for deeper engagement with what the Minister termed as "wealth creating organs" of society. Stress on faceless income tax assessment, interest subvention for MSME, reduction in Corporate Tax to 25% upto a turnover of 400 crore, boost to infrastructure spend, domestic manufacturing of EV under FAME II, rail transportation augmentation, credit security for MSMEs and push to housing will have a positive impact on growth story."
Mr. R K Chugh, Vice President, IEEMA added that "Exemption of customs duty on INVAR, CRGO and amorphous alloy ribbon was part of our wish list.  Import duty on optical fibres may boost local manufacturing. We could see a much calibrated response to our neighbour trying to dump some low cost products to the detriment of Indian industry. From pre-budget survey, we heard that India is seeking investment led growth instead of consumption driven growth. Export enhancement by orders of magnitude should be the principal tool of such strategy. No clear policy initiative in this direction was visible. I think we should wait for more details to come in."
Mr. Adarsh Jain, Chairman, Economic & Taxation Committee, IEEMA stated that "Construction of 1.95 crore houses, under the PMAY-Rural and 81 lakh houses under PMAY-Urban, increase in deduction of interest of upto Rs. 3.5 lakh in affordable housing scheme will boost the housing sector and thereby increase the demand of electrical equipment. We are happy to note that the Government will take steps to support the MSME's by creating a payment platform to enable timely payment from Govt. depts, providing 2% interest subvention on fresh or incremental loans as well as announcing various schemes for Start-ups. As a step towards addressing the long pending demand of the industry to reduce compliance burden, the government has granted quarterly GST return for turnover upto Rs. 5 crore. We however expected this for all the assesses. We welcome the introduction of e-invoice, there will be no requirement for e-way bill, thus reducing compliance requirement drastically, however this might be a challenge for MSME's."