This is why you too need a thermal imager:

In contracting as well as in the industrial sector, you profit considerably from the use of a thermal imager:
You carry out status-oriented servicing work and prevent expensive system downtimes.
You overcome the limitations of a pyrometer by measuring not just individual points but whole surfaces.
You deal with jobs such as preventive maintenance of high voltage systems, circuit breakers or mechanical components on plants more quickly than before, thus saving time and money.
You always provide best quality and ensure the satisfaction of your management or your customers – for example by testing and impressively presenting the faultless fitting or the functionality of system.
Convincing features for efficient thermography.
High resolution and image quality
Up to 320 x 240 pixels – with testo SuperResolution, even up to 640 x 480 pixels. Image quality and resolution are ideal for all applications in both contracting and industry.
Connection to App and other Testo measuring instruments.
Create and send compact reports on site with the testo Thermography App. Transfer the measurement values of the testo 605i hygrometer and the clamp meter testo 770 wirelessly to the imagers, in order to identify mould/humidity related danger or to complement thermal images with current/voltage values. For example – in solar panels.
Automatic setting of emissivity
The testo ε-Assist function automatically sets the emissivity and temperature of the measurement object, thus facilitating precise thermography.
Objectively comparable images
testo ScaleAssist adapts the thermal image scale to the inner and outer temperatures of the measurement object, and the difference between them. This ensures comparable and error-free thermal images of the thermal insulation behaviour of a building.
Work smart and networked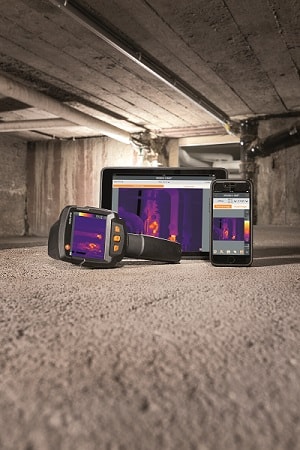 testo thermal imager 872 can also be connected to the testo Thermography App. The App, available for iOS and Android, turns the user's smartphone into a second display and a remote control for the thermal imager, and serves to create compact reports quickly on site, to save them online and send them by e-mail. Apart from this, the App offers useful tools for fast analysis on site – for example for inserting additional measurement points, determining the temperature development via a line or adding comments to a thermal image. Also very useful: With the App you can transmit thermal images live to your smartphone/tablet, and can use it as a second display.
Connectivity with testo Hygrometer and testo Clamp Meter
testo 872 thermal imager can be additionally connected wirelessly with the thermohygrometer testo 605i and the clamp meter testo 770-3. The measurement values of both compact measuring instruments are transmitted to the imagers by Bluetooth. This allows fast and clear identification of where exactly the thermography is to be done in any given climatic condition or at what load a switching cabinet is running.