Chronologically, the inception of games goes hand in hand with the genesis of human evolution. From the first board game (documented), Senet, which was found in Egypt in 3100 BC to Virtual Gaming, facial recognition, and gesture control technology, there has been a paradigm shift in the way how people indulge themselves with games and so are their experiences.
Playing a game can be defined as an activity that someone engages in for amusement. People play games because it's fun; it increases brain function, practices cognitive skills, and releases serotonin and dopamine; the "AHA" or happy chemicals. As technology has advanced, the thrill and enticement of playing games have only increased, with a more visual stimulus, creativity, and satisfaction.
A game is fundamental, a set of rules in which constraint you can achieve an objective. Games can competitive or cooperative. The human species at present, conservatively spends more than three hundred billion hours, per year. With the world's second-largest internet population, a large number of people in India have already been shifted from traditional board games to the online gaming spectrum.
Online Gaming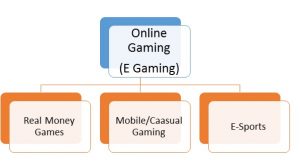 From Mario, Contra, and other popular video games playing with a joystick attached with a gaming console and a television set to the new multiplayer online games, the gaming industry has grown with leaps and bounds.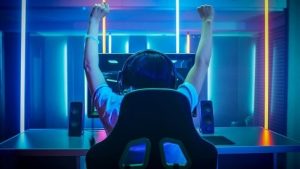 This majorly happened because, in 2005, something started putting a dent in the gaming universe. Level-up gaming companies came up with an online multiplayer game in India with Ragnarok online. This increased the number of cybercafes providing options to play these games with people online or your friends through LAN. And with that, a new generation of gamers entered this era of E-Sports that was about to change the gaming universe.
Real money games like Rummy and fantasy leagues, etc. Mobile or casual gaming like candy crush or subway surfer, and E-Sports which consists of some of the most extremely popular games like FIFA, PUBG, etc. these are the broad categories of online gaming.
India: The Next Big Gaming Hub
With one of the world's largest youth population, India is on the path to becoming one of the world's leading markets in the online gaming sector. The advent of India's online gaming industry can be dated back to the 2000s when console and PC gaming brought several middle-income group Indians on digital gaming platforms. During the mid-2000s, online gaming was largely in the form of social games. This adoption was facilitated essentially through global games by international developers. Indian development ecosystem acted fundamentally as service providers for international developers. Since then, India has been on a path of becoming a gigantic volume-based story enabled by the round the clock escalation in internet penetration and increase in smartphone user base.
The market value of India's gaming industry was around 90 billion Indian rupees in the financial year 2020. Values at USD 890 million, the Indian gaming industry is estimated for an annual growth rate of 14.3% with mobile gaming taking the lead at 71% share. The growth is driven by the rising younger population, higher disposable incomes, the introduction of new gaming genres, and the increasing number of smartphone and tablet users. With the skyrocketing consumer base and e-commerce solutions in place, the Indian game developer ecosystem will have more than enough opportunities to innovate and provide compelling content with relevant social and cultural context, which is the key to engaging the Indian consumer.
India chronicled about 365 million online gamers in the financial year 2020. This number was estimated to reach 510 million by the fiscal year 2022. Overall, India ranked the highest in terms of the growth in online game downloads on app stores with a growth rate of 165 percent between 2016 to 2018.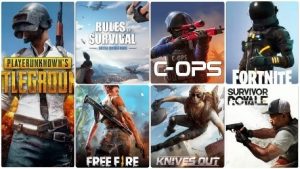 E-sports has taken India by storm. E-sports is a part of gaming that's competitive where various genres of games are played competitively against other players on different platforms. Esports is not entirely a new concept. Back in 1972, the first Esports event happened at Stanford University. The students of the university competed in the video game space war and the winner was supposed to get a yearlong subscription to the Rolling Stone magazine. Well, in almost 5 decades' time, DOTA 2, a popular Esports game gave away its champions more money than Tennis star Novak Djokovic made in the Wimbledon singles.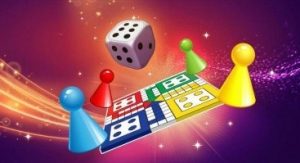 India is already taking strides to become the biggest market for Esports. Covid 19's knock out punch on the world economy has led the whole world on its knees again. Almost every industry and business had to lay off their employees. But this wasn't the case with the gaming companies. In fact, the COVID times haves actually been gold for these companies. Paytm first games register 5 million app downloads amidst COVID lockdown. While casual games like ludo and rummy grew 4 to 5 times.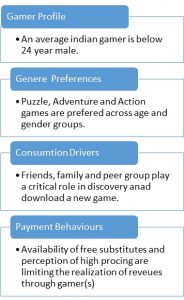 Decoding the Indian Online Gamer
| | | |
| --- | --- | --- |
| Description | Market Characteristics | Research Output |
| Triggers for initiating online gaming | Friends are considered as a key trigger for initiating online gaming | Around 48 percent of gamer(s) |
| Reasons for continuing to play online games | Stress relief/ social interaction are key reasons for continuing to play online games Stress relief/ social interaction are key reasons for continuing to play online games | More than 75 percent of gamer(s) |
A heavy gamer engages in gaming over a wide range of genres and spends an average of over 30 minutes per day on online gaming. Studies have shown that more than a quarter of young (below 24 years) comprises the high share of heavy gamer(s) as compared to the other age groups, which are predominantly casual gamer(s).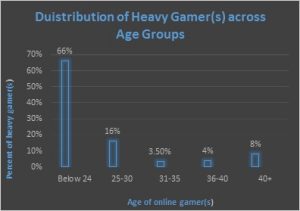 Mobile Phones are the most preferred devices, 90% of the online gamer(s) use smartphones. However, experienced gamer(s) are more inclining towards larger screens to have a much enthralling experience of gaming. Larger screen size in low-cost mobile devices increased compatibility of games with mobile screens and mobility factors are key reasons for the popularity of mobile phone gaming in India.
With more gaming experience the gamer(s) preferences evolve. A hardcore experienced gamer is more likely to incline towards more complex gaming formats, which may require large screen devices such as PC/ laptops. Talking about the Indian gaming scenario, Mobile phones are getting super cheap and with that big cellular networks have taken the storm by proving the user's high-speed internet services at substantial prices. This brought super easy access for the Indian mobile users to download a game like PUG-G mobile, which can cost around 2GB of data. There was friction in terms of PC and console games earlier, but with mobile games, there is no such disparity left.
The next level
Video games have evolved significantly from the early days of computer games and the first version of Nintendo and Atari. The vintage era of pixelated screens and limited sounds with minimal graphics are a distant memory as video games have become more lifelike than ever. The video game sector has become humongous, in fact, it won't be redundant to say that it has surpassed the movie and the music industry combined. And it is only growing. There are over two billion gamers across the world. That is 26% of the world's population.
Technology advances have taken the gaming experiences to the next level. Facial recognition, 3D scanning, and voice recognition allow the system to mimic the user's avatar in the gaming world. Not only that, it can inventively transfer the user's own expressions to the other digital creations. The Intel RealSense 3D camera could allow developers to create games that adapt to the emotions of the gamer by scanning 78 different points on a person's face.
Gesture control has been around for a while. It allows the gamer to completely get rid of the controller. For example, the game Warrior Wave employs RealSense technology so you can use your hand (the outline of which shows up on the screen) to lead a group of Ancient Greek soldiers to safety.
8 Bit graphics in gaming has become a prehistoric Stone Age thing. Cutting-edge advancements now allow gamers to experience games in fully rendered worlds with photo-realistic textures in high definition. The ability to increase playability with higher image quality makes it seem like you're right inside the game.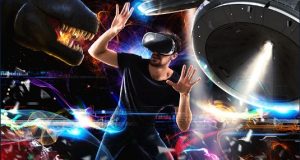 Virtual reality and Augmented Reality are allowing gamers to taste the very first essence of the future of gaming. VR headset displays are poised to grant gamers a fully immersive gaming experience the likes of which nobody has seen before. You'll actually be able to lose yourself in the game before you come back to reality. Not confined to a TV or computer monitor, AR games allow for a perspective unique to the gamer. They operate spaces within the real world and make the object of the game applicable to real-life situations. For example, play table hockey on your kitchen counter from any angle, or partake in some puzzles mapped out via obstacles in your backyard.
Must-Have Gaming Semiconductors (Graphics Cards)
It is the absolute truth that the best graphics cards will be the center of attention for any gaming PC or build. Be it a build-your-own or pre-built version of one of the best gaming PCs or even one of the best gaming laptops, the best graphics cards will have that place on a pedestal. Not surprising, given that they are of paramount importance to make our games more lifelike and how well they are presented to us and run.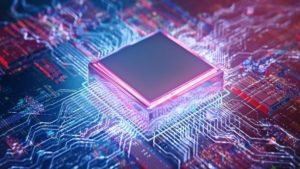 Nvidia GeForce RTX 3080
| | | | | |
| --- | --- | --- | --- | --- |
| GPU cores: 8,704 | Base clock: 1,440MHz |  Boost clock: 1,710MHz | TFLOPs: 29.76 | Memory: 10GB GDDR6X |
Nvidia GeForce RTX 3070
| | | | | |
| --- | --- | --- | --- | --- |
| GPU cores: 5,888 | Base clock: 1,500MHz | Boost clock: 1,725MHz |  TFLOPs: 20.37 | Memory: 8GB GDDR5 |
Nvidia GeForce RTX 2080 Super
| | | | | |
| --- | --- | --- | --- | --- |
| GPU Cores: 2,944 | Base Clock: 1,515MHz | Boost Clock: 1,800MHz | GFLOPS: 10,958 | Memory: 8GB GDDR6 |
AMD Radeon RX 5700 XT
| | | | | |
| --- | --- | --- | --- | --- |
| GPU Cores: 2,560 | Base Clock: 1,605MHz | Boost Clock: 1,905MHz | GFLOPS: 9,754 | Memory: 8GB GDDR6 |
"Captain Ahab" of this "Moby-Dick"
If you think that knowing about the gaming industry and the advances that have taken place and are still happening as I am writing this and having information about the necessary semiconductor would be more than enough for your trip to the gaming world then you cannot be possibly more wrong. Because the synthesis of all these elements makes a symphony orchestra, but the master who runs the show is the PC/laptop. A good laptop will help channel harmonious state-of-the-art technology in the most effective and efficient way.
Gaming laptops are specially designed laptops that require a high amount of computing power. However, while purchasing specifically a gaming laptop one must go beyond its basic specification and must consider its display as well. These Laptops are considered the Best Gaming Laptops in India, which brings its users lag-free, glitch-free, and a smooth lifelike gaming experience.
Acer Predator Triton 500 Gaming Laptop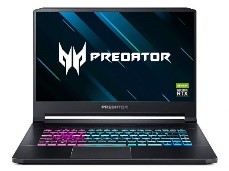 Razer Blade Stealth 13 Ultrabook Gaming Laptop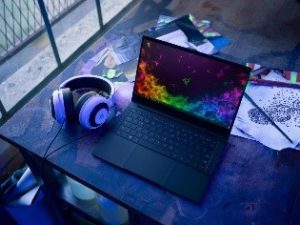 ASUS ROG Zephyrus G14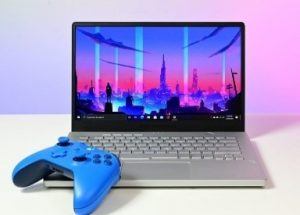 Dell G3 3500 Gaming Laptop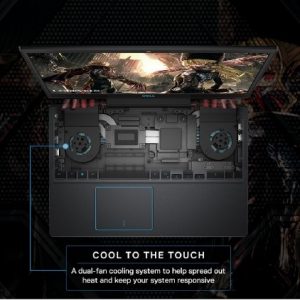 By Mayank Vashisht | Technology Journalist | ELE Times