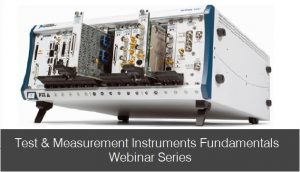 National Instruments brings in a webinar series on the fundamentals and best practices for choosing and using Modular Instruments for Test and Measurement applications. NI engineers can answer the application questions during the event!
Modular instruments are redefining test and measurement applications as they provide a more flexible and smart way of developing, customizing and scaling automated test systems
A series of 8 online sessions will take you through right from the fundamentals to the best practices of choosing instruments with the right specs and optimal performance
Dedicated sessions for Oscilloscopes, Arbitrary waveform generators, High-Speed Digital interfaces, Digital Multimeters, Source Measure units, RF Signal generators and analyzers
Test management and automation using NI Teststand and better signal management/routing through relays and switches will also be covered during this webinar series.
For more details, click here.