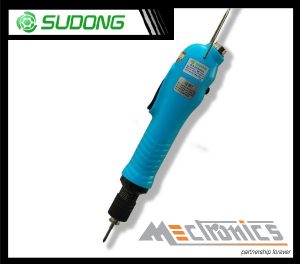 Leading distribution organization for PCB assembly floor consumables and PCB assembly support equipment, Mectronics Marketing Services is selling the Sudong Intelligent Brushless Electric Screwdriver.
Founded in 1998, Sudong specializes in brushless electric screw drivers, torque testers and peripheral products development, production. The company has engaged in the development, production with qualified technical personnel and excellent management team, adhering to the continued pursuit of excellence and innovative service concept. From design and development to manufacturing process have adopted a series of professional high-precision machining equipment, and strive to create the industry's highest quality service to all customers.
The New Intelligent Brushless Electric Screwdriver with Counter series is one compact of LED counter and screwdriver. They are easy to operate, suitably used on the production line and effectively control numbers of fastening screws and operation quality.
The screwdrivers have adopted selection mode for the worker is easy to set up complete function according to needs of work and make it automatically to inspect the precision of fastening screws and avoid any mistake. The counter is with Fixture function, can join with IR optocouplers. Press the fixture switch can reduce error locking and make the locking more precision and smarter. In addition, LED warning light allows the users to make the well-locking judgment more intuitively.
With the high precision of the torque, with step-less torque adjustment, simple operation, it can be generally used for electrical and electronic lightening products, home appliances, toys, computer accessories and other processing and assembling operations.
For more details, visit: www.mectronics.in