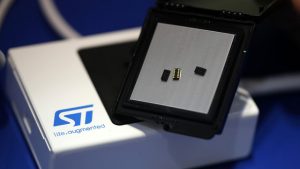 Mr Marco Cassis, Executive Vice President, President Asia Pacific Region, STMicroelectronics
Following a good 2016, the electronics market is forecast to continue its positive momentumin 2017, and that is good for the semiconductor market. The increasing pervasion of intelligence and connectivity across a broad range of applications and devices, along with the need for more efficient power and resource consumption, is at the heart of this trend.
In 2017, expect car digitalization and electrification to accelerate. This is being driven by the strong demand among consumers, manufacturers, and governments for three important advances. All want to make driving greener, with a strong focus on engine management, fuel efficiency, and electrification. They want to make driving safer, relying on improvements in assisted driving and security. And they want cars to be more connected, with an emphasis on infotainment and telematics. Catalyzing these efforts are new-product innovations and introductions that meet important performance requirements in MCUs, sensors, power – including wide bandgap technologies like Silicon Carbide– and connectivity that will dramatically improve Advanced Driver Assistance Systems (ADAS) and Vehicle-to-Vehicle and Vehicle-to-Infrastructure (V2X) Communications. We will not see fleets of self-driving cars in 2017, but our inexorable progress to them is well underway.
The IoT is creating or transforming a broad range of markets that all rely on the same technology bricks: flexible processing options, connectivity, security, power management, and analog functions. Add the right design tools and software ecosystems to designers' creativity to quickly and easily convert ideas into prototypes and you get the right recipe for a significant further expansion of IoT devices across all categories in 2017.
Expect further strides in use-time, connectivity, security and wireless charging for most of the personal devices we are already familiar with, including smartphones and wearables. 2017 should see also the first major wave of new devices and form factors for Augmented Reality (AR) and Virtual Reality (VR) for both consumer- and professional-grade applications.
Cities and homes will take another step in the adoption of electronics-based management systems. In the home, smart meters are being rolled out around the world to enable remote monitoring and tariff-based optimization of energy use, while homes owners will increasingly adopt a broad range of smart locks and connected security systems, as well as household robotics. Smart lighting will expand from the home to municipal-area systems, with new public lighting able to respond to changes in ambient conditions. At the city level, think about sensors that can reroute pickup/delivery services and traffic patterns to changing congestion or can guide drivers to pre-registered and reserved parking spaces – these are the opportunities in smart cities that will contribute to semiconductor growth in 2017 and beyond.
Factories, too, will be getting smarter. Global efforts, which fall under the umbrella of "Smart Industry," are defining the next wave of factory automation, motion control, and power management equipment. The factories of the future are rapidly becoming factories of the present because they are enabled by semiconductors. These "intelligent" factories employ advanced microcontrollers, sensors, and connectivity products to increase production and overall efficiency by reducing energy use and down time with optimized maintenance schedules while simultaneously improving process flow and data security. One example: electric motors, which consume about half of all electricity used worldwide, could be made even more efficient using a range of Smart Motor strategies that could reduce costs significantly.
What has started just a few years ago– the pervasiveness of IoT in multiple markets and the efforts to make driving smarter — is just the beginning. This is what is making 2017 another promising year for the semiconductor industry.