STMicroelectronics has a long history and demonstrated expertise in MEMS sensors and actuators. As the first major manufacturer to start high-volume MEMS production on 200mm wafers in 2006, ST launched the consumer MEMS revolution by making motion sensors small, accurate, and affordable through the combination of innovative product design, deep application expertise, and industry-leading process and packaging technology.
Since then ST has continued to grow and diversify its portfolio into new types of devices and application segments. Today, in addition to its successes in motion sensors for consumer markets, the company features products dedicated to automotive, industrial and medical markets with a dedicated manufacturing flow guaranteeing high quality and reliability.
MEMS for Automotive & Industrial
Automotive and industrial markets have particularly stringent quality and reliability requirements. Industrial sensors are targeted to be used for vibration monitoring, ultra-sonic sensing, precision inclinometer and levelling.
ST's broad portfolio of automotive-grade MEMS sensors are qualified according to the AEC-Q100 standard and includes both low-g and high-g digital accelerometers, digital 3-axis gyroscopes, and 6-axis system-in-packages that combine a 3D digital accelerometer and a 3D digital gyroscope. ST's automotive-grade MEMS offering covers all the key applications, including sensors for non-safety applications, such as navigation and telematics and sensors for passive safety applications such as airbags.
IIS3DHHC
The latest MEMS sensor line up by STMicroelectronics started with the IIS3DHHC- an ultra-low noise, high-stability three-axis linear accelerometer which has been optimised to ensure stability and accuracy over time and temperature. The IIS3DHHC has a full scale of ±2.5 g and is capable of providing the measured accelerations to the application through an SPI 4-wire digital interface. The IC interface is manufactured using a CMOS process that allows a high level of integration to design a dedicated circuit which is trimmed to better match the characteristics of the sensing element. The IIS3DHHC is available in a high-performance (low-stress) ceramic cavity land grid array (CC LGA) package and can operate within a temperature range of -40 °C to +85 °C.
10 Year Longevity Program
ST is a market leader for sensors in consumer and mobile applications. In this market, the technology change very fast so ST introduce latest innovative sensors to cater to the market need. Industrial applications take a long to design and once a platform is designed it continues to run for several years. So manufacturers cannot afford the components to change frequently. To cover such scenarios, ST has come out with an industry-first 10-year Longevity Program. Under this program, ST offers a commitment to clients and vendors to keep making a range of high-performance components for a duration of at least 10 years.  ST's 10-year longevity commitment assures long-term availability of a wide range of high-performing components used in industrial equipment, helping vendors handle the typically long in-market lifetimes of their products and extended operation in challenging environmental conditions.
Latest Demos includes
Vibration Monitoring for Predictive Maintenance
In industrial applications, ST has a Predictive Maintenance demo with a compact low-voltage dual motor-control evaluation board for condition monitoring and early motor-failure detection, as well as eSIM / M2M solutions for industrial and telematics applications; IO-Link to enable communications between different end devices and sensors for industrial use.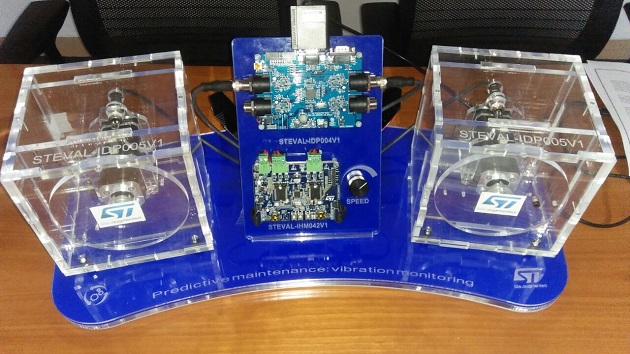 SensorTile
A comprehensive development kit simplifies prototyping, evaluation and development of innovative solutions. Complemented with software, firmware libraries and tools, including a dedicated mobile App. Fit snugly in your IoT hub or sensor network node and become the core of your solution. Complemented with software, firmware libraries and tools, including a dedicated mobile App. ST devices: STM32L476, LSM6DSM, LSM303AGR, LPS22HB, MP34DT04, BlueNRG-MS, BALF-NRG-01D3 and LD39115J18R
Blue MIC
Evaluation board mounts the SPBTLE-1S Bluetooth SMART application processor compliant with BT specification v4.2. It supports multiple simultaneous roles and can act as a Bluetooth Smart master and slave device at the same time. The battery powered solution also embeds digital MEMS microphone MP34DT05-A  and 3D accelerometer + 3D gyroscope, LSM6DSL. It comes with a SW development kit that includes the Bluetooth low energy stack, all the drivers for audio and inertial data acquisition, and button and LED management. Has a ready-to-use BlueVoice library is included as middleware.Sample application with voice streaming over BLE to an Android or iOS device, running the ST BlueMS apps.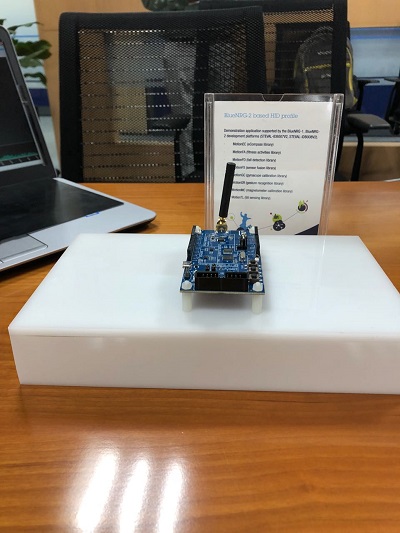 BlueNRG-2 based HID profile
A demonstration application supported by the BlueNRG-1, BlueNRG-2 development platforms (STEVAL-IDB007V2, STEVAL-IDB008V2).Demonstrates a BLE device using the standard HID/HOGP Bluetooth low energy application profile. The BLE HID mouse application implements a basic HID mouse with two buttons compliant with the standard HID/HOGP BLE application profile. The mouse movements are provided by the 3D accelerometer and 3D gyroscope on the BLE development platform
X-CUBE-MEMS1 / FP-CLD-WATSON1
A Sensor and motion algorithm software expansion for STM32Cube, includes drivers that recognize the sensors and collect temperature, humidity, pressure and motion data from the HTS221, LPS25HB, LSM6DS0, LSM6DS3, LPS22HB, LSM6DSL, LSM303AGR and LIS3MDL devices, It runs on the X-NUCLEO-IKS01A2 expansion boards connected to a NUCLEO-F401RE or NUCLEO-L476RG development board. Also, enables Fast Fourier Transform (FFT) algorithm for vibration analysis and Cloud connectivity through FP-CLD-WATSON1.