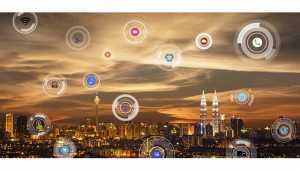 While the sensor technology has long affected how manufacturers, industries, organisations and utilities operate, the invention of Internet of Things has expanded impact and use cases, and has taken the evolution of sensors to a completely different level, by bringing more connectivity and analytics to processes than ever before. Today, smart cities, smart buildings, smart factories and connected individuals are using an array of smart sensors to collect real-time data for real-time insights and decision-making.
However, sensors may collect some of the same data as the sensors of yesteryear, but today's smart sensors are internet-enabled and more sophisticated than ever.
IoT platforms function and deliver various kind of intelligence and data using a variety of sensors. They serve to collect data, pushing it and sharing it with a whole network of connected devices. All this collected data makes it possible for devices to autonomously function, and the whole ecosystem is becoming "smarter" every day.
Let's dive into the latest smart sensors and their use cases across the IoT spectrum.
Latest Sensor Portfolio for IoT applications
Sensors are one of the most important components used in internet of things (IoT) applications, collecting critical data in a range of end products from drones and automobiles to wearables and AR/VR headsets.
Commenting on the latest offerings for IoT application,  Deepak Bachu, Business Development Manager, RF & Sensor products, Infineon India, said, "A leader in semiconductor solutions, Infineon offers products for IoT that become the link between the real and the digital world. Infineon's XENSIV family of sensors is a perfect fit for IoT applications covering automotive, industrial and consumer segments. We offer the widest selection of ready-to-use solutions, offering fast time-to-market. This includes pressure sensors, acoustic sensors, 3D image sensors (REAL3) and radar sensor MMICs.
For quick evaluation, Infineon also offers sensor "2Go" evaluation kits, which are ready-to-use plug and play boards."
Talking on the latest offerings for IoT application, Simone Ferri, Consumer MEMS Business Unit Director, STMicroelectronics said, "In sensors for the IoT, ST is focused on low power and high accuracy. Devices like ST's latest LSM6DSO and LSM6DSOX combine the extremely low power consumption with the highest accuracy. All of the X versions also embed a machine-learning core to perform edge processing, which increases the efficiency of the overall system."
"Another device, the LIS2DW12, is an accelerometer that we designed for the IoT. This accelerometer features more than ten modes that can balance power consumption vs. performance per the specific design need," Ferri added.
Pressure Sensors at the Edge
There are plenty of devices that rely on liquid or other forms of pressure. These sensors make it possible to create IoT systems that monitor systems and devices that are pressure propelled. With any deviation from standard pressure range, the device notifies the system administrator about any problems that should be fixed.
Deployment of these sensors is not only very useful in manufacturing, but also in the maintenance of whole water systems and heating systems, as it is easy to detect any fluctuation or drops in pressure.
Highlighting about the latest pressure sensors in stock, Deepak Bachu, Business Development Manager, RF & Sensor products, Infineon India, said, "Our portfolio of MEMS based "absolute" pressure sensors, offer highest accuracy and precision with the smallest footprint and power consumption. Some of the applications we cover are drones (e.g. altitude control), smart watches and wearables (e.g. activity tracking), home appliances (e.g. air flow monitoring). If environmental protection is also required, our latest DPS368 is the best match as it can be used in harsh environments due to its robustness against water, dust and humidity."
Discussing about the latest pressure sensors in stock, Simone Ferri, Consumer MEMS Business Unit Director, STMicroelectronics said, "MEMS pressure sensors have absolute accuracy with drift after soldering, which, for most sensors, implies the need for recalibration of the device after it's been assembled."
"Our latest barometer, the LPS22HH, is a high accuracy device that doesn't need to be recalibrated. Another pressure sensor, the LPS27HHW is well suited for harsh environments. It is a high accuracy ultra-compact waterproof pressure sensor," he added.
Radar Sensors for IoT based devices
Radar sensors can detect location and movement of persons with high sensitivity, without recording images or sounds. They are highly useful in developing new services and functions based on information about "human behavior", while also addressing privacy concerns.
Commenting on the latest Radar sensors for IoT based devices, Deepak Bachu, Business Development Manager, RF & Sensor products, Infineon India, said, "As a market leader in radar ICs, Infineon offers a wide portfolio of mm-wave radar sensors as part of our XENSIV family, covering automotive, industrial, home and consumer applications. The frequency bands supported are 24/60/77/79 GHz. In addition, Infineon also extends its footprint in the 3D sensing world with its REAL Time-of-flight image sensors."
Commenting on the latest Radar sensors for IoT based devices, Simone Ferri, Consumer MEMS Business Unit Director, STMicroelectronics said, "ST is highly focused on the value we bring to the market. With that, we are working on a new sensor family; we have widely patented the technology and the potential application. In ST, we have radar sensors, for automotive for instance, and ToF."
Smart Homes turning up smarter
Going home will take on a new meaning and inviting with the increasing prevalence of IoT sensors being incorporated into the modern household. A smart home is comprised of IoT sensors, IoT actuators and a computational system thinking machine for communication, computation, control and visualizations (in-house and remote), which work together to benefit the homeowner in multiple ways. Three of the major benefits include improving the energy efficiency of a smart home, actively monitoring the home environment, and enhancing the residents' social well-being.
Talking on the latest sensor technology linked to smart home, Deepak Bachu, Business Development Manager, RF & Sensor products, Infineon India, said, "Needless to say, Smart homes deploy a gamut of sensors that are offered by Infineon. Sensor fusion is the buzzword today. E.g. a combination of radar, pressure and microphone sensors, makes up for a high-performance security system. In addition to the sensors, Infineon offers a broad portfolio of products to make homes smart with its power management ICs, microcontrollers and security ICs."
Commenting on the latest sensor technology linked to smart home, Simone Ferri, Consumer MEMS Business Unit Director, STMicroelectronics said, "The smart home, along with many Things in it, is smart because of its ability to interact, detect, and identify. Most all sensors can play an important role.
Interaction can be done via voice with Microphones, touch with screens and buttons and tapping (that implies the usage of an accelerometer)."
"Detection covers a wide range of situations, from the condition or states of white goods (done via accelerometers, temperature, pressure, and humidity sensors) to whether there is water or gas in a pipe, to many other situations.
If a washing machine has an issue, an accelerometer in the framework of predictive maintenance can detect the issue. Temperature, pressure, and humidity sensors are fundamental to control comfort in a house or apartment and in appliances such as a fridge."
"Last but not least, there is the presence detection. Microphones, accelerometers, pressure sensors, and Time-of-Flight sensors are the most common for these applications. As ST, with the industry's broadest portfolio of sensors and sensor technology, we are constantly expanding our offer with new technologies to assure that we're leading the progress to the smart home of the future," added Ferri.
The future milieu of smart sensors
According to the Forrester Research, the smart sensor-based, track-and-trace and smart products will be the fastest-growing use cases, with 24.2% and 24% compound annual growth rates respectively. But the applications won't stop there.
However, internet of things sensors aren't limited to only new products. Where today, a logistics company might install sensors in a truck, tomorrow it may be cost-effective to install sensors in every pallet or even every package.
The advent of 5G will eventually make it easier to work with a large number of sensors, even in environments where data latency causes problems today.
Also of note is the increased use of edge computing. As more analytics, including the use of machine learning and artificial intelligence, is run at the point of collection of the data, organizations, or the sensors themselves or the IoT edge gateways the sensors connect to, will be able to make decisions faster and more effectively.
The continued miniaturization of sensors will change the future sensor landscape. Sensors will continue to get smaller over time and more capable in terms of computational capability. Sensors will also offer more functions in the same platform, serving different sensing categories from the same devices. They will be installed in more and more devices, with everything from wearables to special-purpose sensors linking observations from our environment to a computing platform. Estimates from pundits in the industry expect that the total number of IoT devices, and, thus, possible sensors will triple in the next six years, with roughly 25 billion devices today, growing to 75 billion devices in 2025.