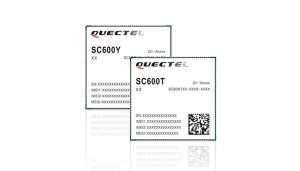 Quectel Wireless Solutions, the world leading cellular module vendor, announced ahead of ISC West 2019 that SC600T and SC600Y will enter Commercial Sample (CS) stage by April end. Quectel industrial-grade SC600Y/T Smart Modules are now being certified by major carriers in North American region, which will further strengthen Quectel's leading position in the state-of-the-art and all-in-one module industry.
M2M and IoT designers used to work on a block diagram that comprises processor, memory, communication ports, sensors and finally wireless communication modules. Although communication modules have been, and still will be, main building block of any IoT devices, however they used to be located at the edge of the board. Smart Module is revolutionarily changing this approach as the module is moving from edge to the center of the board.
Smart Module simplifies circuit design and reduces associated cost, decreases device product size and weight as well as power consumption, improves performance-to-price ratio and enhances end device price competitiveness. It eliminates significant development risk by using a reliable, rigorously tested and certified integrated solution. SC600T and SC600Y are industrial grade LTE Cat 6 communication modules with extended operating temperature range of -40°C ~ +75°C, equipped with ready and certified built-in Android OS and GNSS.
Based on Qualcomm's MSM series and Qualcomm Snapdragon chipsets, Quectel has the most powerful engine in the IoT market. SC600Y is equipped with Qualcomm SDM450 chipset, Octa-core ARM Cortex-A53 64-bit CPU @1.8GHz, while SC600T uses Qualcomm MSM8953, Octa-core ARM Cortex-A53 64-bit CPU @2.0GHz.
"The technology burden on IoT was eased somewhat with the introduction of edge devices that combine compute, connectivity and storage in a single device to provide intelligence to a broad range of IoT use cases. As LTE-A connectivity offers an excellent pipe, devices can also utilize massive cloud computing and its processing power whenever needed, almost seamlessly," said Mr. Peter Fowler, Quectel Vice President, North America Sales Region. "The advantages of buying off the shelf the Smart Module outweigh the approach of designing in-house based on discrete methodology. While Smart Modules reduce Total Cost of Ownership (TCO) for our main ODM/OEM customers, they also uniquely mitigate risks for SME and Startups."
 For more information, visit: www.quectel.com