It's been a while since the winds of the electric vehicle ecosystem are orbiting the Indian automotive spectrum, and now these wind currents are pointing toward a more promising, prosperous and sustainable future for India. The sheer serious and extensive efforts by the government of India aiming to amplify the emobility adoption of the country by announcing various schemes and policies only reflects a sharp reflection vision electrifying country's automotive arena.
Not only the government, but the automotive industry itself has shown overwhelmingly zestful interest in the biggest automotive paradigm shift. Companies across sectors have now announced their respective roadmaps to be a part of the biggest automotive revolution. Servotech Power Systems Ltd emerged as a pioneer in developing out-of-the-box solutions by integrating technology and innovation and is engaged in the end-to-end manufacturing, procurement and distribution of a range of high-end yet advanced solar products, medical devices as well as energy-efficient lighting solutions. With a remarkable legacy of over two decades in establishing solar-powered infrastructure and commissioning projects on a massive scale pan India. Servotech has now forayed into the EV market recently with the launch of high-tech EV charging equipment, the company intends to establish EV charging tech infrastructure pan India expeditiously and bolster the nation's progression towards the electric revolution. It was a sheer delight to have Raman Bhatia, Managing Director, Servotech Power Systems Ltd onboard to have an insightful conversation about the electric vehicle ecosystem in India and the promising future prospects that it unfolds. Raman also talked about Servotech's impeccable contribution and grit to make this spectrum more fertile and efficient. Excerpts: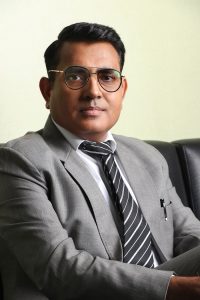 ELE Times: Please reflect upon your journey as the Managing Director of Servotech Power Systems Ltd.
Timelines are seldom linear. From incubating this venture to proliferating it, my journey at Servotech Power Systems Ltd. has been full of oscillations, and as it follows, extremely fulfilling. Beginning as a single-product firm focused on domestic-use inverters to evolving into a multi-scale, multi-solution Public Limited Company; starting out by envisioning to turn it into a 100Cr. business to achieving this feat in the last FY when we touched 140Crs, my position as the Founder and MD of Servotech has been an epitome of learning, endeavouring, and advancing. When I look back, knowing that we empowered the Government of India's Sarv Shiksha Abhiyan by powering up E-learning classrooms by our UPS, ensured affordability and accessibility of oxygen concentrators & UVC Lights during the height of the pandemic, and have prioritized continuous innovation to bring smart solutions closer to the masses, all that catalyzes my drive ahead to now step into the whitespace of shaping India's clean-energy future.
ELE Times: Servotech Power Systems Ltd, a leading entity engaged in the manufacturing of high-end solar products, medical devices and LED lighting solutions is now one of the newest entrants in developing electric vehicle infrastructure in India. How do you reflect upon this new feather in your hat?
EV is not only a highly promising technology space but also aligns perfectly with our value fabric. From its very onset, the impetus to all Servotech's efforts has been the company vision: 'Produce Green to Live Green'. With an imperative to reduce carbon footprint, we have pivoted to research and innovation to bring smart but, at the same time, climate-friendly, affordable tech-driven solutions to the masses. Having already been instrumental in transforming petrol pumps and fuel facilities across India with our solar offerings, we are now looking at leveraging that established footprint to enable fuel stations to become prepared for the vehicles of the future, and thereby, any e-mobility innovations. To that end, we are already bringing together the finest talent from the automobile industry to help us vector in the right direction.
ELE Times: The charging infrastructure for eMobility is a significant concern. However, the government has undertaken a lot of noticeable steps to revitalize the infrastructure needed for an effective EV penetration across India. What would be some of the significant steps or schemes outlaid by the government that could be the game-changer for the Indian EV ecosystem, according to you?
Unlike the erstwhile course of action – when a said technology came first but its support infrastructure took years to follow, the present Government has been more preemptive in developing the framework to enable mass digital adoption. This is more true in an EV context where GOI is already drafting clear policies, coordinating with key players, and incentivizing states to introduce EV infrastructure. To my earlier point, it's noteworthy that all this is being done way before the e-mobility sector hits its peak; and when it does this infrastructure is going to support current and encourage further adoption. On a policy front, my recommendations would be to look at ways that'd allow making this technology more cost-effective, identifying how incentivized production of Lithium batteries could be initiated to minimize external dependencies, and how taxes and duties could be reduced to attract more players in the segment.
ELE Times: Do you feel that the assistance the Indian government is providing under the 'Make India" initiative and the thrust provided by the government in the Budget 2022 for companies like yours is up to the mark? What do you feel that can be done on the government's end that can secure the future of Indian eMobility?
"Make in India" is already accelerating the shift from the traditional mobility paradigm to E- the mobility paradigm; we're already seeing several startups and established businesses making the EV scene. This year's budget details how the industry as a whole will transition from a single-user, vehicle-centric model to a shared, electric, and connected approach. To vector India's mobility transformation strategy in the right direction, the government should look at prioritizing solutions that are already cost-effective and scalable, while the public and private sectors work together to lay the basis for potential whitespaces to be more cost-effective and feasible. In that, emerging ideas follow a similar path, while systemic solutions derived from lighthouse examples assist in the integration of technology, design, and business models on a national level.
ELE Times: Indigenous batteries for an electric vehicle are one of the biggest concerns as well as the aim for India. How can India become self-reliant on that front, according to you?
Lithium-ion batteries are the most essential component of electric vehicles, accounting for over half of the total cost. While the government is launching initiatives to promote lithium-ion batteries, what is needed is for the government to supplement lithium-ion battery supplies by encouraging private sector companies to increase and enhance lithium-ion supplies in the country. Eventually, costs will come down once economies of scale are achieved. Further, in the case of lithium-ion batteries, India has a distinct advantage. India is a leader in both assembly and battery management system (BMS) technology; enjoying a lower cost of assembly. BMS employs computer technology and is entirely software-driven, an area in which India has a huge potential to tap. With India's excellent software capabilities, once lithium-ion cell manufacturing occurs in India, it will have a significant competitive edge over other nations.
ELE Times: Recently, Servotech Power Systems with the support of the German Development Agency GIZ installed India's first portable solar rooftop system 'ServPort' at the Swaminarayan Akshardham temple complex in Gandhinagar, Gujarat. Your thoughts on the same.
This was a cornerstone project for Servotech because not only does it reshape the conventional perception that people have of solar solutions, but also since it's aligned sharply with our Prime Minister's vision of 'One Solar City per State', playing a key role in transforming Gandhinagar into India's first Solar city. For us to reach here, it took 4 years of iterative collaboration with GIZ as teams explored possibilities to make the technology affordable and scalable. By the end of it, we were able to make the device 4 times more cost-effective than it first was, while also introducing new innovations to it. Looking ahead, we are going to undertake an Omnichannel approach to facilitate its wider and easier adoption, and bring it to the masses not as an out-and-out system, but as a gadget enabling flexible utility. On a public front, we are already fulfilling more projects like Gandhinagar across the country's heritage sites and key attractions to garner future engagement.
ELE Times: What new technologies is your company planning to incorporate?
We are continuously involved in innovating solutions that are climate-friendly, efficient, and price-competitive. To that end, we recently reviewed the state of solar systems' deployment in India to learn that two-thirds of these systems aren't fully operational either due to technical, informational, or upkeep issues. Purposed towards that, our next step is going to be introducing an app-driven, API-supported device that helps users monitor the performance of the solar solutions they deploy. We are working at making this device affordable and, more importantly, compatible with all solar devices across the spectrum, so that the measurability element could be institutionalized in these systems – something that's currently lacking. A user-friendly, app-targeted device would help users get timely updates, stats, and maintenance and anomaly alerts. This increased transparency would thereby encourage further adoption.
ELE Times: Please share your expansion plans and the vision and services that you are planning to provide in the next 5 years.
We are going to leverage and augment our present market leadership position, expertise, and experience to translate into a 15x growth for us in the next five years. This will be achieved by a number of efforts that are already in full swing, such as expanding our customer base, venturing into prospective networks, expanding our distributor footprint, and preparing ourselves for any disruptions causing a demand shift. We are already seeing encouraging results in all these functions that are helping to shape and guide our further course of action. To give a piece of it, our channel-reach out initiatives have already resulted in an amplified outreach of Servotech's services which, I am excited to share, will be empowered and executed by close to 5,000 retail channel partners by the end of this year.
ELE Times: A lot of eyeballs have been attracting the electric vehicle industry, and this is perhaps the biggest revolution happening in India after personal computing and smartphones. India is entering into a new tech-driven era which seems eco-friendly as well. We are keen to know your expert insights into the Indian electric vehicle Industry. Are we really ready for it to become more ubiquitous than ICE? Please feel free to give candid and extensive views.
India is on the verge of a major transformation. This time, it's in the transport industry, with electric cars (EVs) quickly becoming the nation's penchant. The number of two- and three-wheeler electric vehicles on Indian roads has increased dramatically in the previous two years. Almost every automobile manufacturer today has EV ambitions. Plus, in less than a decade, the government plans to convert a large proportion of automobiles on Indian roads to electric vehicles. But my view is that all of that is going to be underpinned by our collective efforts to develop and strengthen the infrastructure around EV, and maybe even more so, by how effectively are we able to introduce, foster, and encourage a mindset-shift among stakeholders and users alike to embrace EVs as their next drive home.
Mayank Vashisht | Sub Editor | ELE Times & Times EV