All India Electronics Association (AIEA) salutes remarkable business leaders, Saboo Components for their continuing commitment to excellence, outstanding performance and services to the electronics industry in India. AIEA distinguishes and honors leaders who have contributed and shaped Indian Electronics industry, and are visionaries behind today's outstanding businesses.
Saboo Components & Relays LLP, was awarded for their outstanding performance and service to electronic trade sector. Arun Saboo, the recipient of the Award exemplify the best in leadership. He epitomize the core values of a successful leader i.e. strength, innovation, ingenuity, knowledge and foresight – values that are imperative to carving out powerful businesses in the electronics space in India. The Association honored its various members with awards in recognition to their outstanding performance and service to the electronics industry.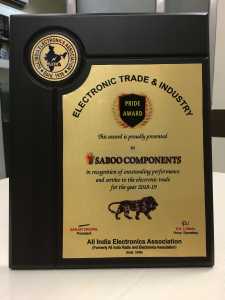 The award was given away by All India Electronics Association Delhi Zone at an award function held on 4th May 2019 at Russian Centre of Science & Culture, Mandi House, New Delhi. Saboo Components is serving the industry for the last three decade. The company is the most preferred and genuine source for electronic components in India.
For more information, visit: http://saboocomp.com/