ROHM has announced that it has received certification for the development process under the ISO 26262 functional safety standard for automotive products by third-party certification authority TÜV Rheinland in Germany. This certification allows ROHM to develop automotive-grade devices that achieve the highest level of safety (ASIL-D).
ISO 26262 was formulated in 2011 as an international standard for functional safety in response to the rising demand for safety performance along with the increasing automation and functionality required in the worldwide automotive market.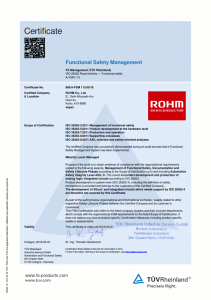 In recent years, technical innovation represented by ADAS has accelerated, and to ensure the highest level of safety in vehicles it is necessary to achieve safety targets at the semiconductor level that make up automotive components.
'In ISO 26262 Functional Safety Standard for Automobiles, demand is growing in recent years for a higher level of safety in the electronic components to be used in on-road vehicles. ISO 26262 is also an important standard because it will cover technical innovations related to advanced driver-assistance systems (ADAS). Such innovations are one of the hottest auto-industry topics in recent days. The second edition of the standard is scheduled to be issued this year. The standard's scope will be expanded to include buses, trucks and motorbikes. There will be a new section on the reliability of semiconductors, because devices containing semiconductors are central to functional safety, which is essential to the development of autonomous vehicles. ROHM receives an ISO 26262 process certification, ahead of any of its competitors. I believe that this will enable them to produce a stable supply of functionally safe products. The company will be engaging in product development in compliance with ASIL-D, and it seems likely that the results of their efforts will be of substantial benefit to their customers.' stated Mr. Schweinfurter, President & CEO of TÜV Rheinland Japan Ltd.
ROHM has adopted a vertically-integrated production system, from development to manufacturing, within the Group based on a corporate mission of 'Quality First' established since the company was founded, making it possible to incorporate a high level of quality into each process while achieving accurate traceability and an optimized supply chain.
ROHM has also established dedicated production lines for automotive products and implemented product development that conforms to standards related to quality management systems (IATF 16949) and electronic component reliability (AEC-Q100/101). And going forward, we will apply our ISO 26262 certified development process to products such as power supply and timing controller ICs used in applications for functional safety.
As the role of electronic parts in vehicles continues to increase, ROHM is committed to manufacturing products that will contribute to safer, more environmentally-friendly vehicles by acquiring ISO 26262 certification for the development process.