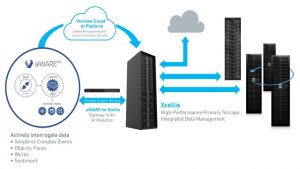 Quantum Corp.  on September 25, announced that aiWARE for Xcellis, an on-premise and cloud version of the artificial intelligence (AI) platform from Veritone, has earned a NewBay Best of Show Award at IBC2017. Award criteria included innovation, feature set, ease of use, versatility and value/ROI.
By integrating Veritone's multiengine AI capabilities into a Quantum StorNext-managed environment, aiWARE for Xcellis brings the power of cloud analytics to on-premise data. Users can now leverage leading-edge cognitive services and applications to extract new value from their video and audio content, including massive stores of archived content that cannot easily be moved to the cloud. Situating powerful AI processing behind corporate firewalls, the Quantum-Veritone solution is ideal for companies with significant investments in on-premise storage and/or specific latency, cost or security requirements for cloud storage.
With aiWARE for Xcellis, media companies can maximize the value of their content to drive greater business success — for example:
creating more customized video-on-demand offerings through robust metadata tagging of existing content.
providing better ROI data to sponsors by identifying where and how often logos, as well as spoken and text brand integrations, appear in broadcast media and redistributed clips.
accelerating postproduction work through enhanced context-based search and discovery.
The Best of Show Awards at IBC2017 were supported by six NewBay brands: TV Tech Global; its sister publication, TVBEurope; PSNEurope; Audio Media International; Radio World; and Installation. All entries were independently judged prior to the show, and those entries deemed worthy were placed on the Best of Show shortlist. Shortlisted entries were visited by judges at the show and assessed live before winners were determined.