The wearable technology market has skyrocketed in recent years. It is projected to grow from USD 116.2 billion in 2021 to 256.4 billion by 2026, with a growth rate of 18%. Factors driving the growth of this market include increasing adoption of wearable devices for health and fitness, increasing demand for smartwatches and other wearable devices for consumer applications, and increasing investment in innovative wearables.
Innovations in the wearable technology spectrum are soaring. From step trackers to augmented reality wearable devices, wearable tech has taken a quantum leap in a very short span of time. The future prospects of wearable technology are very promising. Talking about the development in this field, recently, a group of engineers from MIT have developed a glucose power source that could fuel miniature implants and sensors. The device is smaller than other proposed glucose fuel cells, measuring just 400 nanometers thick, or about 1/100 the diameter of a human hair. The sugary power source generates about 43 microwatts per square centimetre of electricity, achieving the highest power density of any glucose fuel cell to date under ambient conditions.
The new device is also resilient, and able to withstand temperatures up to 600 degrees Celsius. If incorporated into a medical implant, the fuel cell could remain stable through the high-temperature sterilization process required for all implantable devices.
During the pandemic, people have been more focused than ever to track their well-being which led to a major key driver in intensifying the sale and preference of wearable devices amongst consumers, which eventually is resulting in blurring the lines between everyday wearable devices and advanced healthcare devises.
The future prospects of advanced wearable devices are supremely conjoined with innovative breakthroughs in semiconductor technology and electronics. Any wearable device is a compact powerhouse, consisting of the right apparatus that enables it to deliver seamless performance to its users. It usually integrates a power source, sensors, data processing and storage core, actuators and displays, and a communication interface, packaged in a small, lightweight device that is worn on the body or integrated with everyday wear items, such as clothing, footwear, or accessories. Such wearables exemplify the cutting edge of electronics, demanding the highest performance for the least amount of power, in the least amount of space, and in a challenging operating environment.
To help deliver the cutting edge performance of wearable devices, STMicroelectronics offers a wide range of products and solutions that are reliable, powerful and easy to incorporate. Vinay Thapliyal, MCU Marketing Manager, STMicroelectronics, was generous enough to sit for a discussion with ELE Times Sub Editor Mayank Vashisht. Vinay spoke about the range of solutions offered by STMicroelectronics for low power high performance next-generation wearable devices. He also reflected upon the challenges faced by the wearable technology industry. Excerpts: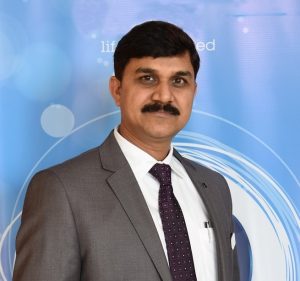 ELE Times: What are some of the best Low-power products and solutions for possible applications that are being offered by your company?
ST has been offering various low power products for battery operated applications like Microcontrollers, connectivity, sensors and power management products.
Talking specifically about Microcontrollers, ST's ultra‑low‑power MCU platform is based on proprietary ultra‑low‑leakage technology.
STM32 ultra-low-power series represent a large range of microcontrollers addressing devices supplied from batteries or through energy harvesting and help ensure an optimized cost/performance ratio for all kinds of low‑power applications. With the industry's lowest current variation between ‑40 and +125°C, this ultra‑low‑power platform has outstandingly low current consumption at elevated temperatures.
The STM32L4 series is the convergence of the ultra-low-power and high performance providing 100 DMIPS with DSP instructions and the floating-point unit, more memory (up to 1 Mbyte of Flash) and innovative features. The STM32L4+ series extends STM32L4 technology by offering higher performance (120 MHz/409 CoreMark executing from internal Flash memory), larger embedded memories (up to 2 Mbytes of Flash memory and 640 Kbytes of SRAM), and more advanced graphic features with no compromise on its ultra-low power consumption capability.
The STM32L5 and recently launched STM32U5 series is the answer for embedded applications requiring more security and lower power consumption. It adds more security with Arm Cortex-M33 and its TrustZone and ST security implementation while using the best-in-class ultra-low-power technology.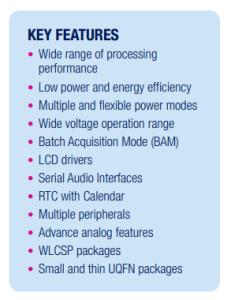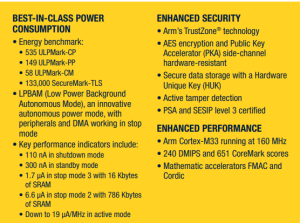 The new secure, and ultra-low power STM32 microcontrollers will revolutionize your embedded design. The STM32U5 series offers advanced power-saving microcontrollers, and ST's innovative proprietary ultra-low-power features, which reduce typical MCU power consumption by 90% in applications where peripherals need to regularly acquire data.
The flagship of the STM32 ultra-low-powe

r series, the STM32U5 meets the most demanding power/performance requirements for smart applications, including wearables, personal medical devices, home automation, and industrial sensors.
The STM32U5 is the first STM32 MCU to receive SESIP and PSA level 3 certifications, taking cyber protection to a new level and allowing developers to streamline their IoT design process.
ELE Times: What challenges according to you is the wearable industry currently facing?
Wearable devices are becoming smarter, lighter and more convenient while continuing to add features and capabilities.
Some of the challenges we continue to focus on include extending battery life by having ultra-low power operation, providing a better user experience requiring higher performance, higher integration & miniaturization of the devices and handling safety & security concerns. At the same time, the devices should have differentiating value and be aesthetically appealing.
ELE Times: As ultra-low-cost microprocessors become commercially viable, what are the possible future use cases you anticipate in the wearable industry?
 With access to competitive MCU//MPU platforms, the wearable market is becoming more viable for multiple new use cases in wellness, fitness and lifestyle.
ST is also innovating the products to take into account the needs of the most recent and innovative wearable devices. Some of the application areas under our focus on expected future use cases are,
Consumer fitness and wellness.
Healthcare
Portable infotainment.
Worker safety.
Visit, blog.st.com/stm32u575-stm32u585
For more information, visit www.st.com/content/st_com/en/campaigns/stm32u5-ultra-low-power-mcus.html
Mayank Vashisht | Sub Editor | ELE Times & Times EV