Zyxel, the industry leader in next generation networking solutions has unveiled PMG2006-T20A GPON HGU embedded with a 4-port GbE Switch enabling it to connect to peripherals such as IP cameras, Network Data Storages, computer servers and Wi-Fi access points to share data in high speeds.
The Zyxel PMG2006-T20A can be connected to the GPON OLT to offer network operators with management and provision features that support ONT Management and Control Interface (OMCI) and TR-069 management functions as well. As a result, operation and maintenance of the PMG2006-T20A can be extremely easy and efficient.
As higher bandwidth and greater efficiency of Ethernet cannot guarantee delivery of high-quality voice, data and video across a GPON network, service providers can freely design their Advanced Quality of Service (QoS) policies and prioritize mission-critical services such as IPTV and VoIP based on their service plan offerings. This increases network efficiency and productivity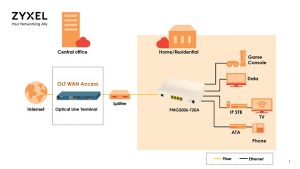 that enable service providers to offer a multi-play solution that truly meets of residential user needs.
Other key specifications of the solution include:
Comply ITU-T G.984 GPON standard:
G.984.1 general characteristics
G.984.2 Physical Media Dependent (PMD) layer specifications
G.984.3 transmission convergence Layer specifications
G.984.4 ONT management and control interface specification
Support DS/US transmission rate to2.488 Gbps/1.244 Gbps
Wavelength: 1490 nm downstream & 1310 nm upstream
Comply with class B+ type PMD
Physical distance reach to 20 km
Support Dynamic Bandwidth Allocation (DBA)
GPON Encapsulation Method (GEM) supports Ethernet packet
Supports GEM header removal/insertion and data extraction/segmentation (GEM SAR)
Configurable AES DS and FEC DS/US
Support up to 8 T-CONs each with priority queues (US)
Router/Bridge Features
IGMP v1/v2/v3
Network Address Translation (NAT)/Network Address Port Translation (NAPT)
DHCP
DNS
Pricing and Availability:
PMG2006-T20A Wireless Router is available exclusively at Zyxel website at a price of INR 13,000/- .
For more information, please visit: http://www.zyxel.com/in/en/