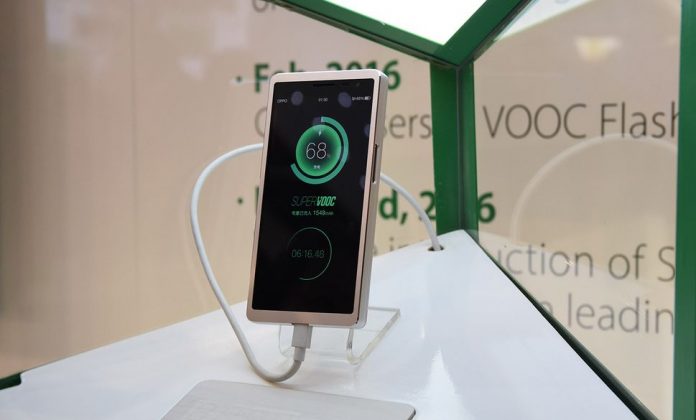 Chinese leader smartphone manufacturer Oppo Electronics has made some major innovations in store for MWC. First off, the company showed off its new Super VOOC quick-charging technology.
Oppo has further improved its VOOC technology that takes on Quick Charge. A newly developed low-voltage pulse-charge algorithm now brings your device to 45 percent charge in a mere five minutes, claims the company. This also means it offers a full charge in 15 minutes. In just 15 minutes, VOOC Flash Charge can bring a 2500mAh battery equipped OPPO smartphone to a full charge, says Oppo.
Oppo explained that such technologies's underlying principles are actually quite different from Super VOOC's. Whereas they apply high-voltage fast-charging, Super VOOC Flash Charge relies on a low voltage of 5 volts, staying within standard voltage and temperature levels for smartphone charging and ensuring safety in the long run. This also eliminates the need for a voltage converter, making for a more efficient charging process.
Oppo's take on Qualcomm's quick charging feature is still in the prototyping stage and is backward-compatible meaning none of the current breed of Oppo smartphones will be able to make use of this functionality. This means, Super VOOC will be exclusive to future Oppo phones.
Oppo's Super VOOC tech is proprietary and unless they license it to other manufacturers, it will be a mainstay of its own smartphones.
The system uses a new algorithm to dynamically regulate the current, ensuring the fastest charging time possible while maintaining current within the battery's safe range. To complete its solution, Oppo redesigned the Super VOOC Flash Charge adapter, cable, and connector with military-grade materials to make them reliable and rugged.