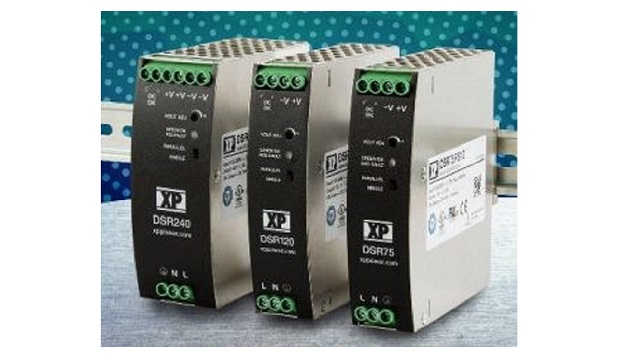 XP Power has announced the DSR range of ac-dc DIN rail power supplies for industrial control and information technology equipment, with 150% peak load capability. "The power supplies 150% peak load capability enables start up for electro-mechanical loads," said the firm, which expects use in process control, factory automation, escalators, travellators, lifts, heating, air conditioning and security systems.
Described by the manufacturer as ultra slim, the 75W and 120W models are 32mm wide, followed by 45mm for 240W types, units can be paralleled for higher power, or configured to provide N+1 redundancy in critical applications.
Parts are DSR75, DSR120 and DSR240 respectievly, and efficiency figures are 91, 92 and 94%. The two lower power models are available with 12, 24 and 48V outputs, whilst DSR240 come in 24 or 48V. All operate from 85 to 264Vac. Ambient temperature rating is -25 to +70°C for all models, with rated power available up to 50 or 60°C depending on model.
Volt free relay contacts are available for dc OK remote monitoring. The series is available from Digi-Key, element14, Farnell, RS Components, approved regional distributors, or direct from XP Power, and come with a three-year warranty.