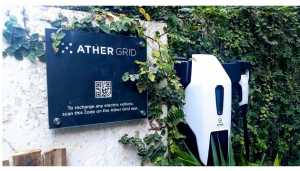 Bangalore-based electric scooter start-up, Ather Energy has planned to set-up the installment of about 200 charging points in multiple cities of India by the end of 2019.
Currently, Hero Moto Corp is leading with 35 fast charging points in Bangalore.
"We are opening in multiple cities in the coming months. By the end of this year we expect to increase the number of charging points to 200 charging points," said Tarun Mehta, CEO and co-founder, Ather Energy.
Recently, Ather has tied up with Godrej Nature's Basket to expand AtherGrid, the company's electric vehicle fast-charging public network's presence in India.
The company has planned to invest Rs 130 crore in setting up the EV charging infrastructure in 30 cities by 2022. In a bid to meet the production requirement, the firm is currently scouting for land to set up manufacturing plant with larger production capacity. Hinting at southern region to be the preferred site for plant setup, Mehta said that the company wants second location to be close to headquarter in Bangalore.
"We don't want to go too far away from our main location and therefore won't see it coming in North region of the country," he added.
On the product front, Ather Energy has plans to expand its premium e-scooter range in which it has two models on road – Ather 340 and Ather 450, with prices starting from 1.09 Lakh. However, to reduce the upfront cost and increase affordability, the company is planning to introduce innovative financial solution like leasing in coming years as a part of its new business model.
"In a couple of years consumers will see structural changes in our pricing that will allow a better up front pricing," Mehta added.