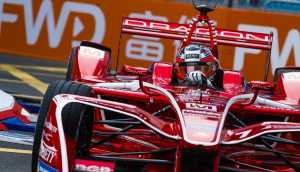 After an outstanding podium finish at the Zurich E-Prix, the Mouser-sponsored DRAGON team is excitedly preparing for a dramatic two-day season finale, July 14 and 15 in New York City. For the second year running, the ABB FIA Formula E Championship returns to Red Hook, Brooklyn, with all 10 teams and 20 drivers battling it out in two races back-to-back on a 1.5-mile course set against the backdrop of the iconic Manhattan skyline and the Statue of Liberty.
Championship driver Jerome D'Ambrosio piloted the Mouser-backed No. 7 car in a hard-fought contest June 10 in Zurich, earning the No. 2 spot in the qualifying rounds and pushing through to take a third-place podium finish.
"D'Ambrosio and the entire DRAGON team drove a fantastic race in Zurich, and we look forward to a strong outing in New York," said Todd McAtee, Vice President, Americas Business Development for Mouser Electronics. "Mouser is proud to have a role in promoting the exciting automotive technology that puts Formula E at the forefront of the electric car revolution", he added.
The Mouser-sponsored cars are piloted this year by single-seater ace D'Ambrosio and three-time FIA WTCC drivers' champion José María López. López also had a strong qualifying run in Zurich, earning the No. 3 spot, but lost time late in the race after touching a barrier on turn one.
This is the fourth season of the ABB FIA Formula E Championship and the fourth season that Mouser Electronics is a team sponsor along with valued supplier Molex. Mouser and Molex are sponsoring the DRAGON team throughout the season in collaboration with TTI, Inc.