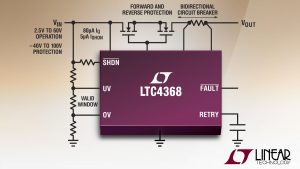 Linear Technology Corporation introduces the LTC4368, a circuit protection controller ensuring safe voltage and current levels for 2.5V to 60V electronics in battery-powered automotive, industrial and portable systems. The LTC4368 replaces fuses, transient voltage suppressors and discrete circuitry, enabling a compact and comprehensive solution for shielding electronics from damaging overcurrent and over-, under- and reverse voltage conditions. The LTC4368 controls back-to-back N-channel MOSFETs to provide a low loss current path during normal operation, turning them off for overcurrent faults in the forward or reverse direction. The LTC4368-1 circuit breaker provides symmetric forward and reverse current thresholds to protect batteries from excessive charge and discharge currents. The LTC4368-2 circuit breaker trips off when reverse current is detected to prevent back feeding and hold up the output.
The LTC4368 quickly disconnects the load from input voltages exceeding an adjustable and precise overvoltage threshold. Adjustable under voltage lockout disables operation for low input voltages, avoiding deeply discharged batteries. Reverse supply protection isolates the load from batteries inserted with incorrect polarity, eliminating a diode in the power path. The eliminated diode drop and the 2.5V operation provide sufficient margin for riding through automotive cold crank conditions. Device current consumption is just 80µA in normal operation and 5µA in shutdown mode, prolonging battery run and standby time. The LTC4368 also controls inrush current while hot-plugging a circuit board's power supply.
The LTC4368 is available in two options: the LTC4368-1 provides a 50mV reverse circuit breaker sense threshold, whereas the LTC4368-2 has a 3mV reverse threshold. After an overcurrent fault, a pin configuration determines if the MOSFETs are latched off or turned on after a delay. Specified over the 0°C to 70°C commercial, −40°C to 85°C industrial, and −40°C to 125°C automotive temperature ranges, the LTC4368 is offered in 10-pin MSOP and 3mm x 3mm DFN packages. 1,000-piece pricing starts at $1.99 each. Device samples and evaluation circuit boards are available online or from your local Linear Technology sales office.
Summary of Features: LTC4368
Protects Against Overcurrent, Reverse Current, Overvoltage, Undervoltage, Reverse Input
2.5V to 60V Operating Range
−40V to 100V Protection Range
Bidirectional Electronic Circuit Breaker (ECB)
◦ 50mV Forward Sense Threshold
◦ 50mV Reverse Sense Threshold (LTC4368-1)
◦ 3mV Reverse Sense Threshold (LTC4368-2)
Adjustable, ±1.5% Accurate Undervoltage and Overvoltage Thresholds
Low Quiescent Current: 80µA Operating, 5µA Shutdown
Pin-Selectable Overcurrent Auto-Retry Timer or Latch off
Hot Swappable Supply Input
–40oC to 125oC Operating Temperature Range
10-Pin MSOP & 3mm x 3mm DFN Packages
Pricing shown is for budgetary use only and may differ due to local duties, taxes, fees and exchange rates.