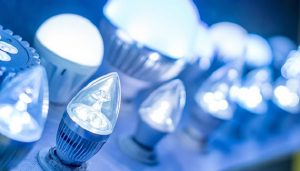 LED lights have emerged as a powerful source for lighting over the past several years. Due to their numerous advantages over conventional lighting technology, they have swiftly gained prominence in the Indian lighting market. Although Indian LED lighting market is at a nascent stage, it offers innumerable opportunities for growth over the next few decades. As India represents one of the biggest lighting markets, it offers a lucrative option for LED manufacturers to set up their facilities in the region. Skilled labour, ease of doing business and demographic advantages provides a sustainable environment for the LED industry.
India LED lighting market stood at $ 918.70 million in 2016, and is projected to grow at a CAGR of 24.66%, in value terms, during 2016-2022, to reach $ 3,758.74 million by 2022, on account of increasing government initiatives to boost LED adoption and growing awareness regarding lower power consumption of LED lighting products. Moreover, easy availability at affordable prices coupled with distribution of LED bulbs by Indian government at subsidized rates to promote the use of LED lights over halogens and incandescent lighting products is augmenting demand for LEDs in the country.
Few of the major players operating in India LED lighting market include Philips, Surya Roshni, Havells India, Shree SantKripa Appliances, OSRAM India, Crompton Greaves, Halonix Technologies, Panasonic India, GE Lighting,Bajaj Electricals, Eveready Industries and SYSKA LED Lights.
The Indian LED lighting market in precedent years has been witnessing tremendous growth in terms of value as well as volume. The governance of market is maintained by the exhaustive efforts being done by the government through various schemes such as UJALA and SLNP as well as the efforts by the major players in terms of bringing awareness in India. India is a market of huge opportunity and it will continue to grow at a healthy rate in the next few years to come.
The LED lighting industry which was struggling in the initial years to get a market has finally seen a tremendous rise in the market share in just last 3 years. LED lighting market has literally increased in a very steep manner and the major factor behind this was the government's initiatives of providing LED light 9W bulbs at a cheaper rate than the market as well as the program for replacing the traditional street lights with LED street lights. The other factors which have made this significant impact are the advertisements for increasing the awareness of LED lights amongst the people as well as the new architectural designs which has boost up the growth of LED Panel and LED Down lights.
The northern region accounted for the largest revenue share in the country in the year 2015-16, followed by Southern region. The LED street lights installations are maximum in Southern region followed by Andhra Pradesh. Government of India distributed LED bulbs under the 'UJALA' scheme with maximum number of bulbs distributed in Gujarat.
Currently, the demand for LED lighting systems is primarily concentrated in the North and South regions due to growing urbanization rates and increasing number of government initiatives that encourage the use of LED lights. The government's support through various regulations that promote the investments in energy efficient lighting technologies have expanded the applications of LED lights across various industrial, commercial and residential sectors.  A rapidly growing automotive industry also provides productive opportunities for the use of LEDs in head lamps, rear lamps, turn signal and brake lights. Other important factors such as increasing infrastructural investments, rapid growth of street lighting systems, decline in average prices of LEDs and various government and upcoming smart building projects are expected to drive the demand of LED lights in India.
Overview of the global lighting market
The global lighting market size will grow steadily during the next four years and post a CAGR of more than 9% by 2021. Global demand for lighting identifies the increase in sales of vehicles that will drive the demand for automotive lights as one of the primary growth factors for this market. With the automotive industry registering considerable growth year-over-year, the recent years also witnessed the growth of the automotive component manufacturers. Since lights are one of the major components in automobiles, the growth of the automotive industry, will significantly fuel the growth of the lighting market. LEDs are the most commonly used lighting types for automotive lighting and are mainly preferred in premium and standard headlamps since headlamp units are the most-expensive units in an automobile.
The Americas was the major revenue contributor to the market during 2016, it will continue to dominate the market during the next few years. The presence of some of the wealthiest economies such as Canada and the US, the strong infrastructure of the developed economies in the region, and the introduction of social policies and programs such as the United States Lighting Energy Policy, will fuel the growth of the lighting industry trends in this region.
Competitive landscape and key vendors
Characterized by the presence of several players across the globe, this market appears to be highly fragmented. Though the key vendors account for the maximum revenue shares, the small players also play a significant role in the market since they hold dominant positions in their respective regions. Countries in the APAC such as China and Japan have the maximum number of lighting manufacturers. Owing to factors such as technological advancements and the increased consumer preference for LED lights, lighting manufacturers are increasingly focusing on making huge investments in the LED market. 
The leading innovators in LEDs: This global market growth has been mainly driven by the continuously increasing benefits of using these energy-saving lights. Greater lumens, less energy, and longer lifespan. Innovations follow trends and there is no better place for such information than Light + Building exhibition. On the basis of Light + Building 2018 at Frankfurt following outcome enumerate the guideline for the industry as to where the global lighting industry is heading to.
Latest Innovations in Lighting
Many luminaries in one:A new concept developed with the clever people at Bartenbach, Unico is a powerful down light with up to nine individually controllable 38mm x 38mm inserts. Each can have its own very different photometrics and colour temperatures, making it many luminaries in one.
Dynamic beam shaper:Potentially the biggest thing to hit display lighting since the 50W dichroic lamp, LensVector's solid-state liquid crystal lens can change beam angles from five to 60 degrees. Sylvania, Targetti, Forma and Wila all showed spotlights with the tech.
A family of C-shaped luminaires with awesome attention to detail, beautiful finishes, top quality light, gesture control for dimming and colour-temperature tuning and a super smooth height adjustment.
Lightelligence: Osram launches its open platform for the Internet of Things, which allows software developers to create apps using the internet-connected lighting infrastructure in a building combined with embedded sensors.
True Presence:This detector recognizes the micro movements of people in a space, such as breathing. A microprocessor compares data collected by the microwave antenna to reference data to make '100 per cent accurate' detection. A game-changer for PIRs.
Bluetooth is steamrolling its way to the top of the wireless protocols in the industry and Xicato's elegant GalaXi platform makes the most of it to create a wireless control kit which, with Bluetooth Mesh, is fully scalable to include thousands of luminaires.
Li-Fi platform:Philips is threatening to take Li-Fi – the transmission of data such as the internet using visible light from LED lights – into the mainstream with its own kit, including drivers and dongles.
Deep UV LED:Ultra-violet is the Next Big Thing in lighting apps, and it can cut bacteria in healthcare buildings and reduce pathogens in horticulture. Japanese manufacturer Stanley Lighting has nailed the science and unveiled a range of top quality UV kit.
SunLike: By using a violet chip instead of a blue one, Seoul Semiconductors has delivered an LED that it's claiming is the closest to the sun on the market and objects illuminated by it appear as they do under sunlight.
Amp: Developed for an office where the concept was to have one luminaire for all spaces, the Amp features a unique optic which is both reflector and lens. It delivers 10 per cent uplight, and is available with a wide range of photometrics.
Arcane light engine: The hottest technologies – the LensVector beam shaping lens and the Casambi Bluetooth interface – into one elegant unit. Perfect for OEMs who want to tick all the right boxes and get to market fast.
Waveguide: Waveguide lens has been around for a while, but Sylvania upped the ante by applying the technology to a range of circular recessed fixtures which put lots of light on the ceiling.
Optisolis: Nichia has opened up access to the very best of LED colour performance. Up to now, this has been the province of the LED aristocracy; with Nichia it becomes a standard product for whoever wants to invest in it.
Special Light Colours: Retail lighting specialist Bäro sets the cat among the colour purists by offering a range of off-Planckian LEDs, including one as low as CRI 70! But it's all about display lighting and the effects are stunning.
ID handrail: An LED handrail system that includes a really useful unit which clips onto tubular steel rails and banisters to provide light on walkways and stairwells. The ID lighting system can also be built-in flush and without visible screws.
Why system: Polish manufacturer ES-System showed these beautifully-engineered pendant luminaires with opal PMMA diffusers and a striking sideways light distribution. Dali and Casambi-based Bluetooth Low Energy control is available.
Moon:Coelux's artificial skylights have been a sensation in recent years. Using nano technology, the company has recreated Rayleigh Scattering, which makes the sky blue and married it with a sun-like LED.
Microtrack: Targetti was showing this 24V twin-circuit track which is a mere 5mm thick – slim enough to recess into a single sheet of plasterboard. It has also developed a range of spots which can be attached magnetically.
Parhelion:Innovative module are based on Laser Diffraction Grating (LDG) technology, providing the best light quality available, from the most energy-efficient light-emitting surface, the exceptional properties of as laser light source and Parhelion's unique diffraction grating technology.
Everlight:Demonstrate its 5630X-ELB LED series and horticulture fit LEDs as well as all lightingsuch as luminaries for horticulture and fish lighting. 5630X-ELB series boasts 228Im/W (@65A 5000K CRI>80), also meets DLC4.0 with a light-on test / light-on tests in the high temperature range (105oC), L90>36000 hours and achieves/features a color tolerance lessthan 3SDCM.Horticulture Lighting: Monochromatic light LEDs are widely applied for horticulture lighting, by combining colors to effectively meet the requirements of specific spectra and optical functions.2835 PC Red-ELB (2.8×3.5×0.7mm) with 5% blue intensity (CCT) can achieve a WPE of 35% (0.5W) to simultaneously replace Royal Blue & Deep Red with a luminous efficacy of 15lm.
Pixlum:Pixlum will free you from the constraints of wiring. It is a hybrid technology between a powercord, a gypsumboard and a lamp that brings an end to individual electrical outlets. Your walls and ceilings will become electrical conductors that will allow to position easily and at will stars, ceiling and wall lamps anywhere onto their surface in a perfectly safe environment. Entire ceilings will become star fields or chandeliers for trendy, fairy-like, sober or vibrant atmospheres.
My Lumens – Indirect LED lighting: Indirect LED lighting solutions help reduce the perception of glare. Using an efficient diffusing reflective surface inside the light and a special Polycarbonate cover, the light from the LEDs is diffused through multiple reflectors.With this approach 180lm/W lights can be produced with very little glare and also give the appearance of a smooth even light source.Human centric indirect lunar can bring you a lighting experience similar to sunlight. High uniformity without glare or dark spots will not strain your eyes after long hours working.
Steinel: Senses for tomorrow: The intelligent building of tomorrow will have entirely new capabilities. It will be more efficient, healthier, safer and more comfortable.It will know what is going inside and outside. It will react, learn and control itself and optimize its performance and it will open up entirely new opportunities for its inhabitants. The new revolutionary sensors from STEINEL SYSTEMS such as True Presence and the optical sensor HPD2 are the basis for building intelligence solutions that go way beyond simple illumination control. The RS PRO Connect 5100 LED is the ideals diffuser luminaire with advanced Bluetooth technology for configuring and interconnecting the lights.
LightnTec: The Future of Light is Digital and Ultra-Lighweight. LighnTec produces dynamic LED films for covering ceilings, walls and floors. Easily displaying video animations and creating lighting effects in any shape using lightweight materials may sound like a futuristic notion. The ultra-lightweight LED films used to digitize ceilings, walls and floors are suitable for practically any application imaginable. Images are controlled using DVI video signals simply via a USB stick, Wi-Fi or the Internet.
Eltako – The Wireless Building: The wireless network with the revolutionary enocean wireless modules. They generate their own power supply of 50µWs when a pushbutton is operated, they require no external power supply. They transmit ultra-short interference-proof signals in the 868MHz band with a range of up to 100 meter. Wireless pushbuttons without battery or wire reduce the electro-smog load, they emit high-frequency waves that are 100 times weaker than conventional light switches. There is significant reduction in low-frequency alternating fields since fewer power cables need to be installed in the building.
How the lighting would be like in Future
Trends analyses current developments in the area of decorative interior lighting in four themes and provide manufacturers, retailers and designers with a detailed overview of materials, colours and designs.
Evoke Emotions:It is about recreating natural light, creating reflections, gentle movements and shadow effects in the room- about tenderness, sensitivity and well-being. The combination of feeling and functionality is the essential characteristic of the creations.
Imagine Mutation:Here we find an emphasis on designs that create a striking artistic impression and make a strong impact. What dominate are creations that are anything but ordinary and appear like modern works of art. They extrovertly celebrate anomaly and diversity.
Textures and patterns are surprisingly intertwined and contrasting materials are often employed. Here we see matt and glossy surfaces, monochrome and multi-colour aspects, fluorescent details and coloured wood. Exaggerated effects are used in shapes, motifs, patterns and colours. Sculptural elements often appear distorted, twisted, deformed. Overall, the entire look plays with the idea of "multi-personality".
Revive Homeliness:A style that stands for the revival of simplicity- for preserving and maintaining traditional values while also creating a ground breaking concept of living. By focusing exclusively on simple but intelligent solutions, selecting materials with care and allowing the necessary time for thoughtful development, a style is created with an authentic and personal atmosphere of home.
Authentic, undemonstrative, clear and uncomplicated designs characterise this style. The lighting moods are inviting, warm and restrained and create a cosy, harmonious atmosphere. A reverential, intimate illumination is created which includes darkness into the overall ambience.
Create History: The luxurious settings are reminiscent of the fascination of Italian palazzo. A particular attraction are the high-tech luminaries which appear like light jewels in a decoratively designed environment. With their innovative, functional details, the luminaire designs are like little gems set in an elegant context. The idea of artistic still life serves as an inspiration for refined, nuanced displays. Overall, this style is sophisticated, elegant and refined.
Highly functional modern technology is embedded here in a background of decorative living spaces. The appeal of this interior style lies in its elegant colouration, combined with antique and rare items and collectibles, which hark back to former times- a sort of cabinet wonders. Technology is also revolutionizing design and with the use of the latest developments, nostalgic designs and historic reminiscence become something quite new, something never been done before. Here is where historical expression and future promise come together.