Highly advanced miniaturisation of wireless communication modules combined with a drop in their price is the reason why radio transmission modules can be found almost everywhere. Despite this, incorporating such a module into the LED power supply is a very innovative solution and makes it incredibly easy to create lighting systems. By introducing a popular data transmission standard, such as Bluetooth, you can create functional, unique, easy to manage and control lighting systems for buildings, halls, rooms etc.
The Bluetooth interface is a well-known feature of headsets. Another popular application of this standard is the emulation of the UART virtual serial port, which enables data transfer between devices, usually between a PC and a smartphone. By their nature, these were point-to-point connections, which made it impossible to control extensive networks of devices.
One of the major trends in the field of wireless communication devices are IoT networks, Industry 4.0 and smart buildings. These trends have also been recognised by the consortium that oversees Bluetooth development and the companies cooperating with it, so it is not surprising that the successive versions are increasingly focused not so much on audio devices as on energy-saving solutions powered by batteries or renewable energy sources employed in such systems.
Bluetooth and Grid Networks
As mentioned before, the Bluetooth interface was mainly focused on point-to-point connections. Although there was a profile to create local PAN (Personal Area Network) networks, it was very rarely used, as these were networks with rather low transmission speeds and limited capabilities.
Bluetooth version 4.0 opens up the possibility of creating grid networks. Their main advantage is their virtually unlimited range, as data can be transferred from the base device to the network node and then from node to node. A node in such a network is any device which, apart from data transfer, may also have some other functionality. It can, for example, have an additional function of a display, switch, sensor etc. Grid networks are particularly suitable for communication within a smart building, as they offer almost unlimited coverage. Data can be transferred e.g. between floors or rooms without complex wiring. Another great advantage of grid networks is the ease of modification. What is important is that the Bluetooth communication protocol has always been well secured – it ensures device authentication and data encryption, which makes hacking into the network highly difficult.
Drivers with Wireless Communication
The engineers from MEAN WELL, a well-known manufacturer of power supply equipment, came up with a brilliant idea that responds ideally to the market trends. They decided to equip a LED driver with a Low Energy 4.0 Bluetooth programmable communication module. This opens up the way to control lighting with the use of popular devices such as smartphones, tablets, personal computers and microcomputers, for instance Raspberry Pi. The integration of the radio module directly into the driver has greatly simplified the lighting control system – control takes place in the driver itself, i.e. exactly where it is needed, with no additional intermediary devices required.
The new drivers by MEAN WELL were designed in cooperation with European company Casambi, which was established to develop and improve Bluetooth grid network solutions. Casambi's communication modules have been integrated in drivers from the LCM-25/40/60BLE series. The listed series of drivers offer the possibility to set the output current within the available power range (the number in the driver's name indicates the maximum load power), thanks to which variously connected LEDs can be easily powered using the same driver after the output current is set using the DIP switches. The available load current and voltage combinations are conveniently labelled on enclosures of the respective models (fig.1).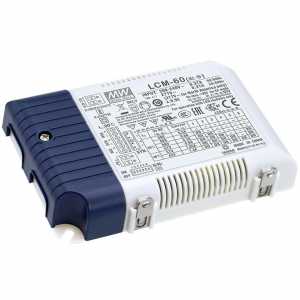 Fig.1. LCM-25BLE series driver.
Powering various configurations of LEDs. Output current/voltage modified using a DIP switch.
Plastic housing, class II design.
Built-in active PFC function.
Energy efficiency up to 90%.
Lighting dimmed by means of Bluetooth and a button.
Protection against short-circuit, overvoltage and overheating.
Surge immunity up to 2 kV (L-N).
MTBF > 50,000 hours.
The fact that the parameters of the output voltage and current can be changed is a great convenience for the system contractor and service technician. The former can reduce the number of various devices in the lighting system and in the warehouse, while the latter can enjoy significantly easier work, because replacing a damaged power supply module with a new one or changing the configuration of powered LEDs only involves setting the load current without the need to use multiple modules for different connection variants. It is also important that both models can be successfully used for indoor as well as outdoor lighting systems.
Lighting control options
Casambi has developed a special application to control the LED driver. It allows you to group power supplies, set scenes, timers, correlations, etc. The drivers can also be operated using devices that are compatible with the communication protocol developed by Casambi, such as wall switches or light sensors, which can be used to extend the range of the network and to develop customised, smart lighting systems. This gives you the opportunity to create advanced lighting control algorithms to achieve a specific aesthetic effect or far-reaching energy savings.
In addition to the possibility of managing lighting using the application, the drivers also feature a freely programmable input connected to the neutral power supply cable by means of a pushbutton (Fig. 2). This input can be programmed in such a way that it controls not only the directly connected driver, but also a group or all of the drivers, allowing for switching on/off the lighting, a single luminaire, a group of luminaires, as well as a scene change.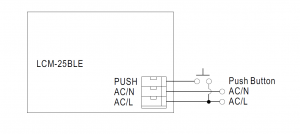 Fig. 2. Connecting a programmable pushbutton
The variant of Low Energy 4.0 Bluetooth grid network developed by Casambi works in the self-organisation mode, which does not impose on the user or installer the need for complex configuration. In this mode, the network coverage (range) is maximised with the help of the devices operating in the network, and there is no need for additional gates or bridges. The Casambi application for controlling the operation of the drivers, and thus the light sources being supplied, can be connected to the cloud for data storage and status reporting.
Disover LED drivers with Bluetooth interface by MEAN WELL
Final remarks
When installing lighting systems for smart buildings, it is worth considering products by MEAN WELL. They not only enjoy good reputation, but also are practical and offer wide possibilities of configuration and application. Among MEAN WELL products you will find not only the described drivers from the LCM series, but also LED controllers without adjustable current or voltage, but with PWM output, which allows you to regulate colour temperature and light intensity. An example of such a solution is the PWM-120BLE model with 120W and output voltage (depending on model) from 12 to 24V. Wide range of input voltage (90…305V AC) allows the controller to be used in almost any lighting system. The PWM-120BLE has a built-in Casambi BLE 4.0 module, which enables remote communication and control of the lighting. It is worth mentioning that among products by MEAN WELL you can also find LED controllers without wireless interface.