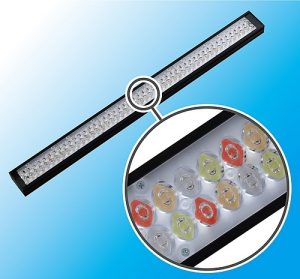 Kyocera has announced a major building-façade lighting project in Kyoto, Japan, and at the same time revealed the first major commercial use of its violet-emitter-based LED technology that had previously only been discussed in research and development (R&D) terms. The new Wacoal Holdings building façade can be bathed in white or dynamic red, green, and blue (RGB) light — hues that Kyocera said are suggestive of Kyoto. The packaged LEDs, meanwhile, use a violet emitter with RGB phosphor mixes, with the exact mix determining whether white or color light is realized.
Interested in articles & announcements on packaged LEDs?
In terms of producing a high-power, white LED, the Kyocera technology appears to parallel the violet pump and phosphor approach taken by Soraa in what it calls VP3 (violet-emission three phosphor). Soraa described the benefits of a violet pump and multiple phosphors in a feature article back before the VP3 brand was launched.
Kyocera's new packaged LEDs use a violet-emitter based technology with RBG phosphor mixes to produce a whole spectrum of colored light.
It does not appear that Kyocera has used gallium-nitride substrates (GaN) substrates like Soraa does. Moreover, Soraa has only used the VP3 technology to build white packaged LEDs whereas Kyocera has said it will build white and color LEDs and those are clearly in evidence in the Kyoto project. Like Soraa, Kyocera also said the violet and three-phosphor mix can yield higher-quality white light and CRI over 90. And Kyocera further said the emission can mimic sunlight.
Kyocera will demonstrate the LED technology at the upcoming Electronica trade fair in Munich scheduled for Nov. 8–11. Evidently, the LED technology will be demonstrated in mesh LED modules (pictured above) that were used in the Kyoto project, although it sure seems that the white LEDs could also be used for general illumination, and Kyocera hinted at such a future.
Kyocera's LEDs deliver a dynamic mix of colors for various façade lighting schemes on the Wacoal Holdings building.
The Kyoto building, meanwhile, features a design that was guided by the concept of "a veil of silky light" that is symbiotic with Wacoal's business centered on intimate apparel for women. The LEDs are installed in 72 windows on two sides of the building from the second through the seventh floors. In total, 432 fittings are connected to a dynamic control system. The typical presentation begins silky white, and transitions to Wacoal's corporate color and at other times to the colors of the East Asian lunisolar calendar. Kyocera also installed a 36-kW solar system on the roof of the building, and that power system generates enough energy to power the lighting for three to four hours each day.
Kyocera said in the news release that the violet LED technology had been used in a number of applications including illuminating fine art. But the company has not been proactive in promoting such LED advancements. The company has played in specialty areas of the LED sector for many years. For instance, we covered an LED backlight product back in 2006. Perhaps the broader use of the LEDs has been limited to customers in Japan. But clearly the company intends to pursue a global market. It said it would also exhibit the packaged LEDs at more global trade shows next year.