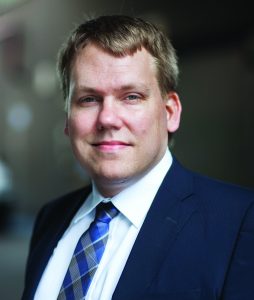 Stronger adoption of mobile devices and advanced smart cards underscores the need for trusted identities
Similar to the adoption of consumer trends to IT in past years, 2017 will also see further consumerization of security, with heightened demand from users seeking to open doors, and login to cloud-based resources, as well as have personalized on-demand printing of documents, and to deploy printed credentials remotely or conduct other transactions and daily activities using trusted IDs on their phone, wearable or smart card.
Trusted IDs that integrate security, privacy and convenience will provide a new level of assurance to these applications and transactions, while being uniquely positioned to make secure access more personalized to the individual.
The industry will look towards complete identity relationship management that considers the need to grant access based on the context or circumstances for risk-appropriate authentication across trusted identities assigned to people, devices, data and things in smart offices, buildings and other environments that are becoming more connected every day.
Greater emphasis on the cloud through "hybrid" solutions that combine on-premises and the cloud to create common management platforms for digital IDs   
Organizations are recognizing the interdependencies of technologies and platforms needed for business agility, cost management and providing a better user experience within a mobile workforce, or for digital commerce and relationship management that continues to require more reach, flexibility, security.
In banking, government, healthcare and other regulated markets, multi-factor authentication for physical and IT access control will have more opportunities to merge into integrated systems that will also provide a more convenient experience for users and increase security.
This model will make it easier for administrators to deploy and maintain an integrated system throughout the complete identity lifecycle — from on boarding to off boarding;
It will make it possible to monitor and manage employees' access rights as their role changes within an organization, ensuring employees only have access to what they need in a current role.
Credential issuance for physical ID cards will also experience a digital transformation, as the use of cloud technologies will enable managed service models for badge printing and encoding.
Emerging IoT uses cases to connect, more people, places and things, increasing the need to ensure the Internet of Trusted Things (IoTT)
Trusted identities will increasingly be employed to help secure, customize and enhance the user experience across a growing range of industry segments that are embracing the power of the IoT.
Organizations will look towards streamlining processes and operations using real-time location systems, presence- and proximity-based location functionality, condition monitoring solutions, beacons and cloud-based models for emerging IoT applications using Bluetooth Low Energy. These applications will include a growing number of energy efficient, productivity and safety-oriented use cases that will need to know the identity of occupants in a physical space to manage environmental conditions, book meeting rooms and auto-configure audio visual equipment and alarms.
Bluetooth Low Energy-based solutions will also advance existing secure proof of presence capabilities to include the predictive analytics and functionality based on location-based technologies.
Embedding trusted identities more deeply in everyday activities for businesses and consumers
Trusted identities will become an embedded feature of more use cases rather than simply an add-on capability. This trend of "security by design" will lead to many more convenient approaches to using digital identities across a growing variety of activities, services and industries.
Along with popular secure access use cases, new applications will emerge, such as employee mustering capabilities to address emergencies as well as the need to more accurately determine who is in a building in real-time.
New capabilities for managing and using trusted IDs will be driven by the increase of temporary offices, mobile knowledge workers and the evolution of the workplace, where adapting to the preferences of today's talent pool is driving the need for more open, flexible workspaces.  Consumers also will begin seeing trusted identities used in many everyday scenarios, such as guaranteeing authorized use of corporate and heavy machinery fleets, as well as creating new ways to safeguard students and validate drivers.