The year 2021 has been a tough year for everyone. Industries across the globe were shut, companies were barely floating above the economic ocean, in fact, and this year had pushed the whole world almost 2 to 3 years backwards, when all we were aiming was to achieve the things new and unheard of milestones. The unprecedented outbreak of Covid 19 had a fierce impact on all the sectors of the global economy. Businesses that were hoping to expand and grow were now barely surviving, and no sector remained untouched from the horrors of the pandemic.
However, things are changing their course now. As the whole world is rapidly moving forward with vaccination drives, the blanket of the outbreak is being pushed away. Businesses and industries are going back to Normal, but with a 'New Normal'. They are optimistic to recover the damage that has been made by the pandemic and foreseeing a brighter future for their operations.
ELE Times Sub Editor and Technology Correspondent Sheeba Chauhan got an opportunity to have a profound conversation, with Nasser Jariwala, Senior Director, T&M Sales & Operations, Rohde & Schwarz where he reflected back upon 2021, and discuss the optimism for the next year, and provide an outlook for 2022, for their respective industry.
Excerpt:
ELE Times: What would be the exciting industry developments to look forward to in 2022?
 Nasser Jariwala, Senior Director, T&M Sales & Operations, Rohde & Schwarz: In 2021, we experienced heavy investments by markets which are highly dependent on the latest technologies as well as by their suppliers. This has been driving our Test & Measurement business performance. It looks like this trend could extend into 2022.
Some few examples for these markets as based on our addressed market segments include
Automotive: Developments of automotive applications such as V2X (communications between vehicles and their surroundings) are ongoing and gaining momentum. For example, automotive manufacturers, suppliers and test houses benefited from a unique R&S test solution that cost-efficiently translates realistic driving scenarios from the road to the lab.
Wireless Communication-
5G: The global roll out of 5G networks continues, generating high demand, in particular for device testing in the frequency range up to 7 GHz and mobile network testing solutions. Extension of frequency support of 5G NR (Rel 17) into unlicensed spectrum of 71 GHz will drive demand for millimeter wave T&M, including over-the-air test solutions. Major network operators and infrastructure providers require technical adaptations to network monitoring systems, driving demand for suitable solutions in the mobile network testing (MNT) market segment.
Smart Factory/Industry 4.0: A smart factory is a critical environment that must fulfill strict requirements for machine connectivity and reliability as well as data security and human safety, especially if connectivity is provided by wireless technologies. Reliable ubiquitous wireless accessibility is necessary but not sufficient for trouble-free operation. 5G has everything future smart factories need for wireless connectivity, but network tests are essential. Network testing solutions from Rohde & Schwarz help maximizing the quality and performance of campus or private networks used in smart factories.
Aerospace & Defense: We have a close, long-standing partner of armed forces and leading companies in the aerospace and defense industry. Rohde & Schwarz meets the stringent requirements of the aerospace and defense industry with its high-end T&M instruments and systems for use in radar, electronic warfare, EMC, satellite technology, avionics, navigation and military communications.
ELE Times:  What innovations are lined up for 2022 and for what application areas? (be specific to your company)
Nasser Jariwala, Senior Director, T&M Sales & Operations, Rohde & Schwarz: Since entering the oscilloscope market over 10 years ago, Rohde & Schwarz is continuously extending its oscilloscope portfolio. With the R&S RTO6, Rohde & Schwarz just introduced the third generation of its tried and tested oscilloscope family, and more product innovations are in the pipeline.
Brand new R&S CMP180 radio communication tester to be established in the market in 2022. This next generation single box tester covers the frequency range up to 8 GHz and supports both cellular and noncellular multisignal and multi-technological (Wi-Fi 6E, Wi-Fi 7, 5G NR FR1), ideal for mass production as well as R&D.
The trend continues that due to very complex and highly integrated DUT like 5G devices or automotive radar chips no conducted measurements are possible, and RF signal transmission can only be done over the air – short OTA. Rohde & Schwarz has a growing portfolio of OTA test solutions for development and production. The R&S ATS1800C 5G NR mm Wave test chamber for over-the-air testing was just extended by new options for RRM measurements, allowing these complex measurements on small footprint.
The R&S SMW200A is the vector signal generator for the most demanding applications. As a result of its flexibility, performance and intuitive operation, it is a perfect tool for generating complex, digitally modulated signals of high quality. Soon covering frequencies up to 67 GHz, the R&S SMW200A is the ideal generator for digitally modulated signals required for early research on 6G components and systems, development of wideband communication systems in general, the physical layer verification of 4G and 5G bases stations, chipsets and devices. Of course, the R&S SMW200A is also the signal source of choice in many applications in the aerospace and defense sector.
ELE Times:  What milestones are targeted in terms of market expansion and revenue generation by the end of next year?
Nasser Jariwala, Senior Director, T&M Sales & Operations, Rohde & Schwarz:The situation with the ongoing pandemic is still highly dynamic and challenging. The Rohde & Schwarz group was able to end a successful 2020/2021 fiscal year and has continued to prove robust in last year's highly dynamic market environment.
Rohde & Schwarz ended a successful financial year with revenue of more than EUR 2.5 billion despite a difficult global economic environment amidst impact of the COVID-19 pandemic. The company has grown for a third year in a row with a greater than 10 percent revenue increase. This has proved beyond doubt that our strategy of focusing on sustainable business practices was the appropriate course of action.
ELE Times: What policy support do you envisage from the government? Discuss in the light of taxes, incentives, infrastructure, quality power, Exim laws, and capital lending rate, labour laws, and more. Please raise the problems and its possible solutions.
Nasser Jariwala, Senior Director, T&M Sales & Operations, Rohde & Schwarz:
India is emerging as a forerunner in the next level of technological innovations. The electronics system design and manufacturing (ESDM) sector has seen a steady growth in recent years along with a shift in focus from pure play systems or product designs to include areas such as product development, original design manufacturing (ODM) and so on.
As an ecosystem partner, RSINDIA is upbeat about the overall growth of the Indian electronics industry. We feel that Government incentives for manufacturing and start-ups, focus on local value addition, new manufacturing base creation, enhanced industry academia interaction, utilization of Government facilities like Government e-Marketplace (GeM) will help the country to grow its manufacturing base and compete in the global market.
ELE Times: Considering emerging technologies, what market trends to be followed in 2 to 4 years?
Nasser Jariwala, Senior Director, T&M Sales & Operations, Rohde & Schwarz:
Rohde & Schwarz has a tradition of innovation. To be able to shape the future of security and
Communications, we identify and support trends early on. That's why we have made substantial investment in
 Future technology such as:
Supporting research to further develop mobile communications beyond 5G and to 6G.
T&M solutions for quantum computing: To position Rohde & Schwarz T&M solutions in the quantum computing field, the company successfully completed the acquisition of the leading Swiss T&M manufacturer Zurich Instruments AG, effective July 1, 2021.
The industrial internet of things (IIoT).
the increasing inroads made by artificial intelligence.
cloud technologies.
Contributing Author: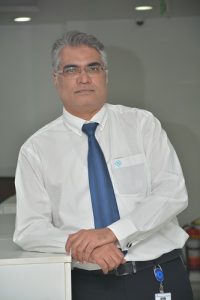 Sheeba Chauhan |Sub Editor| ELE Times