The year 2021 has been a tough year for everyone. Industries across the globe were shut, companies were barely floating above the economic ocean, in fact, and this year had pushed the whole world almost 2 to 3 years backwards, when all we were aiming was to achieve the things new and unheard-of milestones. The unprecedented outbreak of Covid 19 had a fierce impact on all the sectors of the global economy. Businesses that were hoping to expand and grow were now barely surviving, and no sector remained untouched from the horrors of the pandemic.
However, things are changing their course now. As the whole world is rapidly moving forward with vaccination drives, the blanket of the outbreak is being pushed away. Businesses and industries are going back to Normal, but with a 'New Normal'. They are optimistic to recover the damage that has been made by the pandemic and foreseeing a brighter future for their operations.
ELE Times Sub Editor and Technology Correspondent Sheeba Chauhan got an opportunity to have a profound conversation, with  Sangeeth S Nambiar, Head of Bosch Research Technology Center, India where he reflected back upon 2021, and discuss the optimism for the next year, and provide an outlook for 2022, for their respective industry.
ELE Times: What would be the exciting industry developments to look forward to in 2022?
Sangeeth S Nambiar, Head of Bosch Research Technology Center, India- The tremendous progress that we have witnessed in the past years in advancing the state of the art in what is often referred to as "narrow AI" and its applications is expected to continue in the years ahead. If you look at most industries today, the pandemic has accelerated the pace of digitization and automation. This creates an excellent environment in which we can derive further value for both the organization and its customers by applying methods in AI. We will continue to see devices around us becoming smarter and being able to provide more assistance to its users. In manufacturing, we will continue to see improvements in efficiency and speed derived from advances in planning, better coordination of operations, optical inspection, preventive and assisted maintenance. In engineering, AI can be leveraged to reduce the design time by either suggesting or evaluating numerous design choices automatically and to further assist engineers to convert designs into implementations faster and with better quality. Access and the ability to simultaneously process multiple, complementing and heterogeneous data sources will improve the accuracy and efficiency of operations and supply chain management. Advances in robotics will allow us to have more cars on public roads with even higher levels of automation (SAE level 3 and above) and more sophistication in fields like industrial automation, robotics.
ELE Times:  What innovations are lined up for 2022 and for what application areas? (be specific to your company)
Sangeeth S Nambiar, Head of Bosch Research Technology Center, India–Leveraging connectivity, automation, electrification and the growing importance of sustainability are the cornerstones for innovation at Bosch. Software and Digital technologies are crucial to realize this mission. Bosch Global Software Technologies (BGSW) headquartered in Bangalore, is the global software technology company for Bosch which plays a pivotal role to play in this journey. Further, advances in AI allows us to add fascinating features and services that are true to our slogan "invented for life" while at the same time increasing our operational and manufacturing efficiencies. In our mobility solutions business sector, we continue to focus on innovations in areas like electrification and automated driving. This includes innovations related to environment perception, localization, decision making, interior sensing, and vehicle operation and interaction where AI will play a key role. This we believe can help reduce the number of accidents, improve traffic flow and reduce emissions. Further, innovations in connected services and business models will help our customers offer more flexible and convenient mobility. Advances in vehicle to vehicle and vehicle to infrastructure communication creates the possibility of new services like traffic management, early warning and even infrastructure assisted automated driving. In the industrial technology area, our innovations are focused towards increasing flexibility, efficiency and automation mainly supported by widespread connectivity of manufacturing operations. In our building technology sector, especially in heating and air-conditioning, innovations in heat pumps and renewables play an important role for us. Across our business sectors, we invest in innovations that are cross domain and help us improve the sustainability of our operations including manufacturing.
ELE Times: What milestones are targeted in terms of research, technology development, market expansion and revenue generation by the end of next year?
Sangeeth S Nambiar, Head of Bosch Research Technology Center, India We are consistently working towards our goal to have all Bosch products to either contain AI or to be developed with its support by 2025. In terms of research and development our efforts at Bosch in the field of AI focuses on developing safe, secure, robust, and explainable AI. These attributes are critical for applying these approaches in our domains like automated driving. A large set of approaches in AI today rely on learning from data alone. This in most cases translates into the need to acquire, process and manage huge volumes of data. We often have the challenge that it's very hard or costly and sometimes even impossible to get data that captures "rare events" – e.g., some of the failure cases in optical inspection or accident situations in driving. Scientists and engineers at BGSW are working on various technologies that can make future applications of AI feasible and even more fascinating. This includes technologies to assess and suggest the optimum quantity and quality of the data necessary for a specific machine learning task considering various parameters including the properties of the model that is getting trained, technologies to detect and filter rare events at the edge during acquisition, methods to search, retrieve and curate the optimum data set from a large corpus, methods for incrementally training machine learning models, methods to learn from less amount of data, algorithms to extract knowledge from domain specific corpus, and detect complex events in data from sensors. Further, we at Bosch have deep expertise in various domains and we believe that by optimally combining this domain knowledge with latest advances in AI, we can create the next wave of innovation for our products and services which are far superior to what each of the approaches alone can offer. We call this approach hybrid modeling or physics-guided machine learning, in which a physics or first principle-based model/algorithm is carefully combined with a data driven model to achieve the final goals. An example could be a mathematical model of a production process or an automotive engine, which is suitably extended with a learning procedure to compensate for modelling errors or inaccuracies or to make the model complexity manageable in specific areas of operation.
ELE Times: Considering emerging technologies, what market trends to be followed in 2 to 4 years?
Sangeeth S Nambiar, Head of Bosch Research Technology Center, India- At a top level, some of the latest research shows that AI has the potential to add more than $13 trillion to the world economy by 2030, contributing almost 1.2% a year to the worldwide GDP. Advances in technologies like AI, edge computing, communications and cloud, continue to propel our industries to offer new products and services that we could only dream of, a few years ago. As industry, on the one hand we are working on approaches that help us to deal with the growing complexity and enormity of data, while on the other hand we are working on methods that reduce the need for data (especially labelled) and bringing intelligence efficiently to the edge. Beyond the established research directions in AI, we see a growing emphasis on the process, mechanisms and structure that an organization should adopt to develop, engineer and deliver products based on data driven approaches in the real world. One of the areas is how can we increase the trust in AI driven products. Further questions related to data protection and ethical use of AI are all important trends that will create new opportunities and at the same time shape the future of our industries. The significance of these questions is amplified by the fact that AI is expected to touch every aspect of our life in the years to come. This has motivated us at Bosch to already establish ethical "red lines" for the use of artificial intelligence. Bosch has now issued guidelines governing the use of AI in our intelligent products, which we refer to as Bosch's AI code of ethics.
Contributing Author: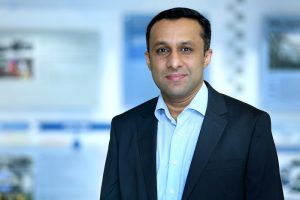 Sheeba Chauhan | Sub Editor | ELE Times