Industrial revolution signified major developments in the world of manufacturing and technology sector spanning between the 17th to 20th centuries. The beginning of the 21st century witnessed the third revolution or Industry 3.0 which saw the advent and rise of the IT sector, new media, etc.
The third phase was a turning point in the development sector as it reshaped the way people use to think, which in turn brought Industry 4.0 into the picture, a blend of Artificial Intelligence (AI), robotics & automation, big data, Internet of Things (IoT), simulation, additive manufacturing, cyber-physical systems, sensor-based technologies and much more. Adopting Industry 4.0 tools can increase a company's competitiveness, productivity, and profitability while streamlining data processing.

According to various reports, it is estimated that the companies adopting Industry 4.0 across sectors have managed to enhance their productivity, thereby increasing profit margins. India keeping up with the trends is keen on adopting digitalization and has been taking several initiatives.
The government of India has been doing its bit to increase the contribution of the manufacturing sector. In 2018, the government planned to increase the share of the manufacturing sector in the gross domestic product (GDP) to 25% by 2022. There is no denying that India is prepared to face global competition by undertaking the 'Make in India' Program launched by the government.
To leverage the best that technology has to offer, India is focusing on its small and medium-sized enterprises (SMEs) that are playing a key role in smart manufacturing. SMEs form the backbone of the economy and have an enormous leverage effect which is why it is crucial to develop specific concepts for smaller companies. These SMEs should focus on quality, efficiency, traceability, and collaboration. The implementation of 4.0 in businesses will help in reshaping the workforce in a quite different manner. The operations of quality control that are driven by big data and edge computing will increase the demand for data scientists, robot-assisted production capabilities will help reduce the manual effort involved, and smart supply will allow for faster and better supply decisions.
However, with all the opportunities, there are a few challenges associated with it but the Indian manufacturers are dealing with the challenges very well. These challenges include variable market demand, flexibility in manufacturing, management readiness, discipline and cultural change, design standardization, manufacturing single or multi-variant products without reducing efficiency and compromising on quality, and most importantly – the need for infrastructure readiness to automate the entire supply chain.
Not to mention, IT is reckoned as the backbone of the sector and is one of the major contributors to smart manufacturing, and is full of opportunities. It would not be wrong to say that India given its domestic capabilities in the IT sector, can create its own path for smart factories in the near future. And to support and strengthen India's manufacturing sector, SMEs should be encouraged to collaborate with larger organizations that can help Indian manufacturers by providing customized solutions.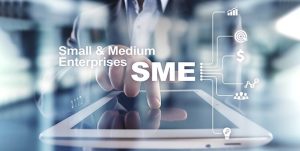 The Indian SME sector should look up to market leaders for technological assistance, which can enable Indian companies to expand and explore markets in other regions as well. Most of the SMEs in India have good technical capabilities, however, they need to implement and improve processes of design and quality measurement. There are several global leaders like Mitsubishi Electric India that are providing the right ecosystem for SMEs to grow. Mitsubishi Electric India offers a range of high-quality products that have been manufactured to provide new and out-of-the-box solutions for the Indian market.
The Factory Automation & Industrial Division of Mitsubishi Electric India has also launched an advanced version of the Graphic Operation Controller (GOC43), supporting the 'Make in India' initiative of the Indian government. This product is specifically made to match the requirement of highly cost-conscious SMEs. This market segment has been slow in adopting new-age manufacturing and automation technology because of its high capital and systemic requirements. GOC43 is expected to increase growth for the small and medium-scale industries by transforming them into much more efficient, productive and high-quality manufacturing units.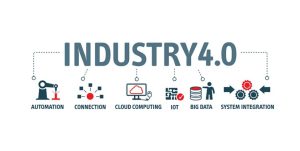 With Industry 4.0 in line, SMEs or manufacturing plants have been adopting the technology and reaping good results such as lower cost, optimized customer relationships, additional revenue, maintenance processes standardization, improvements in the health and safety of workers, clarity on the status of the production system in real-time, transparency in production processes, reduced inventories, energy-efficient and environmentally sustainable production and systems, effective use of human and material resources and 100% traceability.
The new opportunities, with the help of the Industrial Internet of Things (IIoT) and e-commerce platforms, will provide SMEs with a stage where they can offer tailor-made services and products using digital platforms. This will also enable them to globalize and become micro-multinationals, generating new jobs and revenues, fuelling innovation, and increasing efficiency. However, it is important to note that even though Industry 4.0 has given new opportunities to SMEs and MSMEs, there are some challenges associated with industrial SMEs too.
Automation and digitization of Indian SMEs and MSMEs need to be prioritized as they lack proper cash flow and face difficulty in raising capital, especially at an initial stage. It further leads to getting no financial support from the bank due to several requirements including high-interest rates. Most SMEs lack a skilled workforce and might find it tedious to operate complex technologies. They are also in need of technology that is locally manufactured to meet the optimal automation requirement.
SMEs are bound to use traditional practices that consume a lot of time and physical labour. To eliminate the repetitive tasks, leaders like Mitsubishi Electric India have automation products such as GOC43, which are capable of delivering basic PLC and HMI functions, and in turn, help in reducing the tension on the shop floor. Furthermore, to eliminate human errors and manual interventions, early adoption of Industrial and Collaborative Robots by SMEs and MSMEs can help maintain quality and maximize productivity that too at a lower cost. In the long run, robotic automation helps to optimize the cost of operations and brings higher precision to the manufacturing processes.
Collaborative robots like MELFA ASSISTA have a wide range of uses, including how to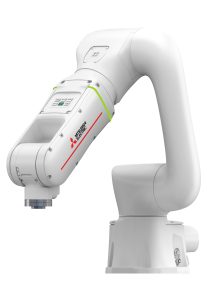 handle components, assembly jobs that offer a variety of finishes, apply sealant or glue, and a lot more. They are used in load building (at a production line's end, they assemble a pallet load of products), quality control (inspection and testing procedure involves the deployment of robots for repetitive work), and warehousing (for carrying out the removal of received products from pallets and then route them to a facility's storage location). In addition to this, they are also widely used in Food and Pharma industry for handling pick-and-place jobs.
Mitsubishi Electric's MELFA ASSISTA allows easy programming with little or no extra effort. It requires no robot programming expertise and can be done using a tablet. It is an advanced version of an Industrial Robot that can work alongside manpower, without any need  for safety bands. The design of the product is an important aspect of robotic assembly.  ASSISTA's simple and unique design adds more flexibility to it, without compromising on quality. Besides, there are several other benefits of these Cobots such as decreased product damage, accuracy, quiet operation, and improved efficiency.
Today, along with Cobots, Industrial robots are placed in high-volume production companies. However, it is estimated that robots will soon find more roles in small and medium-sized companies. The major outcome of the robotic process in manufacturing is that it allows companies to remain competitive on a global scale. It allows the employees to concentrate on the company's overall growth and success. The employees and the management of the company need to focus on a dedicated manufacturing solution to increase the productivity of the company.
Automation has become an inseparable part of our lives now. The technology that contributes to efficiency and reliability needs to be recognized at all levels, starting from SMEs to industries supporting domains of manufacturing. With the ease of customization and vivid visualization, many global leaders are solving their customer's challenges at work.
A focus on inclusive development is particularly important in emerging economies like India in order to address the impact of COVID-19. When the COVID-19 pandemic hit, companies that adopted Industry 4.0 practices fared better. To drive the force behind an Aatma Nirbhar Bharat, the MSMEs and SMEs play an integral role. New-age business models associated with the Fourth Industrial Revolution can facilitate a symbiotic relationship between smart corporations and digitally enabled MSMEs, resulting in greater production efficiency, shorter delivery times, and higher customer satisfaction.
To sum up, Industry 4.0 allows a faster response to customer needs and is improving the flexibility, speed, productivity, and quality of the production process. It lays the foundation for the adoption of new business models, production processes, and other innovations, and opens new opportunities for SMEs. This will enable a new level of customization process as more industrial producers invest in Industry 4.0 technologies to enhance their overall growth.
Authored Article by: