Why do our parents and a billion others find it difficult to use apps today? Because there is a big digital chasm that divides them from using apps and the reasons are many- literacy in English, app navigation is painful, typing is tedious, etc. The incorporation of Voice Assistants as a Service (VAaaS) in mobile applications has been able to change the scenario quite dramatically. Now users are able to tell the application what they are seeking out of them.
Backed by Google itself, Slang Slabs is the world's first Voice Assistant as a Service– a seamless way to add a multilingual in-app voice assistant to your e-commerce apps. ELE Times Correspondent and Sub Editor Mayank Vashisht had an insightful conversation with  Kumar Rangarajan, the Co-founder, and CEO of Slang Labs.
Excerpts: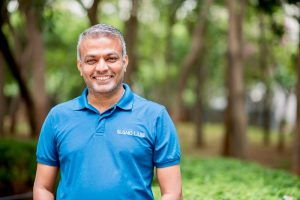 ELE Times: Let's dive deep into Voice Assistants as a Service (VAaaS)
Slang Labs offers a clear value proposition to disruptive startups and innovative enterprises who want to enable a multilingual In-App Voice Assistant for their customers – quick integration, low-risk pilots, and fast rollouts. With this, it aims to be the most preferred In-App Voice Assistant in India for mobile apps of enterprises, unicorns, and startups alike. With absolutely low barriers to entry, Slang In-App Voice Assistant is expected to be integrated into hundreds of apps, serving millions of end-users. While supporting more domains and use cases with its Voice Assistants, Slang Labs will also continue to expand the range of languages that they will support across industries. So, over the next 5-10 years, Slang Labs aims to empower thousands of brands with In-App Voice Assistants, to enable a billion Indians to avail the same conveniences, choices, and benefits of digitalization that are only enjoyed by the digital-savvy, urban population currently.
The following advantages are delivered by all Slang Voice Assistants:
Highly accurate – These Voice Assistants have been trained to be extremely accurate for the domains they serve, and a recent Voice Search Benchmark Report published by us objectively demonstrated that the Slang Voice Assistant is 46% more accurate than Google Voice Search, which is the gold standard for voice search globally.
Ready-to-Integrate – Our Voice Assistants are pre-built and pre-trained before we offer them to you. The low code integration process also enables numerous knobs for customizing the end-user experience of the voice assistant in sync with your app.
Multilingual — Slang Voice Assistants are not only multilingual but also support mixed language mode viz. Hinglish and provide auto-translation capabilities. And the app just has to operate in one language – English, while we handle other languages.
Great Assistant Experience — We make sure that these Voice Assistants are end-user friendly and include all the features that make a great experience — the Assistant will talk to the user, assist them in getting onboarded, patiently listen to their inputs (no more random timeouts), respond with questions as needed, and provide them with good confirmation messages.
Analytics – The pudding is finally being eaten. We realize you're curious about how your users interact with Voice Assistants. As a result, we provide them with your apps out of the box so you can keep track of what's going on with your Assistants.
ELE Times: How VAaaS is contributing to better customer service and experience?
Voice assistants have been all the rage since Alexa's introduction in 2014. While Alexa and Google Assistant have proved the value of voice as a means of getting things done, most digital interactions still happen through apps, both mobile and web-based apps. Although many businesses have integrated voice assistants into their apps, the process is still time-consuming. It calls for specialized knowledge in areas like Automatic Speech Recognition (ASR), Natural Language Processing (NLP), and Text-To-Speech (TTS), as well as the integration of an existing visual design with the new conversational design paradigm.
Slang Labs makes integrating In-App Voice Assistants a breeze. It has worked with a variety of businesses over the last three years, assisting them in developing their own In-App Voice Assistants.
VAaaS can help to contribute better customer service and experience in the following ways:
Ease of integration: The self-serve VAaaS platform includes a set of pre-built domain-specific Voice Assistants that can be readily integrated into apps in that domain, as well as a lightweight Software Development Kit (SDK). To get started, you don't need any NLP or complex conversational design experience. The platform is designed to be used by Android and web developers with very little coding.
Managed complexity- The VAaaS platform serves as the backbone of the complete voice stack's technological architecture. It takes care of all the complexity that comes with adding a Voice Assistant, such as conversational design, intuitive UI & UX components, multimodal support, and, most crucially, training, maintaining, and continuously improving the ML models for each domain.
ELE Times: What solutions are you providing for businesses and consumers?
The process of integrating a multilingual In-App Voice Assistant experience to mobile and web apps has been much simplified by Slang Labs. It was the first to introduce the notion of Voice Assistant as a Service (VAaaS). Customers may use one of two methods to incorporate Slang's multilingual In-App Voice Assistant into their apps:
Via Slang CONVA: Pre-built datasets and platform-managed, domain-specific features are included in the low-code self-serve platform. It allows app owners and developers to include Slang In-App Voice Assistant into their apps most quickly and straightforwardly possible. We now support E-commerce for Retail/FMCG, Travel, BFSI, and Job Apps. It is more accurate than any other voice-based solution on the market since it is pre-trained and has a better grasp of the domain. Its low-code approach greatly simplifies the integration process, allowing developers to integrate the Voice Assistant with no prior understanding of AI, ML, or NLP. Slang CONVA also gives businesses a lot of control and customization options so they can tailor the voice assistant experience to their brand guidelines and app design.
Via Slang FORGE: It's a more open and horizontal platform that customers from any domain may utilize, as well as customers that want more capabilities in their apps. This is best for systems integrators and solution providers that want to create a variety of bespoke In-App Voice Assistants for their clients in a variety of sectors.
Both Slang platforms listed above enable apps for multiple device platforms like Android, web, and iOS, as well as cross-platform app development frameworks such as React Native and Flutter.
ELE Times: Why does India need to ride on voice technology to tap the new internet users?
What mobile apps did to eCommerce and consumer behavior in the previous decade, Voice is doing on a larger scale in this decade. India's mobile population of 450+ million new internet users have distinct and varied requirements, particularly when it comes to their chosen online language. With 90% of new internet users opting to consume online content in their native tongue, a rising number of Indians are turning to voice technology to help them search the web and do tasks in languages other than English as per a report.
Indian Accent English, Hindi, Tamil, Kannada, Malayalam, and Marathi are the six languages supported by the Slang Labs now. Gujarati, Bengali, and Telugu are among the next languages to be added. By creating domain-specific models, Slang Labs' clients can then customize what they want. For new-to-internet users, speech has the potential to provide clarity, confidence, and comfort. It also increases the capacity to properly grasp the demands of these new customers, who differ from the metro and Tier-1 consumers, and simplifies their online journey.
Mayank Vashisht | Sub Editor | ELE Times