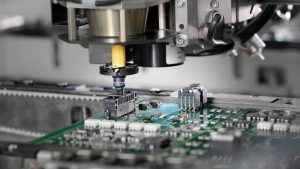 After the recent successful launch of the Chennai Chapter, India Electronics and Semiconductor Association (IESA), trade body representing the Indian Electronics System Design and Manufacturing (ESDM) industry, on February 16, 2017, announced the launch of their Hyderabad chapter.
The key objectives of setting up an office in Hyderabad are to widen the eco-system, acquire new members and strengthen the supply chain in the region. This move will boost the electronics, hardware and semiconductor startups and firms in the state with the required support and information. There will also be a large thrust on the aerospace and defence manufacturing too.                        
"Several policy initiatives have been approved in last few months which include providing very attractive financial investment in electronics manufacturing and providing preference to domestically manufactured electronic goods in all Government procurement as well as all those electronic goods whose use has security implications for the country.
This expansion has put us in the right path for the fulfillment of our objectives and aiding the government of India to digitally empower the nation," said K. Krishna Moorthy, Chairman, IESA.
Telangana contributes to 6 percent of the electronics production in the country and aims to reach revenue of more than USD 10 billion and provide employment to 1.75 lakh citizens.
The Telangana Government is planning to make Hyderabad as the hub of ESDM and is pursuing to attract investments into the two ESDM clusters at e-City Manufacturing Cluster and Maheshwaram Science Park. With a view to facilitate investments in the electronics manufacturing industry, IESA is gearing up to strengthen operations in Telengana this year.
"With the recently announced Chennai chapter and this launch, we have further expanded our reach to enrich the supply chain and make significant inroads in making the country the next manufacturing hub. We strongly believe that this expansion will fast-forward our operations and enable us to achieve the common goal of giving a boost to design-led-manufacturing," added M.N. Vidyashankar, President, IESA.